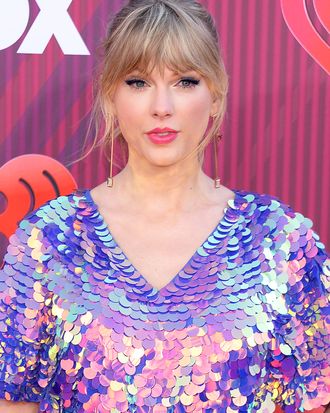 Photo: Broadimage/Shutterstock
If you can't beat 'em, rerecord 'em. Before her Thursday morning concert in Central Park for Good Morning America, Taylor Swift chatted with Robin Roberts about her new album, Lover. In the interview, Roberts asks Swift if the rumors about rerecording her old masters — which were recently bought by Swift's nemesis Scooter Braun — are true. Swift answers, "Yeah, that's true, and it's something that I'm very excited about doing because my contract says that starting November 2020 — so next year — I can record albums one through five all over again." Cue screams from a park full of Swifties.
The buzz about rerecording began in earnest on Wednesday after a press release revealed that Swift says "yeah" to the idea on an upcoming episode of CBS Sunday Morning. What would drive an artist to rerecord five albums' worth of work? In brief: At the end of June, two weeks after the release of LGBTQ-ally track (not that LGBTQ-ally track) "You Need to Calm Down," Swift updated her Tumblr with a personal, heartfelt message: that Scooter Braun, Kanye West's former manager, had bought the masters to all of her past work from her longtime previous label, Scott Borchetta's Big Machine Records. In the post, she explained why she'd left last fall for Universal: She did not want to sign a contract with Borchetta and have to work to earn back the ownership rights to her masters track by track. And now Braun — whom Swift calls an "incessant, manipulative" bully — has total ownership over her past six albums after acquiring Big Machine.
Fans were incensed on her behalf, and supporters like Kelly Clarkson chimed in with an idea: If she didn't want to buy the masters back from Braun, why not rerecord the tracks altogether?
This would not be the first battle Swift has waged over issues of music ownership and artists' rights: She has taken streaming services like Apple Music and Spotify to task over royalties in the past. Nor would Swift be the first artist to leave a record label and then rerecord her tracks to gain ownership; JoJo rerecorded her debut album after her old label Blackground removed it from streaming services last fall. The possibility of rerecorded versions of her old songs, especially in an age when listeners are less likely to keep older, physical manifestations of media that can be streamed and edited, raises some questions for Swifties: Will the old versions still be available? Will these new recordings of old favorites be 2019 Lion King–level uncanny copies? Will she re-create that "Our Song"–era faux twang? We won't know until 2020, but in the meantime, Lover is out on Friday, and it's 100 percent Scooter-free. As Swift tells Roberts: "One thing about this album that's really special to me is that it's the first one that I will own, of my work."
*This post has been updated throughout.