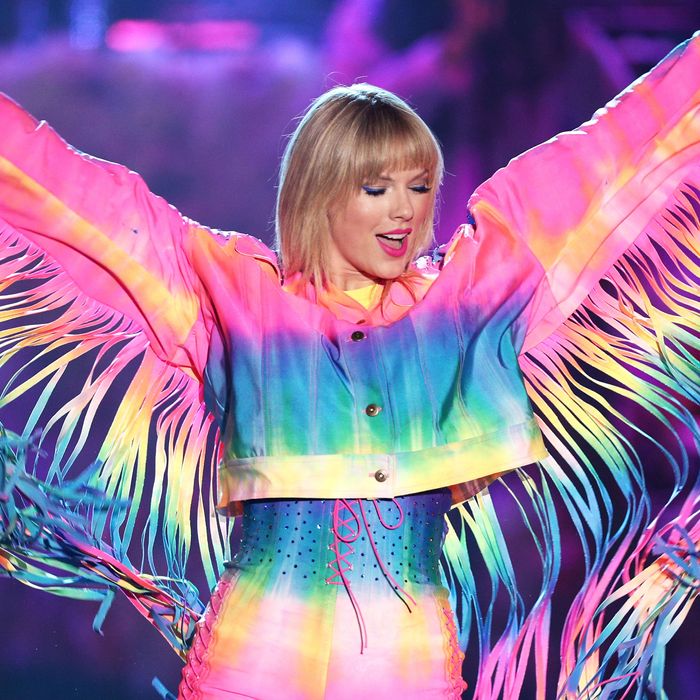 It is time.
Photo: John Salangsang/Shutterstock
Ladies, gentlemen, and nonbinary people that Taylor Swift is now publicly an ally to: It is time. Lover, Taylor Swift's seventh studio album, has dropped like an anvil on one end of a seesaw, the other side of which skyrocketed me into a stratosphere of trauma. 18 songs? 18??? This feels like the night before finals and I'm cramming for a test but I'm so overwhelmed by the vastness of the material that I'm just … paralyzed by it. All of the clues and Easter eggs and theories leading up to Lover have permanently damaged my psyche. I have crumbled. I am a shell of a human. A sentient spiral. This album cycle has taken everything I have. So, like college, I'm giving you the Sparknotes version of Lover; I'll hone in on the important themes and hidden messages behind each song, and nothing more — a sleuth per song. Just remember to breathe, because I haven't in like, 20 hours, and someone out there should.
"I Forgot That You Existed"
Based on my human, desperate need to assign meaning to things, I'm going to semi-blindly guess that this song's about Calvin Harris. Harris tends to bring the petty out in Taylor, and this song is petty as hell. She sings, "I forgot that you sent me a clear message, taught me some hard lessons." Usually, Taylor drama — like her music — is coded and slithery and opaque. However, her drama with ex-boyfriend Calvin Harris was very public-facing, as he sent her a "clear message" on Twitter, calling her out for leaking intel that she wrote his song "This Is What You Came For" under a pseudonym. Now, she's forgotten that he existed, and honestly? So did we.
Big takeaway: Every sad girl whispering over a pop song who's ever graced a Spotify playlist is currently shaking in a corner.
"Cruel Summer"
St. Vincent co-wrote this song with Taylor and Jack Antonoff, who co-wrote and produced most of the album, and "Cruel Summer" definitely has that Annie Clark, lesbian-processing touch. A wild conjecture about this song is that Swift makes a reference to the Jonas Brothers album that features a Taylor Swift diss track ("Much Better"), Lines, Vines and Trying Times. On "Cruel Summer," Swift sings, "Say that we're just growing up in these trying times, we're not trying." So, eff you, Joe Jonas (she said blindly with very little evidence to support such a theory).
Big takeaway: This song is perfect and is also very *sees Blue Crush once*.
"Lover"
The "Lover" music video dropped yesterday and included a bunch of its own Easter eggs: the "Cruel Summer" lyric "Devils roll the dice, angels roll their eyes" is written on a board-game box. Lover song title "Afterglow" is spelled out in Scrabble letters. "King of Hearts" is written on the Scrabble board, which likely references the actor in the "Lover" music video, Christian Owens, who is the dancer Swift danced with while performing "King of My Heart" on her Reputation Tour. Then there are the numbers on the dice on the game box that add up to 19, but the album only has 18 songs. So, maybe there's a bonus track, and maybe it's called "Breakable Heaven," which is written on another game box, but is nowhere to be found thus far on Lover.
There's also a New Year's party pictured in the video. Swift had a song off Reputation called "New Year's Day," which has parallels to "Lover." In "Lover," she sings, "I've loved you three summers now, honey, I want them all." On "New Year's Day," she sings, "I want your midnights, but I'll be cleaning up bottles with you on New Year's Day." So, whoever "New Year's Day" is about — people have speculated that it's about Harry Styles, others about her current beau Joe Alwyn — "Lover" is probably about them, too. And considering she's still with Joe, both songs are probably about him.
Big takeaway: Joe Alwyn is a cup of plain oat milk and I can't believe he is anyone's muse.
"The Man"
The first semi-notable aspect of this song is its Fearless album reference — well, there's not much meaning behind it, she just says "I'd be a fearless leader, I'd be an alpha type," speaking to the idea that if she were a man, and she behaved the way that she does, she'd be applauded.
One of the big motifs on Lover is Taylor revisiting old narratives — not just what people have said about her and the narratives that have been crafted about her, but also how she's grown and changed since, and how her opinion of those times has morphed in hindsight. In "The Man," she sings, "They say I played the field until I found someone to commit to," which is reminiscent of the "Shake It Off" lyric, "I go on too many dates, but I can't make 'em stay, that's what people say." Now, Taylor is addressing how those media narratives were coded in sexism and bias.
Big takeaway: This song feels like it was maybe co-penned by Reese Witherspoon, Debra Messing, Alyssa Milano, and the Famous Woke White Women of Instagram.
"The Archer"
Track five is important on Taylor albums — usually, each fifth song on her albums are the most emotional, raw, typically slow or stripped-back songs, like "Delicate" on Reputation or "All Too Well" on Red. So, naturally, we figured "The Archer" was the deepest, most vulnerable song on the album. It was certainly the most vulnerable pre-album release, but, reader, beware: Track 12, "Soon You'll Get Better," will shatter you. More on that soon.
Big takeaway: I am a pool of amorphous lesbian mush. Pour me back in my container.
"I Think He Knows"
Another ongoing motif on this album is color. Color was, arguably, the very first thing we knew about this album. Taylor painted her Instagram pastel before the "ME!" video dropped, and everything Lover has been dripping in millennial pinks, baby blues, indigos, and violets. Naturally, Swifties have noticed that these are also the colors of the bi flag — the same colors that Swift colored her hair in the "You Need to Calm Down" video. In "I Think He Knows," and in many lyrics on Lover, Swift returns to this palette. Here, she sings about "indigo eyes." It is likely not the most important part of this minimalist bop, but it's important to note. She also sings about "skipping down 16th avenue," one of the album's many location-based references (this one's Music Row in Nashville). Actually, Lover may have more New York references than her New York album, 1989.
Big takeaway: I actually moved away from New York City because I hated it and it smells weird. How has Taylor been so consistently charmed by that dumpster island?
"Miss Americana & The Heartbreak Prince"
This song has a couple (possible) references that'll blow your mind. Real Taylor Swift fans will remember her iconic cameo in Hannah Montana: The Movie, when she performed her song from the original soundtrack, "Crazier." On "Miss Americana & The Heartbreak Prince," Swift sings, "I'm crazier for you than I was at 16, lost in a film scene." Sure, Swift was 19 when she recorded "Crazier," but stay with us now.
Speaking to an earlier theme, Swift revisits a very vivid narrative in "Miss Americana." She sings of homecoming queens, marching bands, prom dresses, scoreboards, football games — extreme "You Belong With Me" energy. Here, Taylor sings of "American stories, burning before me," and on the chorus, "You and me, that's my whole world, they whisper in the hallway she's a bad, bad girl, the whole school is rolling fake dice, you play stupid games, you win stupid prizes." This song feels like opening a yearbook and remembering the person you used to be, the things you used to care about, and having the distance to realize how skewed your perspective was, while still remembering how real it felt.
Big takeaway: Taylor's love interest in the "YBWM" video was Lucas Till, who also played Miley Cyrus's love interest in Hannah Montana: The Movie. This. Is. A. "Crazier." Reference!
"Paper Rings"
More blue/bi flag imagery here: "I'm with you even if it makes me blue, which takes me back to the color that we painted your brother's wall." Plus, "I hate accidents, except for when we went from friends to this." Swift sang about a "friend" who turned into more on Reputation's "Dress" ("I don't want you like a best friend, only bought this dress so you would take it off.") "Dress" has long been accepted by Kaylors, the faction of the Swiftie fandom who believes Swift and ex-BFF Karlie Kloss actually dated, as a canonically Kaylor song. Well, you tell me what other friend of Taylor's has ever turned into more. What's that? We don't know because there's so much about her personal life that she's chosen not to reveal? Leave me alone.
Big takeaway: This song sounds like the Glee cover of Amy Winehouse's "Valerie." And I love Glee.
"Cornelia Street"
"Cornelia Street" is one of the three Lover songs Taylor wrote solo, along with "Lover" and "Daylight." It's emotional, and leaves her exposed. A gutting tale of love lost. Now hear this: Taylor once rented an apartment on Cornelia Street in Manhattan, 23 Cornelia Street. Karlie Kloss was once photographed outside that apartment (note the red street lamp and red fire alarm on the building). That's all the evidence I've collected on why "Cornelia Street" is about losing Karlie Kloss's love — so far.
Big takeaway: Kaylor, maybe.
"Death by a Thousand Cuts"
According to a fan who attended one of Taylor's top-secret Lover listening sessions, this song was allegedly inspired by the movie Someone Great, a Netflix rom-com written and directed by Jenn Kaytin Robinson, which follows a devastating breakup. In May, Taylor told Ellen that Someone Great was her favorite movie she'd seen in the last week. That sneaky, Easter egg–dropping monster.
Another narrative she's revisiting here: John Mayer? She sings, "If the story's over, why am I still writing pages?" You might remember that on "The Story of Us," a song about John Mayer, Swift sang, "When it all broke down and the story of us looks a lot like a tragedy now, next chapter." Pages?! Chapters?! It's simple math.
Lover seems to be a collection of her stories, ripped from the pages of her old diaries, and her message is: We can move on, but we can't forget. We'll always have our stories, and it's good to look back on them with new perspective.
Big takeaway: Stream Someone Great on Netflix, cowards.
"London Boy"
"London Boy" opens with a clip of Idris Elba saying "We can go driving on my scooter 'round London," which is a deeply random snippet from a bit he did with James Corden on The Late Late Show. This song is very obviously an ode to Joe Alwyn — "I saw the dimples first and then I heard the accent" — proving once and for all that Joe is, just as I suspected, a stack of dimples in a trench coat pretending to be a human boy.
Big takeaway: Joe Alwyn is milk tea without the boba.
"Soon You'll Get Better" (feat. Dixie Chicks)
Only listen to this song if you are in a very sound emotional space. "Soon You'll Get Better" features the Dixie Chicks, a collaboration that Taylor teased in the "ME!" music video, and is about her mom's battle with cancer. It's devastating and Swift's most naked song to date. Swift announced in March that her mother's cancer had returned, and this song — in all its classic Taylor sounds, the tickling banjo, the bare-bones instrumentation — speaks to Taylor's relationship to her mom's illness.
Big takeaway: Fuck cancer. Protect Andrea Swift at all costs.
"False God"
Here's another New York reference: "Staring out the window like I'm not your favorite town, I'm New York City, I still do it for you, babe," followed by, "You're the West Village, you still do it for me." The song's sound, tone, and lyrics seem adjacent to "Cornelia Street," and Cornelia Street is in the heart of the West Village.
Big takeaway: *eyes rolling back in skull, feet hovering off the ground, skull twisting 360 degrees* K A Y L O R
"You Need to Calm Down"
ICYMI, Taylor Swift loves gay people! Now that I've heard the whole album, I can say with complete certainty that her singles, "ME!" and "You Need to Calm Down" have very little to do with the rest of Lover, both lyrically and sonically. But Taylor's singles have historically paled in comparison to her album tracks.
Big takeaway: Gays have rights now.
"Afterglow"
On "Afterglow," which is teased in the "Lover" music video, Swift sings, "I pinned your hands behind your back, thought I had reason to attack, but no, fighting with a true love is boxing with no gloves." Lest we forget that Karlie's big role in the infamous "Bad Blood" music video was a (Sapphic) boxing match against Taylor. Plus, there's more bi flag imagery here, when Swift sings, "this ultraviolet morning light glow tells me this love is worth the fight."
Big takeaway: Look, I have one thing, and it's wondering if Taylor Swift ever got it on with her best friend. It's very sad for me.
"ME!"
It feels like it's been 40 years since the "ME!" music video dropped, which was the most Easter egg–heavy moment in the Lover album cycle. If you feel like revisiting that K-hole, be my guest — but don't expect to ever sleep again.
"It's Nice to Have a Friend"
This song blows "Dress" clear out of the water as Taylor's most lesbian song. On "It's Nice to Have a Friend," Taylor sings about a friendship turned more. At first, she paints the picture of an innocent, youthful partnership: "School bell rings, walk me home, sidewalk chalk, covered in snow." But slowly, discreetly, and therefore lesbianly, it turns: "Something gave you the nerve to touch my hand, it's nice to have a friend."
She later sings, "Call me babe," and "Stay in bed the whole weekend, it's nice to have a friend." And last but certainly not least, my favorite lyric on all of Lover: "Lost my gloves. You give me one. Wanna hang out? Yes, sounds like fun." THIS IS LITERALLY THE PLOT OF CAROL!!!!! Taylor Swift's deep lesbian yearning for her "friend" Karlie Kloss maxes out on "It's Nice to Have a Friend." A Carol motif? Seriously? Oh, and more bi flag imagery: "Pink sky up on the roof."
Big takeaway: Finally, confirmation that Karlie was the Therese in the relationship.
"Daylight"
I have a hard time believing Taylor Swift wrote more than one song about Harry Styles, because that relationship seemed so fleeting and brief, yet was undeniably impactful — people say 1989's "Out of the Woods" was written about Styles. That video features Swift running from a pack of wolves. On "Daylight," Taylor sings, "You ran with the wolves and refused to settle down." Can we draw a parallel here? Swift loves a callback, a clue, and almost never recycles a symbol. Wolves just feel too specific to reference twice if they're not related.
Big takeaway: One Direction is now, canonically, a pack of wolves.
Album takeaway: Taylor has synesthesia, is still mourning love lost despite being in a happy partnership with Silk Original Flavor Boy Joe Alwyn, but has shared her log of those relationships, and her new perspective on them, here, on Lover.