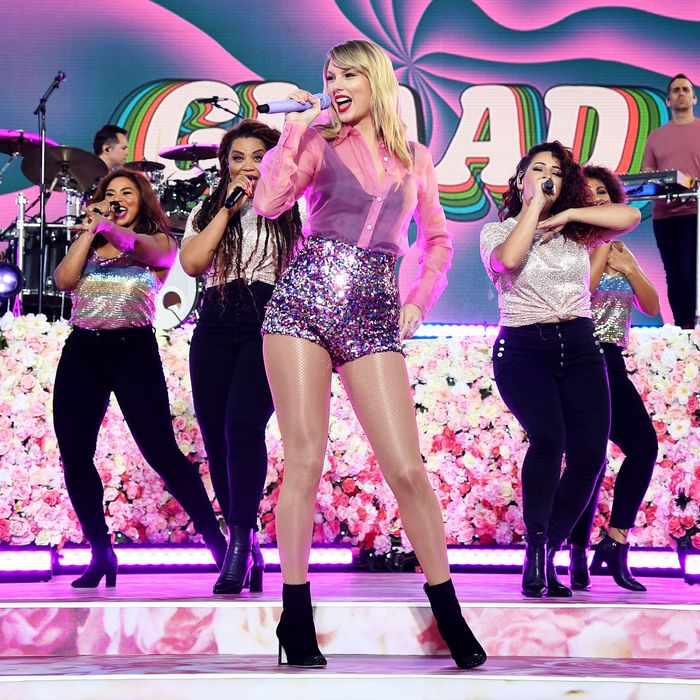 A very scientific ranking.
Photo: Kevin Mazur/Getty Images for ABA
After weeks of rainbows and glitter and clues and bisexual colors, Taylor Swift's Lover has landed. It is 18 tracks long, emphasis on long. And sure Swift told Vogue in no uncertain terms she's not a member of the LGBTQ community. And yes, "London Boy" is proooooobably about her British boyfriend of several years, Joe Alwyn. But we, the Kaylor diehards of the World Wide Web, reserve the right to hear what we want to hear. So, without further ado, Vulture proudly presents Lover ranked, very scientifically and not at all while wearing a tinfoil hat, by queer energy.
18. "ME!"
This song is not queer. Brandon Urie, I love you but I am sorry it is not. It's only slightly better now that the spelling section direct from the "Hooked on Phonics" infomercial they show in Hell has been removed. Straight Pride, come get your anthem.
17. "Miss Americana and the Heartbreak Prince"
Honestly, not a lot here. Notably the "heartbreak prince" doesn't get a name or pronouns, so I guess that's something. There's also a bit in the chorus about classmates gossiping and the couple running away together to be in their own little world to get away from it all. I guess that could be something, too.
16. "I Forgot That You Existed"
Points here for the IDGAF energy, a specialty of queer folks living in a world where not giving a fuck is a necessary survival skill. More points if you tell yourself the "you" Swift has forgotten is Karlie Kloss.
15. "Cornelia Street"
Another ode to the queer stronghold, the West Village, Swift sings about being drunk on something stronger than booze — love — and the potential for a heartbreak so big you avoid an entire section of the city. She's also got a lyric about borrowing a jacket from her lover. Sharing clothes. When Gigi Hadid and Zayn Malik did that, Vogue called it "gender fluidity." Sure.
14. "Death by a Thousand Cuts"
A genderless, keys-filled — hi, Jack Antonoff — tune about a relationship ending slowly and painfully and with, well, a thousand little cuts. Wow. What a great distillation of what it's like to have a woman chip away at your heart little by little, and all the while you still can't let go. Good work, Tay.
13. "I Think He Knows"
If you willfully ignore a few words in the chorus — which sounds a whole like like Allie X's "That's So Us" and somebody please make this mash-up happen — and change some spelling around, there's some energy here. "He's got that boyish look that I like in a man." Drop "in a man." (Only if you're assuming said man is heterosexual and cisgender.) Add an "i" for the "y" in boy.
12. "The Archer"
Swift teased this track with an Easter egg in the "You Need to Calm Down" music video. Hayley Kiyoko, one of the video's many guests, shoots an arrow into a target with the number five on it. ("The Archer" is track five.) Kiyoko is also known as "Lesbian Jesus."
11. "Lover"
The gist of this song is that Swift and her lover are living together. They can leave up the Christmas lights past the holidays. Friends sleep on the living-room floor. There's also a line where she asks if she's known her love 20 seconds or 20 years. Knowing each other for 20 seconds and immediately moving in together? Folks, we got ourselves a couple of U-Haulers.
10. "Soon You'll Get Better"
A gorgeous, banjo-filled heartbreaker featuring the Dixie Chicks, this song is the perfect scratcher if you've been itching for a grown-up version of some of Swift's oldest stuff. No explicit queerness per se, but it's moody and sad and feels just right for drinking tea and sitting alone in your room and crying about whatever has you down at the moment.
9. "London Boy"
Is this song probably about Swift's British boyfriend of several years, Joe Alwyn? Yes. Was Joe Alwyn in The Favourite, a movie about a Sapphic love triangle, last year? Also yes. You do the math.
8. "False God"
We all know Swift loves a good geographic reference — specifically a good New York City geographic reference — and this song does not disappoint.
"You're the West Village, you still do it for me." The West Village. Home to, among other things, Cubbyhole, the Stonewall Inn, and that rainbow-painted crosswalk that just looks brown 11.5 months of the year because of all the foot traffic. Also there's a saxophone. I play the saxophone. I'm gay. Ipso facto, this song is gay, too.
7. "Paper Rings"
Diamond rings are great but also a relic of an extremely heteronormative and patriarchal society. Free yourself! Grab some looseleaf and roll it up and propose to your crush middle-school style. You don't need tradition! This song is a bop!
6. "You Need to Calm Down"
Name a famous LGBTQ+ person. Chances are good they made an appearance in this music video. Ellen DeGeneres. Jesse Tyler Ferguson. RuPaul. Adam Rippon. The list goes on and on and on. Swift devotes an entire verse to shutting down homophobic picketers. "Cause shade never made anybody less gay." In the lyric-only video "glad" is spelled "GLAAD." Oy.
5. "Daylight"
Are you familiar with the concept of "lesbian processing?" It's a queer stereotype that casts lesbians as overanalyzers who question everything. If there's something to discuss to death, we'll discuss it to death. As in you get into bed at night and then you don't actually sleep because you talk all night long. Through the "20-year dark night" until … daylight. There's a voice memo at the end where Swift talks a little about what she wants to be remembered for and "the things that haunt me in the middle of the night." Sounds ripe for processing.
4. "Afterglow"
Vulture editor Dee Lockett forecasted this one would be about former squad member Karlie Kloss. She was semi-kidding, but it's a hypothesis I am deciding to cling to even after hearing the song. It's a sexy number about a tumultuous relationship. It contains no pronouns. "This ultraviolet morning light below tells me this love is worth the fight." Ultraviolet. Ultraviolet. The violet menace. There's a line about boxing. Kloss and Swift boxed in the "Bad Blood" music video. Vive le Kaylor!
3. "The Man"
A bop in which Swift reimagines the world if she were a man. Excellent mental images of Swift as a drag king abound. "I'd be just like Leo, in San Tropez." Which, problematic reference to a dude who doesn't date women older than 25 aside, invokes queer canon. Leonardo DiCaprio, the man who as Jack in Titanic, "launched a thousand lesbian awakenings." Queer canon.
2. "Cruel Summer"
"I don't want to keep secrets, just to keep you." A synth-heavy jam just perfect for those moments where you're out of the closet but your partner isn't, and as much as you love them you just can't keep living your life in the shadows anymore. You've done too much emotional homework for this. Is this oddly specific? Maybe. Still works. Annie Clark, a.k.a. Saint Vincent, is listed as a co-writer on the track so that's how you know it's the real deal.
1. "It's Nice to Have a Friend"
"Lost my gloves, you give me one, wanna hang out? Yes, sounds like fun." As my colleague Jill Gutowitz pointed out upon first this listen … this is, in fact, the plot of Carol. My Taylor, flung out of space.