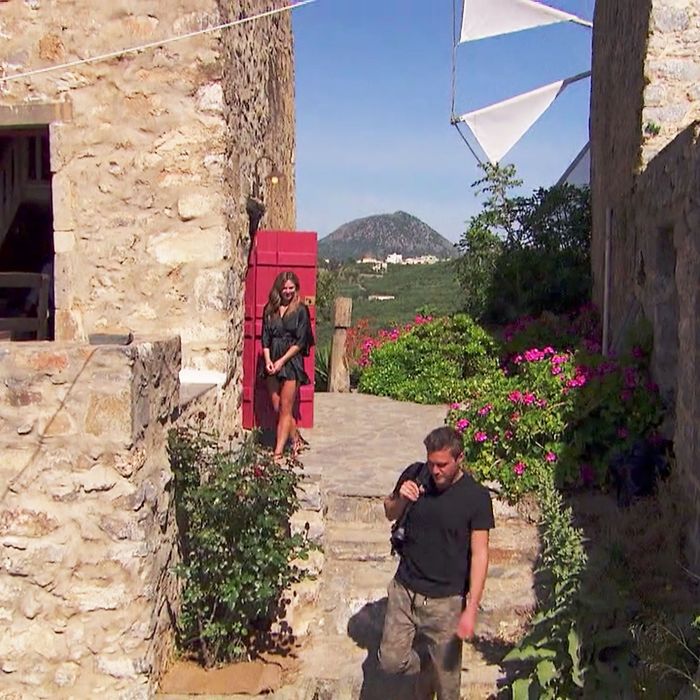 Hannah and Peter, after enjoying the windmill's "good energy."
Photo: ABC
During the two-part Bachelorette finale's live-audience segment, host Chris Harrison told lead Hannah Brown and her third-place suitor, Peter Weber, "No one will ever look at a windmill the same."
He was referring, of course, to the Greek windmill-turned-vacation destination that was the site of Brown and Weber's fantasy-suite date, and a point of contention when other suitor Luke Parker discovered Brown "fucked [Weber] in a windmill."
"And guess what," she yelled to Parker. "We did it a second time!"
Brown, clearly not happy with America thinking she would only fuck Weber in a windmill twice, cleared everything up Monday night's finale, when she admitted in front of Jesus, Harrison, and Weber's parents that she and Weber actually fucked four times in the windmill. Four! Weber's parents grinned happily and cheered on their once-hopeful future daughter-in-law from the audience. Weber's cheeks turned bright red as he told the audience, "Jesus still loves us."
The windmill will live on in Bachelorette history — and on unauthorized merch — but if you're a true fan, the "rustic traditional windmill" in Greece is available on Airbnb, meaning you too can have sex in a windmill for only $56 a night. Four times in one night comes out to $14 a lay, so have fun! Just don't expect to fan out over the experience with Athina Stathopoulos, who owns the windmill that she turned into one-bedroom, one-bath Airbnb with her boyfriend, and who has never seen The Bachelorette.
"I have no idea about The Bachelorette," Stathopoulos says. "I don't even own a TV for the past 15 years. I didn't know anything … But because the windmill is quite small and in a peculiar space, they didn't know if it would be feasible for them to film. It's really small. It's 32 square meters. So small."
She inherited the windmill from her mother, who used it as an art shop to promote Greek art for 20 years. Stathopoulos and her boyfriend began transforming the windmill from an art shop to a home last year. To transform the windmill to a romantic getaway, Stathopoulos's boyfriend did the construction, while she took care of the aesthetics and painting. She says the windmill is romantic, so it's no wonder Brown and Weber felt the need to do it so much.
"It's a really nice, beautiful space that has good energy," she says. "It's not square, it's circular. So it has a different energy. It's really cute. I get surprised every time I open the door with how cute it is."
It was Stathopoulos's brother, a reality TV location scout, who recommended his sister's windmill to production. She says her experience with production was quick and simple, and they were "laid-back Californians."
Stathopoulos, who works as an English teacher in Greece, says even though she's never seen the TV show, the meme-able aspect of the windmill has reached her in Greece. However, she hasn't seen an increase in bookings since the show aired.
"I can't say I've had a lot of Americans staying because of The Bachelorette," she says. "I have no idea how these things work. I really don't know if it's a bubble or if it will help or if people are that interested one month later." Regardless, Stathopoulos says she's just happy to be able to give people a chance to "live the windmill experience."
For those looking to live the windmill experience themselves, the windmill is already booked for most of August, but September is wide open.