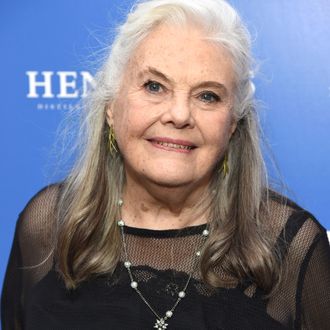 The great Lois Smith.
Photo: Michael Kovac/Getty Images for IFC
The Inheritance has found the American version of Vanessa Redgrave in Lois Smith (Lady Bird fans, congrats). The production, a two-part gay drama by Matthew Lopez that was a hit in London, has announced the casting for its Broadway transfer this fall, with Smith in the small role of Margaret, a character that only appears in the second part, whom Redgrave played onstage in London. The play is a contemporary riff on E.M. Forster's Howards End set among gay New Yorkers, with an all-male cast of characters, aside from Margaret. Andrew Burnap, John Benjamin Hickey (who plays the plays version of Henry Wilcox), Paul Hilton (who plays a version of Forster), Samuel H. Levine, and Kyle Soller (who won an Olivier Award for lead actor) are all transferring with the production from its London cast. The new cast members include Jordan Barbour, Jonathan Burke, Darryl Gene Daughtry Jr., Dylan Frederick, Kyle Harris, Carson McCalley, and Arturo Luis. Stephen Daldry directs The Inheritance, which starts previews September 27 and opens November 17.