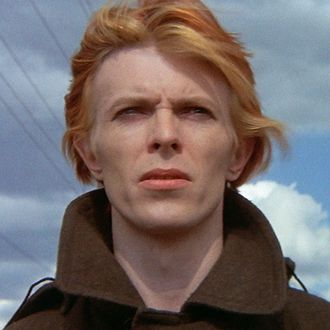 David Bowie in
The Man Who Fell to Earth.
Photo: British Lion Films
CBS All Access is expanding its roster of genre shows, giving a series order to a small-screen adaptation of The Man Who Fell to Earth, the Walter Tevis novel and 1976 David Bowie film about an alien who ends up a tech mogul on our planet. Alex Kurtzman and Jenny Lumet, from the streamer's signature series Star Trek: Discovery, will write and executive-produce the project, serving as co-showrunners, while Kurtzman is attached to direct. The show, announced Thursday at the TV Critics Association summer press tour, has already started staffing up, with writing scheduled to begin next month.
As with earlier versions of the story, the CBS All Access series will explore what happens when an alien being comes to Earth at a pivotal moment in the planet's history. The alien will once again bring his world's superior technology to Earth, in the process becoming the (very rich) head of a major corporation. Lumet and Kurtzman have been working on the project for more than a year, originally developing it for Hulu. When they began figuring out what a new Man Who Fell to Earth would look like, they realized there were similarities between its story and our current age of tech wizards ruling huge multinational companies.
"We started thinking about that day when Steve Jobs got onstage and [introduced] the iPhone, and then proceeded to completely change the way we communicate," Lumet told Vulture in an interview. "And Alex was like, 'What if Steve Jobs was an alien?'" Given that the original novel is about, as Lumet puts it, "someone from another world who comes here, introduces technology that becomes an integral part of all of our lives [and] changes all of us, those parallels were really were kind of impossible to ignore."
What's more, as Kurtzman notes, what was conjecture 50 or so years ago when the Tevis novel was first published feels far less fantastical today. "Just last week, we saw that Elon Musk announced that he is going to be working on a brain-to-microchip interface where you implant the chip in your brain and can do all sorts of things. That kind of thing is proof positive that this story is more relevant than it's ever been," he said. "It was fantasy; it's actually become reality now."
Kurtzman and Lumet's take on The Man Who Fell to Earth was put into development more than a year ago at Hulu, with Kurtzman attached via his overall deal at CBS Television Studios, where he's overseeing the rapid expansion of the streamer's Star Trek TV franchise. Some behind-the-scenes corporate politics not related to creative matters — in short, some issues with rights deadlines and network ownership stakes — resulted in CBS All Access getting the chance to land the project with a series order. Kurtzman said working with Hulu "was a great experience," but that All Access "was extremely aggressive and excited about" the possibility of giving the show a home. "Given our long relationship with them … and their genre programming, we were very excited to take it there," he added.
In addition to Kurtzman and Lumet, other executive producers on the show will be Rola Bauer, Tim Halkin, Sarah Timberman, Carl Beverly and Heather Kadin; Aaron Baiers will serve as co-executive producer. CBS Television Studios and the StudioCanal-owned Tandem Productions are producing, in association with Secret Hideout and Timberman/Beverly.