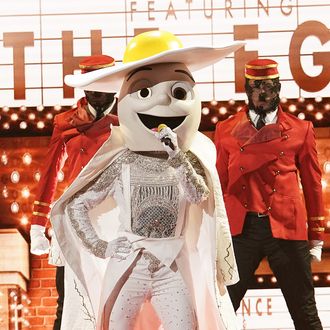 Photo: Michael Becker/FOX
ICYMI, Fox renewed its reality singing competition, The Masked Singer, for another season, granting us all access to a fresh new hell, the likes of which have not been seen on Earth. But the good news does not stop there. We get a special preview before the second season officially begins, including a performance from season-one winner T-Pain, as well as an introduction to season two's contestants. In The Masked Singer, which is based on a South Korean reality show, celebrities dress up and perform in elaborate costumes while judges guess at their identities. This seems like a harmless premise, but then you see the costumes. However, as Edgar Allen Poe once said:
Deep into that darkness peering, long I stood there, wondering, fearing, doubting, dreaming dreams no mortal ever dared to dream before.
Peer on, Masked Singer fans. The Masked Singer: Super Sneak Peek, will air Sunday, September 15 at 8:00 p.m. on Fox.