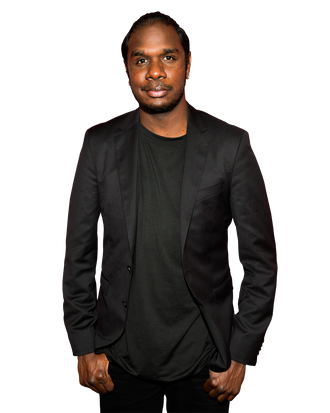 Photo: Rodin Eckenroth/Getty Images
The Nightingale, Jennifer Kent's follow-up to The Babadook, is not an easy film to watch. It's an unsparing indictment of colonialism set in 1820s Tasmania, as the British army brutalizes the Aboriginal population and exploits the prisoners who've been transported there for hard labor. When Irish convict Clare (Aisling Franciosi) suffers through an unimaginable ordeal at the hands of Sam Claflin's Lieutenant Hawkins, she enlists the aid of a local tracker named Billy, played by newcomer Baykali Ganambarr, to aid her on a journey of revenge. Clare and Billy spend much of the film sniping with each other over who's had it worse, eventually coming together in solidarity against the real enemy — the English.
For Ganambarr, who'd never acted professionally before being cast, it was a breakout performance, one that earned him the Marcello Mastroianni Award — given to the festival's best newcomer — at Venice last summer. But more than that, he says, it was an opportunity to bring Aboriginal culture in front a worldwide audience. Talking to Vulture in IFC's midtown offices, Ganambarr spoke about his journey being a kid from a remote part of northern Australia, "and now here I am, an actor in New York."
You're from the Northern Territory, which is not a part of Australia I know very much about. What is it like?
Where I'm from in Australia, it's pretty remote. I live on a small island called Elcho Island, which is far northeast from Darwin. It's a small island of about 3,000 people, and everyone pretty much knows each other. It's pretty lovely out there: blue and green seas, so many great fishing spots.
I saw on Instagram that your first career was as a dancer.
Where I'm from, dancing is a huge thing in our culture. Back home we do dancing in ceremonies, because we still have secret men's business. We also do dances at funerals, as respect and farewell. Our culture's pretty tight. And then when I was 9 or 10 years old, I was just like, Why don't I mix it up a bit? I saw stuff on the TV: hip-hop, breakdance, pop and lock, and all that. Now I'm with this dance group called Djuki Mala. We're an Aboriginal dance company. We do traditional contemporary, and also we mix our dance with modern dance, make it into a comedy performance. We've been in Canada, Toronto, Vancouver, Montreal, Edinburgh Fringe Festival in Scotland, and pretty much everywhere in Australia, of course.
So how did you make the transition from dancing to acting?
I always looked up to my sister, personally. She's like 12 years older than me, and she's been dancing her whole life, too. From there she started off into acting, and she's pretty well-known in Australia now. [Ganambarr's sister, Rarriwuy Hick, is an actress who currently stars in the Australian prison drama Wentworth.]
Where I'm from on the island, there's not much opportunity with education and all that, so I went down to Sydney to start studying. An Aboriginal kid from a small island coming to a big city was a huge change for me. It was scary: how crowded it was, the traffic. And then that's when I met my sister. I didn't know her growing up, because she lived in Sydney her whole life. I met her, and she said, "I'm your sister." I was like, "What? For real?" From that day on, we're so inseparable. Our sister and brotherly love was so strong and perfect.
One day I was just chilling, minding my own business and the next thing you know someone on Facebook tagged me on a post: "Need an Aboriginal actor with no acting experience." I was just like, Might as well just give it a try. I auditioned and after I got the role, the first thing I did was call my sister. I was like, "Hey, sis, I got a lead role in a feature film." She was really proud of me. It's been an incredible journey.
Why do you think they wanted someone with no acting experience?
Jennifer is really smart in picking her actors. I reckon what she wanted was someone who was just natural, that didn't have to try to be someone else. I wasn't trying to be anyone, I was just being myself. But Jen would tell me all the time on set, or even in interviews, she would be like, "It's so unbelievable how Baykali grew so fast while shooting." I'd be like, "Okay, stop it, Jen." She's been giving me so many amazing compliments. I reckon I wouldn't be able to do that without her pushing me.
What's Jennifer Kent like as a director?
She's really strong. She believes in the story that she's telling. That's what makes me really proud of her. Because most people think it's a bit weird, a white woman directing an Aboriginal film. You know? Most people wouldn't do this. They wouldn't go to an Aboriginal community, have a consultation with an elder to get permission to go through the land and film. She did all that. She spent three or four years learning the history, having a full, proper knowledge of the history of Aboriginal people. It's 2019. Stories like this have to be told. The history depicted in The Nightingale is only scratching the surface. It's the first, but it's definitely not the last. There's more to come.
How much of the history were you aware of growing up? I know in America, the worst parts of our past are not something they teach in school very often.
There were times where our elders would get around a campfire and talk about what our ancestors went through, but there's not much Aboriginal history being told in schools in Australia, and that really is a shame. So many of our elders have tried to go out and show the world that Aboriginal people of Australia still exist. But it's good to have movies like this, or even dancing, as a platform. In my dancing career, traveling around in Scotland, we would get so many questions about, "Who are you? Where are you from?" We'd actually tell them we're Australians. "Are you from Africa?" "No, we're Aboriginal. We're Australian Aboriginals."
This is such a brutal movie. How did you all cope on set?
We had psychologists on set whilst doing the scenes, because it's so wrecking. For Aisling it was really, really hard. Also for Sam. I reckon they can talk about it better than me, because I would be on set listening to everything. Not watching, just listening, and it was so hard to listen to. But everyone was there for each other. Aisling would come out with tears, and I would go up and give her a hug, just to comfort her. Sam and Damon [Herriman], too. The care and love and respect was there towards each other, and that's what made us keep on going on in those scenes.
How did it feel when you put on the body paint at the end?
I felt strong. I felt powerful. In dancing, we always use our paint. We call it ochre. It makes us real proud, like a strong warrior. Our ancestors used it to go to war. For us to be able to do that in dancing or even in the film, I felt really strong and protected, like I can feel the spirits of the ancestors. I just love the feeling. In Venice when I saw it, I teared up. I couldn't hold back the tears. Everybody else was tearing up at that moment, too.
You've said that there are more stories that need to be told. What kind of stories would you like to see?
I reckon it'll be better explained than told if someone actually made the film. I'm thinking of getting into directing in a couple of years if I actually achieve my acting career.
What kind of movie would you want to direct?
Well, if it doesn't happen while I'm still an actor, I was actually thinking about an Aboriginal Marvel character whose name is Manifold.
A big dream! I respect it.
Yeah! [Laughs]