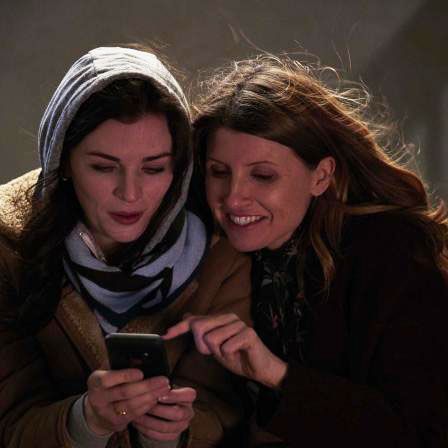 Aisling Bea and Sharon Horgan star as sisters in the Channel 4/Hulu series
This Way Up
.
Photo: Channel 4
When we first meet This Way Up's Aine (played by series creator and writer Aisling Bea), she's in the slippery liminal state of early recovery, just getting out of a rehab facility she was admitted to after what she's referring to as a nervous breakdown. But it's evident that the waters are more troubled than Aine's quirky charms would suggest, as her older sister, Shona (Sharon Horgan), asks one of the receptionists at the facility, "Is she fixed?" Aine stumbles through her recovery searching for meaning and answers in everyone but herself — failed hookups, falling back in with an ex, the older immigrants whom she teaches English, her sister. At one point, she goes to a psychic she finds off the street, who tells her, "You've got a fire in you. You can use that to heat yourself up or you can use that to burn yourself and everyone else around you down." But Aine is less wildly destructive than distinctly lost — much like the show itself, which drifts between scenarios with amiable charm but seems averse to dealing with the darker, dramatic aspects of Aine's story.
This Way Up has its pleasures, namely its gently vulgar humor and the codependent, richly observed dynamic between Aine and Shona. But the British comedy-drama — a Channel 4 production that dropped Stateside on Hulu this week — feels listless as it spends most of its six episodes either avoiding or only exploring on the surface level the heart of the matter: What are the influences in Aine's life that brought her so low? Why is she so uncomfortable with being healthy? Unfortunately, the show's humor proves to be more realized than its dramatic dimensions.
As Aine stumbles through life just barely getting by — whether in her work tutoring the French son of Richard (Tobias Menzies), with whom she develops a somewhat flirtatious rapport, or in her reaction to losing her sister's attention to a new friend — it becomes evident that she uses humor as a defense mechanism. Before anything can cut too deeply she diffuses tension with a vulgar joke or a baby voice that highlights just how childlike and immature she can be, in part because she never had to fully grow up with Shona around. The dynamic between Shona and Aine cuts deeply thanks to the tender chemistry between the actors, evident in moments like them singing "Zombie" by the Cranberries together, or fighting over Aine's latest mistake in a way that shows they'll forgive each other soon enough. This element of the series contains some intriguing dramatic threads regarding the codependency of their relationship, which Shona's longtime partner, Vish (Aasif Mandvi), often brings into the light with loving frustration, and which become particularly evident when Shona gains a work friend, Charlotte (Indira Varma), whom she spends an increasing amount of time with.
But the series undercuts its dramatic potential by talking around what really brought Aine to the hospital. Shona is unable to voice it, but that she obsessively tracks Aine's location on her phone speaks to the seriousness of the matter. This Way Up holds off on addressing the truth, treating it like a revelation rather than threading it into our understanding of the characters and their lives. This is most clear in Aine's estrangement from her mother (Sorcha Cusack), which for the first few episodes of the series is in the foreground of her conversations with Shona. It's evident something traumatic and hurtful happened, causing Aine to put distance between them. But in episode four, when their mother joins them for a birthday celebration at Vish's family's home and she and Aine bicker, the animosity doesn't feel as fiery as one would expect. And when they forgive each other at the very end of the episode, it happens so quickly after her mother reveals her own struggle with postpartum depression that we don't have enough time to really understand what this means for either woman, or how this will affect Aine going forward. It's brushed aside almost as an afterthought.
It's only in the final episode that Shona and Aine have a conversation that broaches the truth instead of just hinting at it. Just as This Way Up finally dips its toe into the more complex territory it's teased all season — Aine confronting what led her to be in rehab — the show ends, leaving half-formed the thorny emotional and personal dynamics that power the story.