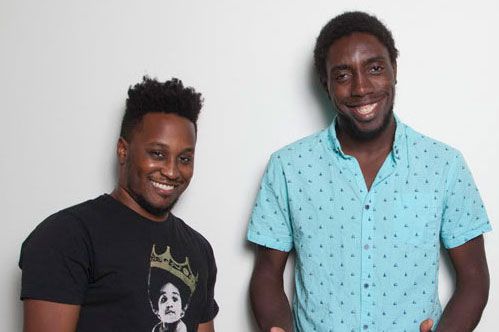 Culture Kings
co-hosts Jacquis Neal and Edgar Momplaisir.
Photo: HOWSTUFFWORKS
The comedy podcast universe is ever expanding, not unlike the universe universe. We're here to make it a bit smaller, a bit more manageable. There are a lot of great shows, and each one has a lot of great episodes, so we want to highlight the exceptional, the noteworthy. Each week, our crack team of podcast enthusiasts and specialists and especially enthusiastic people will pick their favorites. We hope to have your ears permanently plugged with the best in aural comedy.
Culture Kings — The Kings and Doughboys are in the Building with Nick Wiger and Mike Mitchell 
When thinking about who deserves a spot on the Mount Rushmore of dynamic podcasting duos, Culture Kings co-hosts Jacquis Neal and Edgar Momplaisir make for a compelling argument week in and out. This week, Neal and Momplaisir bravely welcome another dynamic duo that may prove worthy of a spot as well. Before you get excited, no, I'm not talking about Hobbs and Shaw. I'm referring to everyone's favorite boys of dough, Nick Wiger and Mike Mitchell! Much like a rambling Joker quote, this episode proves to be an unstoppable force meeting an immovable object of pop-culture reference points. Throughout, our foursome dives into everything from Whitey Bulger to what a UCB-styled improv video game would look like (spoiler alert: It's not that fun). Seeing as though the Doughboys are fast-food experts, the Kings eagerly jump into a conversation about chain restaurants. From there, a fun debate ensues about which chains are too good to give up in spite of the restaurant's problematic viewpoints. Whether you're team Culture Kings or team Doughboys, the real winners here are the listeners. —Tom Rainey
Listen: Spotify | Apple | Website
Best Friends with Nicole Byer and Sasheer Zamata — Sasheer Knows Her Rising Sign, with Casey Wilson & June Diane Raphael
Nicole Byer and Sasheer Zamata are best friends. Need proof? Just listen to the past nine episodes of their podcast, Best Friends. This week, Nicole and Sasheer are joined by another pair of very funny best friends, Casey Wilson and June Diane Raphael, in a new segment called "Besting Each Other." In it, each friend is asked a set of questions about the other before all sitting together and talking about the answers. Questions include: What's their favorite thing about the other one, what's the best gift they ever gave the other one, and where they see their friendship in 20 years. Think Newlywed Game meets couples therapy. And while hearing a story about meeting your best friend in a clown class in college is funny on its own, hearing that same story about that same clown class in college from two opposite points of view is nothing short of a delight. If you've got a soft spot for people saying nice things about each other, listener beware: This episode could just make you altogether melt. —Leigh Cesiro
Listen: Spotify | Apple | Website
How Neal Feel — Blake Griffin Interview
Neal Brennan has feelings. The spiritual successor to his excellent special, Neal Brennan: 3 Mics is How Neal Feel, where Brennan and co-host Bianca Sia find out exactly how Neal feel about everything from politics to "titty whiffs." Listeners might be familiar with the show's inaugural guest from stand-up comedy and the 2011 Kia NBA Slam Dunk Contest, Detroit Piston Blake Griffin. On top of working on his free throws, Griffin has spent the last few off-seasons shadowing Hollywood gurus like Kenya Barris and Brennan. Despite Brennan joking, "I know as an NBA player you're trained to not say anything interesting," Griffin opens up on the trade that sent him from L.A. to Michigan (a.k.a. the reverse comedian), NBA media gossip, and the worst thing a fan has yelled at him. The two friends have a playful chemistry that could easily carry a 90-minute mismatched buddy comedy — hope you're listening, Netflix. Together they quiz Bianca Sia on NBA slang, followed by Sia grilling the men on parts of the female anatomy. Where else can you listen to an All-NBA player try to name where the vulva is? Guest or no guest, Neal and his feels have been a welcome addition to the podcast canon. —Mark Kramer
Listen: Spotify | Apple | Website
The JV Club — Chris Sullivan
Long a strong comedic voice and presence in TV, stage, and podcasting, Janet Varney and her JV Club podcast has been bringing us a steady stream of great women guests for over 300 episodes. But every year she features her "Boys of Summer" stretch where her guests are men, and the latest, Chris Sullivan (This Is Us), isn't afraid to talk about his feelings. Whether it's the trepidation that comes along with the joy of being a first-time homeowner or carrying the burden of a one-man show (Sullivan appeared in Defending the Caveman for more than a thousand performances), he jumps into every topic that Varney unfolds with enthusiasm and an easy laugh. With both host and guest being improv veterans but never having played onstage together, it's fun to hear them go off into funny asides while seeing how far the other will play along. Sullivan was born in Sacramento, California, for instance, and they carry the fiction that he may have been a son of Arnold Schwarzenegger for a bit. The back end of the episode steers into the idea of discovering what one's purpose is in life and then embracing it to the benefit of you and those around you. Varney's show, even during the "Boys of Summer," remains refreshing, delivering chuckles while giving out a few life lessons along the way. —Marc Hershon
Listen: Spotify | Apple | Website
My Neighbors Are Dead — Midsommar With Ryan Meharry and Amy Ruffle 
Earlier this summer, Ari Aster's highly anticipated follow-up to Hereditary came out. Midsommar, another A24 horror movie, trails a group of 20-somethings to a remote village in northern Sweden to partake in a festival that occurs once every 90 years. Hosted on the Hårga commune by what's revealed to be a pagan cult, the celebration goes from delightful to frightful rather quickly. This specific situation, however, lends itself well to My Neighbors Are Dead's conceit, which is to interview lesser-known characters from your favorite horror films. Welcome, Ted and Sally, a young couple who had the privilege of celebrating at the Hårga, to the hot seat. As two of the many festival attendees, they're rather tight-lipped about most of the specifics, but they can share some highlights from "the mushroom-filled orgy fuck fest." For instance, they gleefully break down how many people were sacrificed — er, freed — and share that they're looking to replicate their experience in the Coachella Valley. Improvised by Ryan Meharry and Amy Ruffle (Fantasy Flix League), Ted and Sally are hilarious culture vultures who skipped out on a Disney cruise in favor of the more worldly and exclusive midsummer celebration. They were also kind enough to bring host Adam Peacock a pie, and if you've seen the movie, you know it's a distinct flavor. And if you haven't? All the more reason to tune in. —Becca James
Listen: Spotify | Apple | Website
Other Podcasts We're Listening To:
Asian, Not Asian — I'm Not a Teen, Not Yet a Milf (feat. Asa Akira)
Listen: Spotify | Apple | Website
Why Won't You Date Me — The Joy of Being Alone (w/ Ashley Nicole Black)
Listen: Spotify | Apple | Website
The Goodie Goodie — Mitra's Ladder of Dicks and Heating Pads (w/ Mitra Jouhari)
Listen: Spotify | Apple | Website
The Ron Burgundy Podcast — Cyber Security
Listen: Spotify | Apple | Website
Armchair Expert — Busy Philipps
Listen: Spotify | Apple | Website
Got a comedy podcast recommendation? Drop us a line at comedypodcasts@vulture.com.