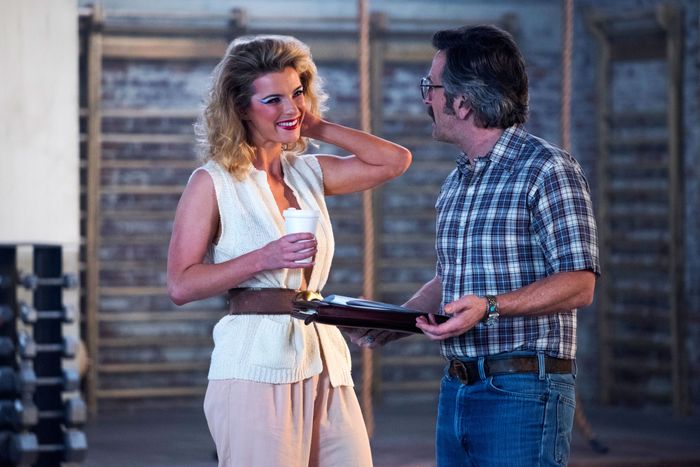 Betty Gilpin and Marc Maron on
GLOW.
Photo: Erica Parise/Netflix
The comedy podcast universe is ever expanding, not unlike the universe universe. We're here to make it a bit smaller, a bit more manageable. There are a lot of great shows, and each one has a lot of great episodes, so we want to highlight the exceptional, the noteworthy. Each week, our crack team of podcast enthusiasts and specialists and especially enthusiastic people will pick their favorites. We hope to have your ears permanently plugged with the best in aural comedy.
WTF — Betty Gilpin
Marc Maron fans are on a high this week, with Wednesday's appearance in the Joker trailer coming on the heels of an even darker sitdown with GLOW co-star and unlikely soul mate, Betty Gilpin. The two show off their seasoned chemistry by forgoing the usual guest warm-up for an immediate leap into the WTF wheelhouse. "The trick is, I guess, from what I understand in humans, is gratitude. How are you with gratitude?" Maron asks underneath the opening guitar riff. Sam Sylvia and Liberty Belle go toe-to-toe on topics like wanting to have an existential crisis during press tours, pretending to be a "porn poodle," and accessing pain in order to maintain your health insurance. Apparently, Emmy nominees aren't supposed to tell Jimmy Kimmel about the time they shit their Lululemons on the set of Nurse Jackie. Gilpin also mourns Universal's cancellation of The Hunt, where she stars as the most fun character she's ever gotten to play. Recent episodes featuring fellow castmates Bashir Salahuddin and Geena Davis have made WTF essential bonus content for the GLOW universe. —Mark Kramer
Listen: Spotify | Apple | Website
PTSDiva With Scott Thompson — Cancer Pt. 1 With Blaine Capatch, Dan Telfer, and Julia Sweeney 
Since leaving the Kids in the Hall nest, Scott Thompson has had his share of ups and downs, but the downest of the downs was when he discovered that he had B-cell non-Hodgkin's gastric lymphoma a decade ago. He's been cancer-free for quite a while now and is back in Los Angeles pursuing stand-up comedy and — wait for it — podcasting! As host of the new PTSDiva on Stitcher Premium, Thompson is welcoming celebrity friends and guests to share their stories of adversity, fear, and other disabling states as well as how they worked to overcome them. In the debut episode this week, comedian and writer-comedian Blaine Capatch relates how he dealt with his own surprise cancer diagnosis ("I think I have to blame my eating habits. I would eat pretty much anything. Anything"), and how a cheerful disposition helped him overcome the fear. Dan Telfer, another comedian-writer (both he and Capatch appear weekly on Nerd Poker With Brian Posehn), had cancer not once but twice. The first time he kept it to himself and was very private, almost guilty, about having the disease. The second time he got angry and told everyone and basically intimidated the cancer away (along with some intense chemotherapy). SNL alum Julia Sweeney is Thompson's third guest for the episode, sharing how low her life was when she was diagnosed with cancer: One of her parents had just died, and the other was suffering from dementia. For all the show's gravitas, Thompson has a breezy, engaging style, and with his first rack of guests along with himself, it seems pretty clear that having a distinct sense of humor about life and death may be part of what can contribute to beating cancer and other dreadful conditions. —Marc Hershon
Listen: Stitcher Premium
Scriptnotes — The Veep Episode With Julia Louis-Dreyfus and David Mandel 
Although HBO's Veep may be over, its memory and on-demand catalogue will continue to live on. To talk about everything from the show's inception through its memorable finale, those closest to production, Julia Louis-Dreyfus and David Mandel, stop by Scriptnotes. For a podcast that has a rather impressive back catalogue, even this feels like a get for them. When considering the vast history between these two, they certainly have a lot of ground to cover. Although the predominant focus here is on the script structure and engineering of Veep, we do take a brief stop through the Larry David Cinematic Universe while touching on the guests' time on Seinfeld and Curb Your Enthusiasm. In talking about each program, Mandel and Louis-Dreyfus share what was learned on each show and how they were able to master those skills when joining forces. Given Veep's status as one of the best comedies in the last ten years, this is a fun curtain to pull back. If anything, definitely tune in to see who they intentionally modeled the Jonah Ryan character on … It was Ted Cruz. —Tom Rainey
Listen: Spotify | Apple | Website
Podcast But Outside — Garrett Watts Eats an Entire Crab
Los Angeles is a famously unfriendly city for pedestrians, and that hostility toward walkers exponentially increases if you're in its expansive San Fernando Valley. So what kind of guests does Podcast But Outside, a show where hosts Andrew Michaan and Cole Hersch interview Angelenos from a new L.A. locale each week, find when posted up in what older viewers of The Tonight Show may know as "beautiful downtown Burbank"? The answer: lots of teens! On this week's episode, the hosts bribe (every guest gets $1) a future English teacher in Japan and a lonely Disney fan hoping to find love to briefly chat. But the episode's highlights are when the future leaders of America — a group of teen girls seeing Dora the Explorer and some teen skater boys — stop by to talk. With the latter group, the interview starts as an improvised detente because their ollies and kickflips kept getting picked up on the mics. And while many adults think there's nothing scarier than a pack of teens and their brutally accurate insults, these rascals seemed like a bunch of nice kids! The world would be a better place if we just listened to their advice: "Eat apples, smoke Takis, skate fast." —Pablo Goldstein
Listen: Spotify | Apple | Website
Adulting — How Do I Get Out of Going to Work on Monday? Feat. Aparna Nancherla, Geena Rocero, and Crissle West
Being an adult is hard. Here to make it less so is Adulting. Hosts Michelle Buteau and Jordan Carlos invite some of the "funniest, most creative adults around" to discuss adulthood, and finding comedy in life's everyday annoyances and conundrums. Take, for example, previous discussions on what an acceptable amount of money to spend on pillows is and whether real adults are allowed to cry on the subway. This episode tackles similar questions and is full of humorous and helpful advice from comedian Aparna Nancherla, transgender supermodel Geena Rocero, and The Read's Crissle West. Nancherla's advice about cohabitation is especially heartfelt ("You gotta make space for your stuff, but also each other") after her deadpan and hilarious answers about what living with her boyfriend has been like ("I think sometimes you are having a conversation, and then you're like, Oh, no, we're fighting"). Rocero's advice comes in the form of a mantra for all the creatives out there when she drops the line, "If I ain't bitching, I am pitching." Then West ends the podcast on a high note, delivering riff after riff with a little advice about hugs and health included. It's an overwhelmingly uplifting listen and worth your time. —Becca James
Listen: Spotify | Apple | Website
Other Podcasts We're Listening To:
Why Won't You Date Me? — Married at 20 With Ron Funches
Listen: Spotify | Apple | Website
How Neal Feel — Hot Dog Burnt
Listen: Spotify | Apple | Website
Two Old Queens — Good Will Hunting With Jon Gabrus
Listen: Apple | Website
You Can Tell Me Anything — Lamar Woods: I Have a Bully at Planet Fitness
Listen: Apple | Website
This Podcast Is Self Care — Coffee Enemas With Natalie Palamides
Listen: Apple | Website
Dexter Guff Is Smarter Than You — On the Ground at Podcast Movement 2019
Listen: Spotify | Apple | Website
Dumb People Town — Todd Barry — Doorknob Nachos
Listen: Spotify | Apple | Website
Got a comedy podcast recommendation? Drop us a line at comedypodcasts@vulture.com.