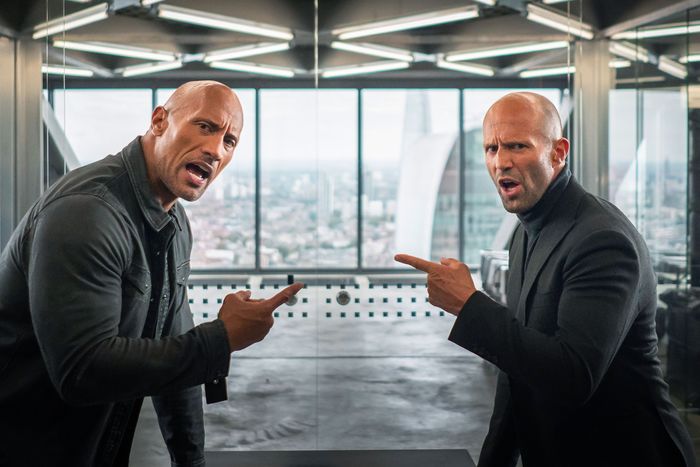 Hobbs & Shaw.
Photo: Universal Pictures
The comedy podcast universe is ever expanding, not unlike the universe universe. We're here to make it a bit smaller, a bit more manageable. There are a lot of great shows, and each one has a lot of great episodes, so we want to highlight the exceptional, the noteworthy. Each week, our crack team of podcast enthusiasts and specialists and especially enthusiastic people will pick their favorites. We hope to have your ears permanently plugged with the best in aural comedy.
How Did This Get Made? — Hobbs & Shaw LIVE! With Adam Scott and Nicole Byer
Another summer blockbuster season has come and gone, and with it the April optimism and July cynicism that has evolved into a national pastime. Through all the exploding black SUVs and Ryan Reynolds winks to the camera remain one beacon of positivity: the annual How Did This Get Made? recap of the latest Fast & Furious movie. As always, Jason Mantzoukas, Paul Scheer, and perennial HDTGM+F&F guest Adam Scott have nothing but earnest admiration to share about Fast & Furious Presents: Hobbs & Shaw (sadly, like Vin Diesel, June had to sit this one out, but fans need not worry — her absence has nothing to do with the recent Drop Dead Fred controversy). "I would watch this movie FOR FIVE YEARS," Adam Scott blurts out before even saying hello. It wouldn't be a F&F movie without a new addition to the family: the OG Vin Diesel fan, Nicole Byer. Byer proves herself a valuable member of the crew, questioning why a movie with a $200 million budget skimped on Vanessa Kirby's makeup and nails. Any stand-alone minute of this episode is way funnier than any of the jokes in Hobbs & Shaw. Mantzoukas and Scheer spend so much time on these F&F episodes pleading to be in the next sequel, when it's the Rock and Vin Diesel who should be on their knees begging to be on the next How Did This Get Made? —Mark Kramer
Listen: Spotify | Apple | Website
Minor Adventures With Topher Grace — Jim Gaffigan Joins a Barbershop Quartet! 
Topher Grace's podcast airs weekly and features Grace and a guest participating in a "minor adventure." Previously, these adventures were exemplified by activities such as officiating a wedding with Zachary Levi and becoming an auctioneer with Tig Notaro. This week, Jim Gaffigan stops by to try his hand at singing. Specifically, the men attempt to achieve the specific sound of a barbershop quartet. Although Gaffigan groans at the thought, he holds his own while harmonizing. He's better, however, at sharing amusing stories from his time on That '70s Show and razzing the expert, Wesley Alfvin (who sounds eerily similar to Ed Helms), sent to help. The latter leads to a conversation about a cappella members' sexual prowess. "In high school, I remember, like, the idea of doing an a cappella group would be so lame to people … where in colleges, it's the rock stars, like bigger than athletes," Grace asserts. Gaffigan isn't buying it and jokes, "Ah, the a cappella group. They were bigger than Fleetwood Mac." By the end of the podcast, they have an equally silly ditty about ice cream performed by amateurs with seemingly professional dreams of hitting the longest and highest note. It's sure to induce giggles. —Becca James
The Patdown With Ms. Pat — Holy Polio
Ms. Pat has an original comedy voice that first began popping up on other comedians' podcasts, such as WTF (that's where I first heard her). Now she's got her own jam, and The Patdown lets her cut loose on a variety of wide-ranging topics. She first weighs in on the anti-vaxxer movement ("I don't want no dirty babies around me"), then jumps to a "news" story about a man in India who had hundreds of teeth in his mouth ("I ain't feeding anybody that's got 535 teeth!"). As the topics unfold, she is guided on her ramble by comedian Deon Curry and producer Chris, who help by tossing out ideas for her to play with and lay down some guardrails so the conversation doesn't go hopelessly askew. Even less than two dozen episodes in and Ms. Pat's studio friends have latched onto which way she may jerk the wheel during a rant, and they jump in to lay a hand on the wheel to get things back on course. More or less, that is — it's abundantly clear that the host takes no crap from anybody, regardless of how well-intentioned they may be. Sensitive-eared listeners beware: Ms. Pat employs a free-streaming style of speech, with a generous seasoning of F-bombs, S-words, and a sprinkling of the N-word as well. —Marc Hershon
Listen: Spotify | Apple | Website
A Funny Feeling — Ghost Neighbor With Rachel Bloom 
Week in and week out, the hosts of A Funny Feeling podcast, Betsy Sodaro and Marcy Jarreau, prove that it's okay to celebrate the paranormal outside of the Halloween season. When the heat of summer feels unbearable, I find myself circling back to this show for cost-effective chills in place of running the air conditioner 24/7. This week, our howling hosts welcome Rachel Bloom (Crazy Ex-Girlfriend). Much like Sodaro and Jarreau, it's made clear that Bloom also shares an affinity for the supernatural. Early in life, Bloom explains that she had an existential fear of ghosts. In tying hauntings to Christianity, she was afraid that if she saw a ghost, the next logical thought must be Jesus is real. In addition to describing the added layer of dread one faces when being afraid of Christian demons, Bloom also recounts the dismay that comes with potentially going to hell for practicing the "wrong" religion. In other words, pretty standard stuff for a 5-year-old to be thinking about. For more on this and what Bloom would say if she were haunting a bunch of promiscuous theater kids, check out A Funny Feeling. —Tom Rainey
Listen: Spotify | Apple | Website
92Y Talks — Julio Torres With Fred Armisen on My Favorite Shapes, Los Espookys, SNL, and more
Comedian and writer Julio Torres (Los Espookys, SNL) has been doing quite well for himself, thank you. He'd be honored to describe his comedy the way a journalist described Marianne Williamson after the first debate: "odd but compelling." Even if you aren't yet familiar with Torres, this chat offers a heavy taste of his deliciously specific sense of humor. Fred Armisen (Los Espookys, Portlandia) joins him on the 92Y stage to discuss Torres's new HBO special My Favorite Shapes and their HBO show Los Espookys. From start to finish, Armisen and Torres charm you with sincere, deadpan delivery of long bits. (Picture them holding their own Model U.N. for countries to air their petty grievances, etc.) Torres shares how he started his career after arriving in the U.S. at age 22, providing us with his old bleak yet hopeful outlook on comedy: "This is a nightmare. I will wake up and try harder." Happier to talk about banking and the animal kingdom, Torres and Armisen's humility and curiosity lead to some delightful conversations, especially one about Torres's dad writing a dictionary. Finish up with answers to some audience questions and a legitimate reason to keep your HBO subscription! —Anna Marr
Listen: Spotify | Apple | Website
Other Podcasts We're Listening To:
The Last Laugh — Jim Gaffigan Tells All
Listen: Spotify | Apple | Website
Monster Party — Sci-Fi Trailblazers With C. Courtney Joyner
Listen: Apple | Website
Got a comedy podcast recommendation? Drop us a line at comedypodcasts@vulture.com.