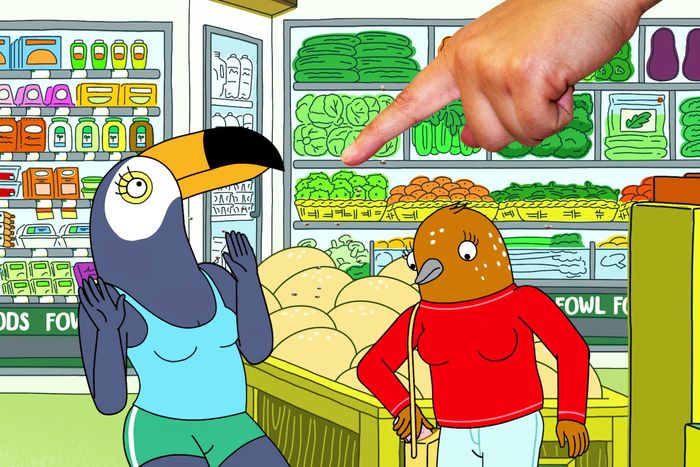 Tuca & Bertie
.
Photo: Netflix
The comedy podcast universe is ever expanding, not unlike the universe universe. We're here to make it a bit smaller, a bit more manageable. There are a lot of great shows, and each one has a lot of great episodes, so we want to highlight the exceptional, the noteworthy. Each week, our crack team of podcast enthusiasts and specialists and especially enthusiastic people will pick their favorites. We hope to have your ears permanently plugged with the best in aural comedy.
Baby Geniuses — Manneken Pis
Two weeks ago, Netflix announced the abrupt cancellation of one of the best animated shows on television, Tuca & Bertie. The flock came out strong, devastated by the loss of a singular perspective in adult animation. The show's creator Lisa Hanawalt and co-host Emily Heller finally get a chance to vent on this week's Baby Geniuses. Without giving away too many specifics, Hanawalt admits that she and the team "felt really blindsided and betrayed" by Netflix's decision. They explain why the odds were stacked against the show from the get-go, and how frustrating the added pressure on women to work twice as hard as men for the same jobs can be. Two longtime-listener emails shift the conversation to something called "showerbelly" and the creative benefits of ADHD, and we're back in the Baby Geniuses comfort zone. This episode's Wiki of the Week is "Manneken Pis," a.k.a. "Little Pisser," the show-appropriate peeing fountain baby. We've all seen it and given it the double take before, but what is it? Where is it from? Sure, the answers to these questions and more can be found on the Wikipedia page, but it's more fun to listen to these two break it down in real time. In the meantime, listeners are rooting for Tuca & Bertie to find a new nest. —Mark Kramer
Green Eggs and Dan — Hasan Minhaj
Name a genre in the podcast realm, from gardening to true crime, and chances are there is at least one comedy-flavored version. Green Eggs and Dan, kicking off this week from the Podglomerate, is solidly in the "foodie" column. (The host prefers the term foodish, by the way.) The host is Dan Ahdoot (Bajillion Dollar Propertie$), a stand-up comic who also has the legitimate chops to anchor the show — he touts being an amateur chef, but he's also co-owner of the Estela eatery in New York. For the premiere episode, he welcomes fellow comic and friend Hasan Minhaj (Patriot Act), who is revealed to actually be a non-foodie. Starting on the home front, Ahdoot examines a photo that his guest sent, and aside from the organic food prepared by his wife, health professional Beena Patel, he busts him for having no less than seven jars of Guy Fieri–brand salsa and crappy packaged Parmesan cheese. From that jumping-off point, Minhaj is unabashed about his pedestrian food tastes. He's more precious about his footwear, including owning multiple pairs of Nike Air Jordan 1 shoes. His favorite kicking-around-town meal is a simple turkey burger from Schnippers in Times Square, and as a kid, his favorite after-school treat was Toaster Strudel ("I love Toaster Strudel — fuck PopTarts!"). But he insists he's willing to learn at the feet of Ahdoot, who he partially credits with upping his game when it comes to dressing sharp onstage. So they get into it. Like about the differences of Indian food prepared in restaurants versus homemade: "An auntie came up after a show one night with some homemade goat curry," Minhaj recounts. "It was so good!" Yet as willing as he seems to be educated, by episode's end Minhaj seems like a bit of a lost cause, happy with his basic diet of Everyman food. —Marc Hershon
Listen: Spotify | Apple | Website
Spanish Aquí Presents — Ricky Renunció With Rachel Bloom
Spanish Aquí Presents is smooth, solid, and only four episodes in. Its instant success is a clear result of hosts Raiza Licea, Oscar Montoya, Tony Rodriguez, and Carlos Santos, who have taken their live Latinx variety show from the Upright Citizens Brigade Theater in Los Angeles to the airwaves. They aim to bring you "the best of the best of lo mejor of Latinx comedy … as they ask ¿Que te Pica? (What's itching you?), chat with their special guest, and wrap up the show with an improv set that's muy fuego." They also ask that you read that "in the voice of Pitbull." It's those type of pop-cultural references that punch up the political commentary and, later in this episode, lend themselves well to a celebrity interview. Enter Rachel Bloom, creator and star of Crazy Ex-Girlfriend, who joins the hosts to talk about reflecting diversity on the show and using her power to make a difference. Bloom delves into her decision to set the show in West Covina and how she strives to re-create the region with authenticity, stating simply: "We just hadn't seen that [on TV] before." Dancing between English and Spanish and silly and smart, Spanish Aquí Presents is a fun and informative listen. —Becca James
Listen: Spotify | Apple | Website
The Need to Fail — Anthony Atamanuik
When — if? — the day comes when we can finally pull back and examine the comedy that took aim at the rotting, stinking dead rat in the drywall that is Trump's America, Anthony Atamanuik's cynically sinister The President Show will stand out as its artistic peak. But it took decades of failure and self-sabotage, including some pretty harrowing years in L.A. battling drug and sex addiction, for him to learn how to handle not just being a successful comedian, but a normal human being at that. While best known for his work in NYC, Atamanuik spent the early part of his career in L.A., steadily working on the production track. But after years spent doing coke in his Jim Henson Company office and selling drugs with a Latin King/Judge Judy enthusiast, he got sober and moved to New York in 2000. From there, Atamanuik covers a wide span of time, from what he learned in Improv 101 classes to his experience playing the president on his own Comedy Central TV show. Given that his portrayal of Donald Trump is deeply layered and darkly psychological, Atamanuik obviously has much to say when asked to give his insight on our sybaritic and possibly syphilitic commander-in-chief. While The President Show only lasted 20 episodes and four specials, Atamanuik is not done playing Trump and says he still loves to do so. And since Trump will forcibly remain in our lives long after he leaves the Oval Office, I have a feeling Atamanuik won't be getting rid of his wig and oversize tie anytime soon. —Pablo Goldstein
Listen: Spotify | Apple | Website
Weed + Grub — Napkin Pants & Mommy Mode With Jon Gabrus 
In addition to celebrating all things cannabis and cuisine, Weed + Grub, at its core, is like a great hangout movie. Each week, we get the pleasure of hearing comedian Mike Glazer (Night of Too Many Stars) and writer Mary Jane Gibson (High Times) spark up, chow down, and swap stories about comedy, sex, cooking, and, of course, pot. Glazer and Gibson, true experts in the fields of comedy and marijuana, have such a warm rapport with one another. Having listened to a few episodes now, I get the sense that their conversations would unfold as is with or without the recording equipment. Joining Glazer and Gibson in their never-ending quest to have a good time, Weed + Grub welcomes the godfather of stoned podcasting himself, Jon Gabrus. Seeing as though Glazer and Gibson are regular listeners of Gabrus's High & Mighty, it was interesting to hear the three talk about the false sense of intimacy that can develop between a podcast listener and host. Even if weed and/or grub isn't your thing, the charm of Glazer and Gibson is worth the price of admission alone. —Tom Rainey
Listen: Spotify | Apple | Website
Other Podcasts We're Listening To:
1A — A Black Lady Radio Interview With Robin Thede
Listen: Spotify | Apple | Website
The Todd Barry Podcast — Jacqueline Novak
Listen: Spotify | Apple | Website
Duncan Trussell Family Hour — Dan Harmon
Listen: Spotify | Apple | Website
My Neighbors Are Dead — Marc Evan Jackson
Listen: Spotify | Apple | Website
First Draft With Sarah Enni — Layer Cakes of Love
Listen: Apple | Website
How Did This Get Played? — Series: Your Story Universe: Vanderpump Rules With Sean Clements
Listen: Apple | Website
Got a comedy podcast recommendation? Drop us a line at comedypodcasts@vulture.com.