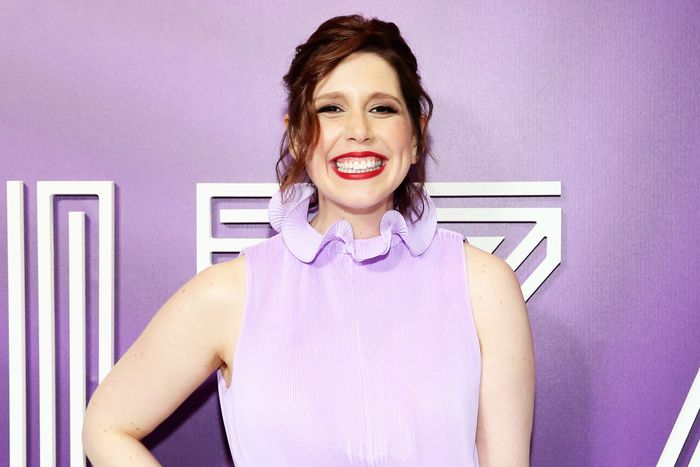 Vanessa Bayer.
Photo: Monica Schipper/Getty Images for Netflix
The comedy podcast universe is ever expanding, not unlike the universe universe. We're here to make it a bit smaller, a bit more manageable. There are a lot of great shows, and each one has a lot of great episodes, so we want to highlight the exceptional, the noteworthy. Each week, our crack team of podcast enthusiasts and specialists and especially enthusiastic people will pick their favorites. We hope to have your ears permanently plugged with the best in aural comedy.
Filling the Void — Knitting and Meditation (With Vanessa Bayer)
For a lot of comedians, comedy is something that started off as a passion or a hobby and eventually turned into a job, changing the way they approach it or get joy out of it. While those of us on the outside looking in see that as a dream problem to have, it leaves those on the inside looking for other things to do for pure, non-agenda-driven joy. Or as host Lesley Arfin calls it, Filling the Void. Each week she sits down with her guests to learn what hobbies they turn to when there's no more work to do. In what has got to be the most soothing conversation imaginable (both topic-wise and their actual voices), Vanessa Bayer talks about the joy she gets from knitting and Transcendental Meditation. After some brief detours into discussions about Braille, stretching, and covering your skin, Arfin accurately calls Bayer out as an "elderly hobbyist." So, while she does admit her dream hobby is surfing, it was not shocking to learn that Bayer owns a pair of what she calls "swimming pants". For those of us who download and delete the Headspace app every couple of weeks, Bayer also offers some tips on how to take the pressure out of meditating. Though this episode is soothing enough, listening to it should count as meditation. —Leigh Cesiro
Listen: Spotify | Apple | Website
The Dave Chang Show — Michael Schur on Creating The Good Place and Making Ethics Funny 
I won't be the first or last person to say this, but Mike Schur is a man of many talents. Whether he's busy creating universally loved television shows or taking time to explain why Ayn Rand is so annoying, Schur's intellectual prowess works on so many levels. Like Schur, David Chang's mastery is not limited. Although considered a world-renowned chef, Chang's skill set extends well beyond the kitchen. As one may expect, when two experts in their respective fields come together, a great conversation is inevitable. Throughout this episode of Chang's podcast, we get glimpses into the philosophy and moral compass that guides each creator. If you're a fan of The Good Place: The Podcast, Schur's exploration of the study of ethics won't come as a surprise. Having studied philosophy and religion in college himself, Chang proves to be a good match for Schur. Overall, the core of Chang and Schur's exchange can be boiled down to one main concept: the feeling of being enlightened by a new philosophical idea, and the inescapable frustration that comes with reading the criticism of said idea. Kind of like The Good Place, this conversation is funny, interesting, profound, and ultimately heartbreaking when you realize you're near the end. —Tom Rainey
Listen: Spotify | Apple | Website
How Did This Get Played? — Michael Jackson's Moonwalker (With Zach Reino, Jessica McKenna)
Only six episodes into How Did This Get Played?, the authorized spinoff to How Did This Get Made?, hosts Nick Wiger and Heather Anne Campbell (and producer Matt Apodaca) are already struggling to play through the worst video games in history. Similar to Doughboys, the podcast where Wiger and Mike Mitchell rate and review restaurant chains, Wiger and Campbell have turned what was once an enjoyable hobby into a masochistic burden. This week's instrument of torture is Michael Jackson's Moonwalker, which Campbell sums up as "If somebody was going to give you a road map to being problematic, this would be the game that they would develop." Off Book's Zach Reino and Jessica McKenna are the perfect guests to shamon across this side-scrolling beat-'em-up that was released at a far more innocent time. It's nearly impossible to separate M.J.'s (alleged) crimes from the weirdness of the game (beating up women to rescue children trapped inside garbage cans?), but HDTGP manages to find the fun, too. Like Bubbles the monkey, who turns M.J. into a missile-shooting robot for some reason, or a boss who thrusts his green mech penis to attack. Listeners are praying to Shigeru Miyamoto that the HDTGP crew will have the patience for many more disturbing and hilarious games like this one before running out of quarters. —Mark Kramer
Listen: Spotify | Apple | Website
The Margaret Cho — Michael Yo and Lucas Peterson
Starting with appearances on Comical Radio and The Dork Forest, Margaret Cho has been guesting on literally dozens of comedy podcasts since 2011. She also co-hosted the Monsters of Talk podcast with Jim Short from 2013 to 2015. But now she's hosting all by her lonesome on the sparkling new The Margaret Cho and handles the hosting chores with aplomb. The third episode in the series dropped this week and features her talking with two guests, Michael Yo and Lucas Peterson. Both are of mixed Asian descent, and that makes for some very heartfelt conversation. Yo is up first and talks about how he basically backed into stand-up comedy after making a career for himself as an entertainment reporter for Insider, Extra, and E! News. He was a recurring roundtable guest on Chelsea Nightly and she dared him to hit the comedy stage one night. He did — and was hooked. When he and Cho start talking about being Asian in Hollywood, his perspective is that things are opening up, with more work on the horizon for everybody. Cho's second guest is a bit bleaker on the acting front. Although Peterson is a "not so much" working actor these days (as he puts it) and sees actors of Asian descent continuing to have a tough slog getting roles other than police detectives, lawyers, and medical examiners, as a food columnist for the Los Angeles Times (and creator of Eater's Dining on a Dime), he sees better times ahead for the cuisines of cultures like Thailand, Singapore, and China. Although we're not there yet: "Can you name even one famous Chinese chef?" he asks Cho. Cho's an engaging interviewer and has the chops to know when to sit back and let her guests have their say. —Marc Hershon 
Listen: Spotify | Apple | Website
Who? Weekly — Antoine Fuqua, Lori Harvey & Chandler Powell? 
Who? Weekly is "everything you need to know about the celebrities you don't." Hosted by Bobby Finger and Lindsey Weber, it's a helpful tool in an era of influencers, which is to say, an era when nobodies regularly get a taste of celebrity. Take, for example, Tana Mongeau and Jake Paul. Who? Exactly. The thing is, Finger and Weber are experts at drawing you into the Whos' lives, thanks in large part to their genuine interest in this ever-expanding universe of almost-sort-of-kind-of-but-not-really-celebs. In this case, the Whos in question are two YouTube celebrities who may or may not have gotten married at a Sugar Factory in Las Vegas. Sure, the entire thing was available to stream for a price, but was it real, or was it fake? Does it matter when Finger and Weber are serving up nonstop snark and spot-on speculation peppered with whip-smart commentary on society as a whole? No, because they make the absolute inconsequential wildly entertaining and educational. From one D-list celebrity to the next, Who? Weekly creates an engaging narrative in a way the Whos often fail to do on their own as they seek more substantial notoriety. So who are Antoine Fuqua, Lori Harvey, and Chandler Powell? Tune in to find out. —Becca James
Listen: Spotify | Apple | Website
Other Podcasts We're Listening To:
Doughboys — SHAQ WEEK: Shaquille's (With Josh Weiner)
Listen: Spotify | Apple | Website 
The Three Questions With Andy Richter — Amy Sedaris
Listen: Spotify | Apple | Website 
Web Crawlers — Mysteries of AlienCon
Listen: Spotify | Apple | Website
The Dumbbells — No More Junk Food (With Matt Rogers)
Listen: Spotify | Apple | Website
The Goodie Goodie With Sabrina Jalees — The Universe Is Out There (With Liza Treyger)
Listen: Spotify | Apple | Website
Absolutely Not — Jackie Schimmel of The Bitch Bible
Listen: Apple | Website
The Last Laugh — Whitney Cummings Gets a Sex Robot
Listen: Spotify | Apple | Website
Got a comedy podcast recommendation? Drop us a line at comedypodcasts@vulture.com.