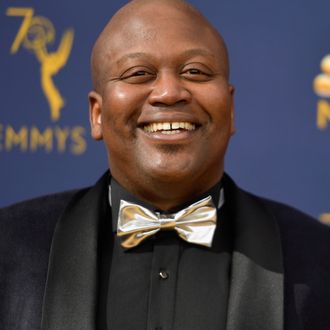 Tituss Burgess
Photo: Matt Winkelmeyer/Getty Images
Pinot noir, caviar, the judges found your dish subpar. On Friday, Deadline reported that Emmy-nominated actor Tituss Burgess will host the upcoming cooking competition series Dishmantled, by the creator of Chopped. Chopped has been a Food Network staple for years due to its simplicity of premise ⁠— chefs make dishes using a basket of four disparate ingredients. That's it. Easy. Dishmantled, on the other hand, is as zanily high-concept as its name suggests, and sounds like something Tituss's character on Unbreakable Kimmy Schmidt would watch on a stolen satellite signal after a TCM screening of "Daddy's Boy." Deadline writes:
Hosted by Burgess, each episode starts with the cannon-blasting of a mystery food dish into the faces of two blindfolded chefs. They'll use their culinary prowess to identify the exploded dish and then race against the clock to recreate it. Whichever chef comes closest to the original dish wins a cash prize.
The "force-feeding-via-cannon-blast" setup all feels like a perfect metaphor for consuming content in 2019, so maybe it's not as crazy as it sounds. Titus Andromedon won't even have to go to that one library to watch it, because Dishmantled is slated to stream on Jeffrey Katzenberg and Meg Whitman's in-the-works short-form content platform Quibi. The upcoming service already has already announced projects by Kevin Hart and Guy Branum, so consider Dishmantled another "quick bite" to look forward to. Because there's no "quicker bite" than duck l'orange shot out of a cannon at 50 mph.