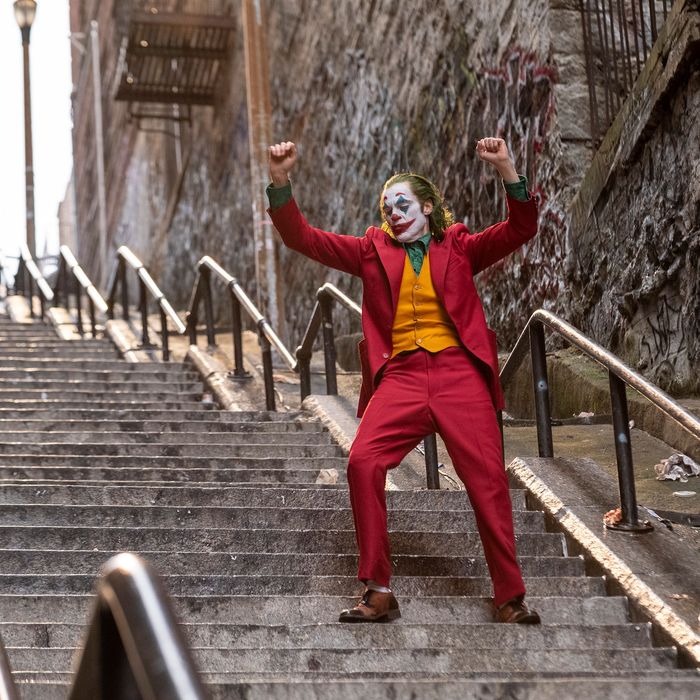 At the Venice Film Festival, Todd Phillips said his movie is "certainly not a political film."
Photo: Niko Tavernise/Warner Bros.
Update: the Venice press embargo has lifted, so you can read more about the film here.
Todd Phillips' Joker, starring Joaquin Phoenix, premiered at Venice Film Festival on Saturday, but it won't hit American theaters until October. Feeling overwhelmed with anticipation for what's to come? (What, you haven't read that leaked script yet?) Well, turn that frown upside down and put on a happy face: here are a few things we can share from the film's press conference, and the general press reaction in Italy, in the meantime.
1. Both of the morning press screenings in Venice (the 8:30 a.m. showing in the 1,409-person Sala Darsena theater, and the 11:30 a.m. showing in the 1032-seater Sala Grande) were full to the point of turning people away. And 118 minutes later, each was greeted with by far the loudest and lustiest cheers so far heard in Venice, which you can interpret as either a very good sign, or a reminder that festival audiences are bonkers.
2. Director Todd Phillips told festival goers that he does not see Joker as much of a departure for him. (Todd Phillips previously made Old School and the Hangover movies, so…)
3. While Phillips did take some inspiration from existing storylines (in particular, his Joker is a failed stand-up comedian like the one in Alan Moore's The Killing Joke) he says he and Phoenix, inspired by the way the character's past has been referred to as "multiple choice," felt free from the dogma of a set-in-stone origin story, and could shape Arthur Fleck as they wanted.
4. Phoenix, who will undoubtedly get a huge amount of attention for his performance as Arthur Fleck/Joker, started to find the character after rapid weight loss. "[It] affects your psychology, you really start to go mad when you lose that amount of weight in that amount of time" he explained at the press conference, gauntly.
5. The producer, Emma Tillinger Koskoff, has also produced all of Martin Scorsese's films since The Departed, including the upcoming The Irishman, which stars Phoenix's Joker co-star Robert De Niro. Her relationship with Scorsese, whose films Joker very clearly references, was useful not just for that context, but because, according to Phillips, she "knows all the best crew in New York and has the clout to lean on the MTA."
6. According to the director, "I don't think it was this Joker's goal to 'watch the world burn.' This Joker is searching for identity. Really what he was looking for was adulation. His goal was to make people laugh and bring joy to the world. He … made a few bad decisions along the way."
7. While the Taxi Driver, King Of Comedy, and Mean Streets influences are clear, the real genesis of the character for Phillips was a film that was very formative to the creation of the Joker in the comics: the 1928 silent movie The Man Who Laughs, directed by German Expressionist filmmaker Paul Leni.
8. As you can tell from the trailer, the film contains a lot of terrible joke-telling as part of Arthur's stand-up ambitions, but none are as wacky as Phillips saying at the press conference that Joker "is certainly not a political film." Now that's comedy!