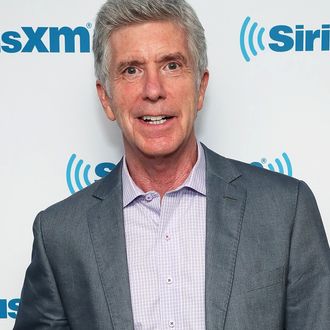 Tom Bergeron.
Photo: Astrid Stawiarz/Getty Images
Tom Bergeron, longtime host of ABC's Dancing With the Stars, is choosing to ignore Sean Spicer's presence on season 28. In a screenshot posted to Twitter, the television host vaguely responded to Spicer's addition to the show. "A few months ago, during a lunch with DWTS' new Executive Producer, I offered suggestions for Season 28," Bergeron explained. "Chief among them was my hope that DWTS, in its return following an unprecedented year-long hiatus, would be a joyful respite from ANY party affiliations. I left that lunch convinced we were in agreement." Turns out that won't be happening. The former White House press secretary was announced as one of the 28th season's 12 contestants this morning. Bergeron has agreed to disagree. He'll just do his best to help viewers "enjoy the charismatic pro dancers, the unpredictable judges and the kitschy charm." Thanks … I guess.
Bergeron also went on SiriusXM's EW Live to promote the new season of Dancing With the Stars. In response to a question from host Dalton Ross, Bergeron said he has "no idea" how Spicer might affect voting, but personally, he's pulling a Bella Swan. "Dancing at its best is an oasis away from all the divisiveness and all of the stuff that we're all wrestling with right now," Bergeron continued. "My job as host, to the best of my abilities, is to be Switzerland for those two hours a week. For the other 166 hours a week, I'm pretty clear where I stand politically."
*This post has been corrected to state that the upcoming season is the show's 28th and that there will be 12 contestants.