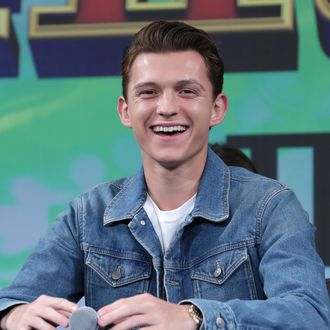 Photo: Han Myung-Gu/WireImage
From dramatic Star Wars reveals to the Lizzie McGuire sequel to Steampunk Emma Stone, the D23 expo has been a wild ride for us all. Which is why a blink-and-you-miss-it nugget revealed by Tom Holland following a D23 panel may have been buried under all the fresh news. Speaking to EW and People, Holland said:
"It's been five amazing years. I've had the time of my life. Who knows what the future holds? But all I know is that I'm going to continue playing Spider-Man and having the time of my life. It's going to be so fun, however we choose to do it. The future for Spider-Man will be different, but it will be equally as awesome and amazing, and we'll find new ways to make it even cooler."
Since news of the Disney and Sony Pictures dispute over Spider-Man broke earlier this week, fan speculation over whether Holland would be returning to the franchise has run rampant. While the common consensus is that Holland will be reprising his role, Sony has not yet made an official announcement regarding the upcoming films. But if there's anything we can be sure of in these strange and uncertain times, it's that Tom Holland loves playing Spider-Man, and that we, the viewing public, cannot handle another incarnation of this character. Remember to take the path of least resistance, Sony!