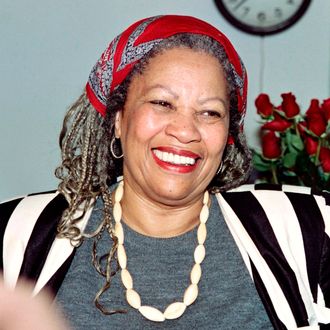 Toni Morrison in 1993.
Photo: DON EMMERT/AFP/Getty Images
As we mourn the death of author and cultural titan Toni Morrison, one quote has been used repeatedly to summarize her legacy and her worldview. "We die. That may be the meaning of life. But we do language. That may be the measure of our lives."
That line comes from Morrison's Nobel Prize lecture, a speech she gave in 1993 while accepting a Nobel Prize in Literature for her novels, which the committee praised at the time for their "visionary force and poetic import, giv[ing] life to an essential aspect of American reality."
Morrison's lines about death and language are beautiful on their own, but they're part of a much longer, more nuanced story Morrison sketches over the course of the speech. She begins with a folk story about an old blind woman known for her wisdom. In Morrison's telling, the woman is approached by a group of children, who tell her that they're holding a bird in their hands. "'Is the bird I am holding living or dead?'" one child asks the woman.
From that sparse outline of a narrative, Morrison spins the story outward. "I choose to read the bird as language and the woman as a practiced writer," Morrison begins, before diving into what she imagines as the old woman's anxiety about language in the hands of those who could kill it or use it for violent ends. "The question the children put to her: 'Is it living or dead?' is not unreal because she thinks of language as susceptible to death, erasure; certainly imperiled and salvageable only by an effort of the will." The woman, in the first section of Morrison's speech, feels the threat of those who have the power to wield language unwisely, or to kill it or loot it or use it to oppress. "Oppressive language," Morrison says, "does more than represent violence; it is violence, does more than represent the limits of knowledge; it limits knowledge."
But once Morrison has outlined the woman's worldview and implicitly aligned her own anxieties with those of this nameless old woman, she uses the second portion of her speech to shift perspective. "Who are they, these children?" Morrison asks. What if the question about the bird isn't meant to trick the old woman, but is instead "a straightforward question worthy of the attention of a wise one?" "If the old and wise who have lived life and faced death cannot describe either, who can?"
The transcript of the speech is available here, and it's worth reading in its entirety. It is a gorgeous, astonishing microcosm of Morrison's worldview, but also her craft as a storyteller; her capacity for weaving simple stories together with radical, foundational, complicated ideas; and her ability to wield language in a way that somehow names and describes ineffable concepts. The excerpt that begins "We die" may be the line that we turn to the most while mourning Morrison's death, but the full speech will help you appreciate how Morrison ended her story. It was not with language or with death. "Look," she says in closing. "How lovely it is, this thing we have done — together."
Listen to the audio of the full speech below: