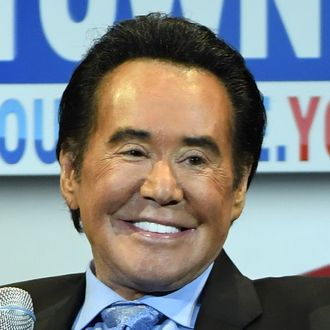 Photo: Ethan Miller/Getty Images
A Las Vegas woman is suing Wayne Newton, claiming that Mr. Las Vegas's pet monkey attacked her daughter. Jocelyne Urena seeks at least $15,000. Urena claims her daughter Genevieve visited Newton's former home, Casa de Shenandoah, where she was attacked by Newton's pet monkey Boo. "Without any provocation, the monkey viciously attacked and bit Ms. Urena, causing injury to her body as well as emotional distress," the lawsuit reads, as reported in the Las Vegas Review Journal. It doesn't bear on the lawsuit, but Boo has his own iPad. That's just something I think everyone needs to know.
Casa de Shenandoah was open to the public as a tourist attraction from 2015 to 2018. According to Dlisted, Boo and his pet Chihuahua were star attractions at Casa de Shenandoah, along with a miniature donkey named Donkey Schoen. In an email to the Associated Press, Newton's wife, Kathleen McCrone Newton, said the family broke ties with the company managing the estate in July 2017. "We are not a party and have no idea what happened in October 2017," she said.