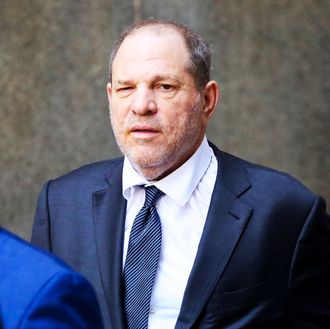 Harvey Weinstein.
Photo: Kena Betancur/Getty Images
While Sopranos actress Annabella Sciorra presently isn't allowed to take the stand against Harvey Weinstein, other accusers will be permitted to testify about uncharged alleged crimes at his upcoming sexual-assault trial, a new court filing reveals.
The judge's decision to let other accusers testify marks a major victory for the Manhattan district attorney's office. It's also similar to developments in the Bill Cosby trial: Five other accusers were permitted to testify about being drugged and molested by the fallen comedian, thus bolstering Andrea Constand's allegations.
"It's a huge win for prosecutors because you want as much evidence in that's damning as you can possibly get," said Rebecca Roiphe,  professor of law at New York Law School and former assistant district attorney in Manhattan.
So, how exactly could the evidence be used? Evidence of "bad character" or "prior bad acts" can't be used to claim that Weinstein had a propensity for these crimes. But there's a legal exception that "prior bad acts are allowed to come in to show particular things … to prove motive, opportunity, intent."
"So, if they testify, 'He offered me a job and invited me to his studio, and then he grabbed me,' if that's very similar to what the accuser is saying, then the jury is allowed to consider that," Roiphe said.
While the jury will be told that "you're not supposed to consider this evidence of Harvey Weinstein's bad character and assume that because he has a bad character that he committed the charged crimes," Roiphe said, "it's extremely hard for juries to do that in real life."
"You can tell them to look away, but you also know that it's hard, if not impossible, for a jury to do that," Roiphe said.
Weinstein faces charges related to alleged nonconsensual encounters with two women, Mimi Haleyi and a still-unidentified accuser. He is charged with two counts of predatory sexual assault, one count of criminal sexual act in the first degree, one count of rape in the first degree, and one count of rape in the third degree. He has pleaded not guilty.
New filings also reveal that the Manhattan district attorney's office is still trying to get Sciorra into the September 9 trial by pursuing a new indictment that includes her rape allegation against Weinstein.
Prosecutors had submitted paperwork earlier this year indicating that they wanted to include Sciorra's allegation as part of the predatory-sexual-assault counts.
On August 8, Justice James Burke, who's overseeing the case, rejected that request because a grand jury did not hear evidence about the alleged 1993 incident.
Prosecutors said in an August 13 letter, however, "We do believe that the trial jury should have the benefit of hearing the testimony of the remaining witness and therefore, we will cure the deficiency by representing the case to a new Grand Jury."
Asked about this, reps for Weinstein said, "We believe that any last-ditch effort to recharge the defendant will prove futile."
"Should the [district attorney] re-present this case yet again, the judge will then have the opportunity to dismiss the charge on constitutional grounds," they said in a statement.