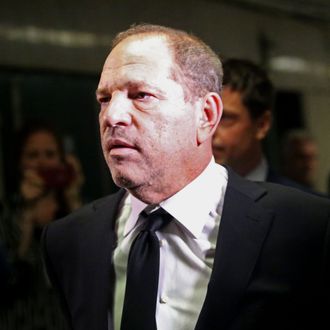 Harvey Weinstein
Photo: Yana Paskova/Getty Images
While Harvey Weinstein's Manhattan sexual-assault case got even more complicated today with a new indictment, the judge overseeing proceedings had a simple message for the disgraced movie mogul: Put your cell phone away.
"I've been informed you have taken your cell phone out," Justice James Burke said at the conclusion of a brief proceeding. "Please refrain from doing that."
"Your Honor —" Weinstein started to respond.
"It's a court order," Burke retorted sternly. "Don't talk to me," the judge then instructed, directing Weinstein to speak with his lawyer.
Weinstein appeared in court this morning because he was just hit with two predatory-sexual-assault counts in a new indictment, a move that enables accuser Annabella Sciorra to testify.
Weinstein, who sported a black suit and tie, as well as chocolate-brown sneakers, pleaded not guilty.
While his trial had been scheduled for September 9, this latest twist will delay it until January 6.
Weinstein, whose lawyers have repeatedly pushed for a postponement, seemed pleased, smiling after the proceeding wrapped. And, at one point while walking down the hall to leave, Weinstein stuck his tongue out.
So how did Weinstein get hit with a new indictment a few weeks before his trial was supposed to start?
Until last week, Weinstein faced one indictment. This indictment was for two counts of predatory sexual assault, one count of criminal sexual act in the first degree, one count of rape in the first degree, and one count of rape in the third degree. It related to two accusers, Mimi Haleyi and a still-unidentified woman.
Prosecutors revealed in court filings earlier this year that they wanted to use Sciorra's accusation in court. By bringing Weinstein's alleged 1993 rape of The Sopranos actress, it could have strengthened their case that he was a habitual sexual abuser.
Burke recently decided that Sciorra couldn't testify because a grand jury didn't hear evidence about the alleged incident.
Prosecutors said in court filings a few days later that they still wanted to get Sciorra's accusation into the trial.
"We do believe that the trial jury should have the benefit of hearing the testimony of the remaining witness and therefore, we will cure the deficiency by representing the case to a new Grand Jury," they said.
Prosecutors did re-present the case to a grand jury, hence today's developments. While Weinstein isn't charged with raping Sciorra, her claim can now be used to boost their predatory-sexual-assault allegation.
Prosecutors want to consolidate both indictments. If that happens, they would prosecute the revamped predatory-sexual-assault counts, as well as the other charges.
At a post-proceeding press conference, Weinstein lawyer Donna Rotunno said, "I think it shows the strength of our case that the DA went to the grand jury at the 11th hour."
She also said, "We believe we will be successful" in pushing for the new indictment's dismissal.
Asked what Weinstein was doing with his cell phone out, Rotunno said that "he was turning it off."