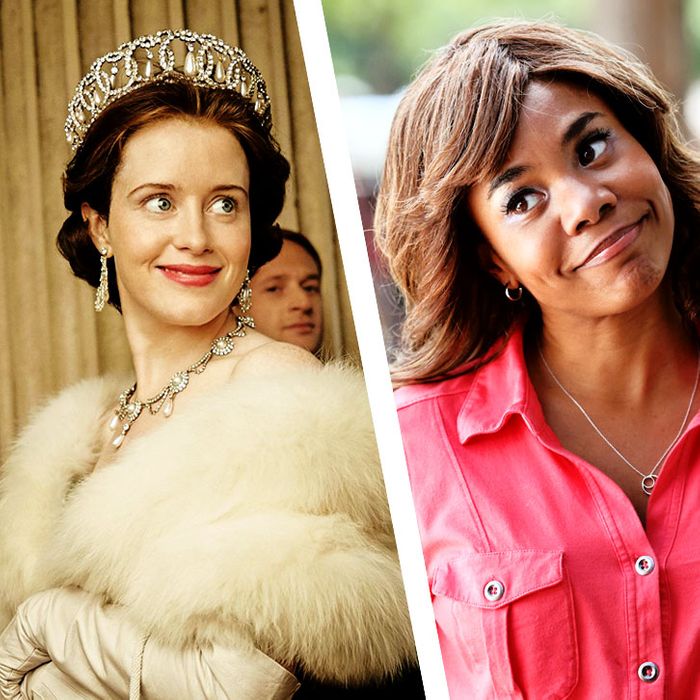 Claire Foy in
The Crown
, Regina Hall in
Support the Girls
, and Amy Poehler in
Parks and Recreation.
Photo: Netflix, Magnolia Pictures and NBC
Staying inside all Labor Day weekend? We salute you. A day off is a day off and sometimes sweating on a rocky beach while a 4-year-old screams nearby is simply not relaxing. So to further ease your 72 hours, when nothing exists except you and your television screen, we picked out all the TV shows and movies that you'll need to survive. And because this is a holiday, they all sort of, kind of, vaguely have something to do with labor. At the very least, they have people who worked on them, okay? Catch up on Succession, finish Tuca & Bertie, and finally get around to watching Roma. (We know you just ended up seeing A Star Is Born's rerelease. You're not slick.) Here are our picks for the ultimate Labor Day marathon.
Movies
Support the Girls (Hulu)
It's impossible to walk away from Support the Girls without being fully prepared to lay down your life for any of the women who work at Double Whammies. The Hooters-adjacent restaurant is run by mother bear, Lisa, played by Regina Hall. This is the movie that will have you up on Tuesday morning ready to do good work.
Free Solo (Hulu)
The Academy Award–winning (and Emmy-nominated, but that's a whole other thing) documentary follows Alex Honnold as he trains to climb El Capitan, a 3,000-foot granite wall, without a rope. The perfect combination of absolutely terrifying and absolutely fascinating, losing yourself in the film (and then every video of Honnold on YouTube) is an excellent way to pass a Monday.
Magic Mike (Netflix)
I just think it's time we all revisit Channing Tatum's abs and have a good, long think about sex workers' rights.
Roma (Netflix)
Alfonso Cuaron's semiautobiographical Academy Award–winning film follows the life of a housekeeper to a wealthy family in 1970s Mexico. The only work you'll have to do is lift a tissue to your eye and wipe away tears.
Predestination (Prime)
This movie will turn your brain into mush and have you googling time-travel theories until dawn on Tuesday. Ethan Hawke and Sarah Snook star as time-traveling detectives (labor in the future) in this 2015 sci-fi film. To make things really interesting, watch Snook in Succession (see below) after!
The Wolf of Wall Street (Prime)
I guess you can call rigging the stock market "work," but Jordan Belfort and Donnie Azoff, played by Leonardo DiCaprio and Jonah Hill, do an awful lot of fucking around.
Brown Sugar (Hulu)
This 2002 romantic comedy follows the editor-in-chief of XXL (Sanaa Lathan) and a music executive (Taye Diggs) as their professional partnership suddenly feels a lot more personal. This Labor Day, let's not forget the workers who made it possible for them to have a sexy, slightly inappropriate relationship.
Annihilation (Hulu)
Category is: Be happy this isn't your job. Natalie Portman stars in this adaptation of Jeff VanderMeer's trilogy. A biologist, Portman is tasked with heading into an infected zone to find out what is causing strange phenomena. Whatever you think it might be, it's certainly not that.
Sorry to Bother You (Hulu)
Possibly the only movie on this list that actually deals with workers' rights. You're welcome. Boots Riley's "rambunctious, surreal" debut feature film stars Tessa Thompson, Steven Yeun, Lakeith Stanfield, and Armie Hammer.
Billy Elliot (Netflix)
Teeny-tiny Jaime Bell stars in the film adaptation of this beloved musical. While his dad is on the British miners' strike of 1984 (ding, ding, ding, labor!), Billy Elliot is falling in love with ballet. Or you can watch clips of the musical online, which is what I do whenever I feel like sobbing. Electricity!
Rocky (Netflix)
Remember when cable channels would play movie marathons and staying on the couch all day was culturally accepted? I give you full permission to watch every Rocky instead of standing up this weekend.
Charlie's Angels (Showtime)
When I was a kid, I thought Charlie's Angels were the grown up Powerpuff Girls. The hair colors check out and they do vaguely the same job. Only difference is that the angels don't have to deal with the messy dynamics of a father-boss-creator. Good thing we have all weekend to compare and contrast.
TV
Succession (HBO)
On Succession, all business is funny business. And Labor Day weekend is the perfect time to catch up on the Emmy-nominated first season and watch the first four episodes of season two (normally airing on Sundays, HBO moved Succession up to Friday just for you). Join in on the Twitter conversations and worship Sarah Snook's Shiv Roy as the queen she is.
Parks and Recreation (Netflix)
Amy Poehler, Chris Pratt, Aubrey Plaza, and Adam Scott … all the friends you need on a holiday weekend.
The Marvelous Mrs. Maisel (Prime)
If you don't know the premise of this Amazon Prime show yet, I am very impressed by the rock under which you are living! You'll laugh, you'll cry, and mostly you'll wonder if you could pull off hats like Midge Maisel.
Tuca & Bertie (Netflix)
Netflix may have canceled this animated series about two millennial birds getting by, but the first season is good enough to watch over and over again. Plus, it's quick and easy to watch in a day for all of you completionists.
Younger (Hulu)
Hey now! Hey now! This Hilary Duff–Sutton Foster comedy set in the publishing world is what dreams are made of!
Doogie Howser, M.D. (Hulu)
A show which throws all child-labor laws out the window for comedy and young Neil Patrick Harris's smile.
Homecoming (Prime)
Based on a popular podcast, Julia Roberts stars as a caseworker helping rehabilitate soldiers. But after she leaves the company, she finds things are not quite as they seem. Season two will star Janelle Monae!
The Young Pope (HBO)
Jude Law plays a sexy, mysterious, and (you guessed it!) young pope, advised by Diane Keaton as Sister Mary. The gripping limited series has some YouTube commenters calling it "House of Cards … but the pope." Do with that info what you will.
GLOW (Netflix)
Nine women fall into a job as professional wrestlers in the 1980s and could probably benefit from some sort of union protecting them. Alison Brie can only do so much.
High Maintenance (HBO)
Getting other people high is the most noble pursuit of them all.
The Crown (Netflix)
Her job may be to rule the United Kingdom, but it's what happens when the crown comes off that makes this show exciting. Season three starring Olivia Colman and Helena Bonham Carter begins November 17, so there's no better time to binge.
Crashing (Netflix)
No, not the Pete Holmes HBO show. Crashing stars Fleabag's Phoebe Waller-Bridge as one of six people living in an unused hospital as "property guardians." It's only six episodes and you have all day, so what are you waiting for?