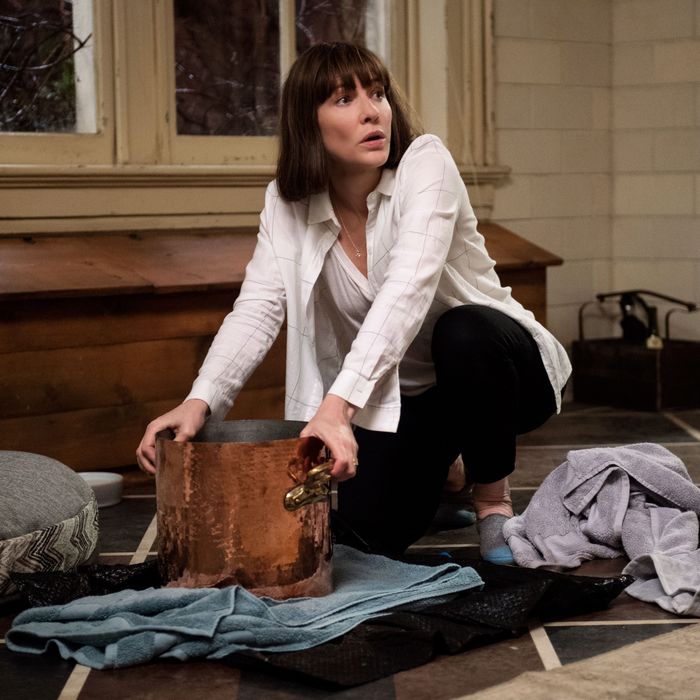 After years of adaptation issues and delays, Maria Semple's best-selling novel looks a lot different onscreen.
Photo: Wilson Webb/Annapurna Pictures
In Maria Semple's best-selling 2012 novel Where'd You Go, Bernadette, the titular heroine Bernadette Fox goes missing — for hundreds of pages. With her teenage daughter Bee (the book's narrator) and her genius tech-bro husband Elgin mystified as to her whereabouts, the story pieces together Bernadette's character through letters, emails, FBI documents, and even emergency-room bills. Bernadette is, in short, absent from large portions of a novel bearing her name.
When it came to adapting Bernadette into a movie, however, writer-director Richard Linklater took a decidedly different approach. In his movie, the misanthropic former architect (played by Cate Blanchett) is almost never not onscreen. In a drastic departure from the novel's central conceit, the viewer faces precisely zero uncertainty about Bernadette's location for all but one brief scene, in which she jumps out of a bathroom window. "We can't have our protagonist be gone from the movie for 35, 40 minutes — she's the story," Linklater says. "Bee doesn't know where Bernadette is. Elgie doesn't know. So it's still the story; you're just given more privilege. To me, her journey is really what it's all about."
Moviegoers could be forgiven for wondering if Bernadette — which is finally getting a wide theatrical release on Friday — got lost on the way to the multiplex, too. According to two sources familiar with the film's development process, Bernadette has been plagued with script and production issues from the start: First, various screenwriters were tasked with adapting the exceedingly complex, nonlinear book, and as the project moved forward, the director and producers butted heads through postproduction. Although filming wrapped in 2017, its rollout by distributor Annapurna Pictures was pushed back three times over the past two years: from May 2018 to October 2018, then from March 22 of this year to August 9.
In Hollywood, release-date leapfrogging is typically understood as a sign of impending disaster: It signals that a studio lacks confidence in a film's commercial potential or hints at unspecified production disarray. But according to Linklater — who released his 2016 film Everybody Wants Some!! through Annapurna, and who says its chief executive, Megan Ellison, personally proposed he adapt Bernadette after acquiring the rights to the book — the repeated delays are nothing of the sort. Instead, they're a testament to the studio's commitment to putting the film in front of the widest possible audience.
"I was getting a little frustrated because the film had been finished a while," Linklater says. "But I quickly thought, Oh, they're not kicking the can. Because we didn't have trouble. We didn't reshoot anything. We didn't have bad test screenings. None of that. It was a symbol that they really cared about the movie. My actors were like, 'Aw, they pushed it again.' Because a lot of times, that does portray a problem film, and I was worried about that perceptionally.
"But if they were dumping the movie," he continues, "they would have just thrown it out there and not given a shit. We're not the film anyone's getting out of the way for. We're the little film that's trying to find its way in the world. So when some big-ass film jumps on your date, you can take that date and have assured failure in the theatrical world, or you can find another date."
One of our sources close to the film, however, puts it differently: "There were unsuccessful research screenings last summer. Like, terrible: 'This movie's a mess.' The plan was for them to fix it. They were working with Richard. But nobody could tell Richard what to do."
Where'd You Go, Bernadette enters the cinematic marketplace during the dog days of August, generally considered a movie dumping ground, but also at a time of mounting financial uncertainty for Annapurna. Earlier this month, the eight-year-old Oscar-winning indie financier turned full-fledged studio behind such acclaimed titles as Zero Dark Thirty and American Hustle retained a law firm to explore bankruptcy protection in the aftermath of a string of unprofitable movies including Vice, Destroyer, and The Sisters Brothers. Now, after the company burned through much of the $350 million credit line it secured in 2017, Ellison's father, multibillionaire Oracle co-founder Larry Ellison, is expected to maneuver some kind of cash infusion or debt reduction to bail Annapurna out.
Things weren't nearly so dire in 2013 when Annapurna and co-producers Color Force — the production company known for such blockbuster literary adaptations as the Hunger Games franchise and Crazy Rich Asians — landed the rights to Semple's novel, which had received rhapsodic reviews and spent a year on the New York Times best-seller list. (Semple is a former TV writer who worked on such shows as Suddenly Susan, Mad About You, and Arrested Development. She declined to comment for this article.) A first set of screenwriters, Michael H. Weber and Scott Neustadter (500 Days of Summer, The Fault in Our Stars, The Disaster Artist) was brought on to adapt the novel, and over the course of more than two years they delivered script drafts that hewed closely to the plot of the novel.
According to our source familiar with the development process, several of these drafts featured Bernadette missing and offscreen for much of the film, with Elgin traveling to Bee's boarding school to pore over the evidentiary documents compiled by his daughter, who's constructed an elaborate theory as to why and where her mother has gone. Bernadette appears mostly in flashback.
At this point (2014), Ellison allegedly had Cameron Crowe in mind as a possible director. In early 2015, however, Linklater joined the film. Meanwhile, Neustadter and Weber moved on to other projects. (They remain uncredited on Bernadette. "We worked on the film," Weber and Neustadter said in a statement to Vulture, but otherwise declined to comment for this article.) Linklater retains a writing credit on the finished movie, but in 2016, he brought on two other screenwriters: Holly Gent and Vincent Palmo Jr. The two are also behind the script for Linklater's 2008 bio-dramedy Me and Orson Welles and had collaborated with him numerous times, but within the film industry they are not generally regarded as writers. Palmo has worked as a first assistant director since 2005, and the majority of Gent's credits are as a production coordinator; they first worked with Linklater in these capacities on 1993's Dazed and Confused.
"Holly and Vince do other things on set for Linklater, and now suddenly they're adapting this for him?" one of our sources notes. "Here you have this beloved, best-selling book, and adapting it is this super-ambitious, complicated thing. More than one person said something weird is going on there. Because they don't have a writing background."
Linklater & Co. ultimately reworked the story, jettisoning, among other things, a major subplot from Semple's novel in which Elgin (played by Billy Crudup in the film) has an affair with a co-worker and accidentally impregnates her. They also eliminated portions of Bee's experience at boarding school. In the book, Bee (played by Emma Nelson in the film) enrolls at Choate and is kicked out after neglecting her schoolwork and focusing all her attention on a chronicle of Bernadette's disappearance. But none of that wound up onscreen. "Our track was more the mother-daughter," Linklater says. "Anything that goes too far outside of that, we don't have room. We're trying to tell a crafted story."
Blanchett came onboard in 2015 while the script was still in flux and became deeply invested in fleshing out and beefing up her character. "Cate was a full-on creative partner since before I was writing the script," says Linklater. "We were always talking about her character. You don't get to be Cate Blanchett and not have very productive, cool ideas about your character and the story and what needs to be done."
The Academy Award–winning Australian actress recalls Linklater's process of trial and error in plotting out the hows and whys of her character's disappearance. "It went through a lot of different processes about when Bernadette disappeared, how long she was gone for, did you start at the end and go back to the beginning?" she says. "He's very playful in that way, Rick. He won't lock things down too early. But when he locks things down, that's it. That's done. That's the script. But he went through many versions because it's a tricky balance. As much as it is about a mother and her special relationship with her daughter, it's about a family who are estranged from one another, and them finding their particular way back together."
But as the film took shape, concerns grew both inside and outside Annapurna about the choice to not have Bernadette disappear in a movie called Where'd You Go, Bernadette. According to our source close to the film, suggestions to change that plotting device were ignored by both Linklater and Ellison, who took a greater hand in overseeing the production after Annapurna's head of film production, Chelea Barnard, was fired amid a swirl of rumors about the company's financial instability in October 2018: "There were issues with, 'How do you tell the story? You're kind of ruining the feel of the book with the way the movie's done.' But that was falling on deaf ears. There were warning signs that weren't heeded, that weren't listened to."
Prerelease tracking estimates show Bernadette making a disappointing start. Analysts are predicting that the film will earn "single digits," i.e., less than $10 million over its opening weekend, which would make it merely the most recent mid-budget adult-skewing movie to slump at the box office — arriving one week after the gritty Melissa McCarthy/Tiffany Haddish/Elisabeth Moss vehicle The Kitchen fell well below its baseline financial expectations. Taken in conjunction with what one person contacted by Vulture characterized as a "revolving door of executives" at Annapurna, Bernadette's underperformance would be the latest in a spate of troubles for the beleaguered studio. That outcome would also mark a continued cold streak for Linklater, whose most recent film, Last Flag Flying, grossed just $965,481 domestically. And before that, Everybody Wants Some!! did a mere $3.4 million in North America.
"Amusing and sleepy, pretty much describe this movie," opines the New York Times' critic Manhola Dargis in an early review. "There's nothing wrong with deviating from the source material, but this desperate and ineffective solution to the material's interiority will make the film version of Bernadette seem even more anticlimactically baffling to those who haven't read the book," the AV Club's Jesse Hassenger adds.
As to whether or not fans of Semple's book will be unhappy with the license Linkalter took in adapting it, the director remains unconcerned. "To be honest, that has not been the reaction I've gotten at all," he says. "A lot of books read like movies. You read it and you have a movie in your head. You read Maria's book, it's so unconventional, so quirky, so weird. I don't think anyone comes out with the movie. What's the movie that you get from the book? A bunch of emails?"