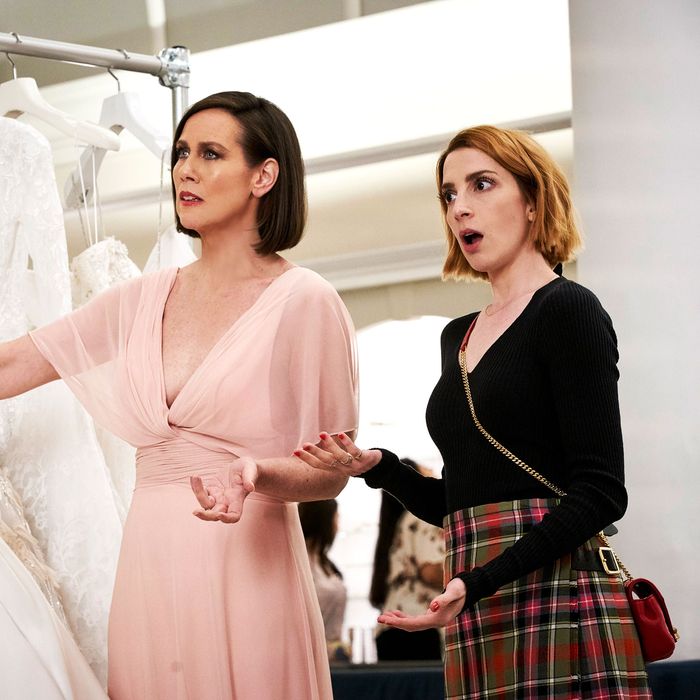 Younger
It's All About the Money, Honey
Serious question: Who in their right mind would ever invest in Millennial? This is coming from someone who cares very deeply for the company's employees and would like to see it succeed, but come on! Millennial has been mired in so much scandal and turmoil in the short time we've known it I cannot believe a group that has been investing only in specialty metals would actually be interested in dumping money into this troubled publishing house. It doesn't even know Diana Trout works there, and that's, like, the No. 1 selling point. Not that I am a fan of the Jacobs Group, since its people won't even look at Kelsey during the pitch meeting because she is a — gasp — woman and instead always defer to Charles, but still, guys, you should probably keep your distance from Millennial. They do not, though their investment in Millennial unsurprisingly comes with some caveats. Big ones.
With Quinn Tyler out of the picture (good riddance, lady!), Kelsey and Charles head to Chicago to win over the only company they have yet to beg for money, which means this is truly the last chance they have to save Millennial. Cool, cool, cool, no pressure or anything. Aside from the rampant misogyny displayed by the head of the Jacobs Group, the meeting goes very well. Kelsey earns the group's respect when she lets them know that her winning business idea as publisher was to bring in a social-media strategist, which is really something here in the year of our lord 2019. Still, it persuades all the suits to get in on Millennial, and after Kelsey has gotten everyone in that boardroom to follow her on Instagram, she and Charles head to the bar to celebrate the impending contract they will surely be signing tomorrow. If you've been watching this show for even, like, two episodes, you know this is all too easy for these people. There must be some trouble afoot.
In a true twist, the trouble does not come from the Greatest Trouble Magnet of Our Time, Liza Miller. Shocking, I know! She does, however, make a surprise appearance in Chicago in an attempt to explain that Infinitely 21 ad situation to Charles before he sees it for himself. It seems like something that could be dealt with over the phone, especially since Charles is in the middle of trying to keep their company afloat, but alas, no. Once Liza hears that the ad campaign, which has taken over Manhattan, is going national, she hops on a plane and arrives just as Charles and Kelsey are having celebratory drinks. She does at least promise Kelsey, who has seen the ad, that she won't tell Charles until later — he deserves to celebrate the win. The next morning, however, she spots the ad on the back of the newspaper Charles is reading (that ad moves fast!) and finally shows him. You know, Liza, you weren't the only one with dreams of reading the newspaper in a fancy hotel room with Charles, so thanks for nothing.
Charles doesn't seem thrilled, but he hardly has time to react because there's a frantic knock at the door. Hands down the best part of this episode is Kelsey rushing into the room, hair a mess, mascara down her cheeks, screaming an annoyed "Liza!" in our protagonist's face when Liza assumes she's here about the ad. Not everything is about you, woman! Or ads! No, Kelsey has much worse news: After leaving the bar the night before, she promptly went to her hotel room and drunkenly took a video of herself showing her bra and exclaiming, "Guess who got the money, honey," to send to Zane, only she mistakenly posted it to her Instagram Stories and fell asleep. She woke up to hundreds of messages, including one that simply said "nippy longstocking" for whatever that's worth, and some raging anxiety. Everyone who follows her — including authors, journalists, and, yes, the investors she and Charles met with — has seen it, and even after she deleted it, the video lives on as a meme. Honestly, Kelsey, can't you sext your boyfriend over text message instead of Instagram DMs like a normal person?
The only silver lining in this very, very dark cloud is that, as Charles points out, the investors have not canceled the meeting scheduled for that morning. And it's true: When they arrive (and Kelsey apologizes for her social-media mishap), the investors are still interested in getting into business with Millennial but only if Kelsey steps down as publisher and Charles is reinstated. Charles, a true gentleman and scholar, fights for Kelsey. But Kelsey loves Millennial with all her heart, and because of that she wants to do what's best for it: She steps down right then and there. She's walking away to save the thing she loves. Oh, Kels! What a roller coaster this year has been for you.
It seems like the last thing in the world Charles wants to do now is have a chat with Liza about her ex-boyfriend AGAIN, but that's exactly what Liza wants to do. Finally, perhaps speaking for the audience, Charles is like: Can we stop living in the past? Can we stop talking about your ex? Can we stop trying to make fetch happen?! Liza agrees that to move forward, she needs to let go of a few things. She tells Charles she isn't going to see Josh anymore.
Yeah, we'll see how long that lasts.
Hey, at least the big Infinitely 21 ad is good for one person: Josh! After Clare tells him she got a big promotion with Google that would be great as far as money and security for Gemma except for the fact that it's in Los Angeles, Josh decides to cash in on his new goodwill with the brand in hopes of making more money. He proposes franchising Inkburg and putting one right in the flagship Infinitely 21 store for a sort of retail-tainment situation in which people can shop for clothes and then get an exclusive tattoo. Shelly, the brand rep, loves the idea. Or she just loves Josh. It's hard to tell. Either way, it looks like Inkburg Midtown might be a go, and Josh might soon have enough money so Clare doesn't need to take the job in Los Angeles and he can keep his daughter in New York. I mean, cool? It seems like a dick move not to let Clare thrive in her job, and also can't he have an Inkburg Los Angeles? People get tattoos on the West Coast, I think. It's not that I dislike Josh and want to see him go; it's just that his reasons for sticking around never make much sense. Like Lauren Heller before me, I feel very much like the shrug emoji at the moment.
It's Trout Season
• I'm sorry, do we really think Queen Trout would go to Kleinfeld for her wedding dress? The woman would have a private showing at some exclusive boutique. We all know this.
• I love that Diana and Liza can speak as peers now. The scene in which they both talk about their first weddings and failed marriages got me very excited about the new levels this friendship can go to now that Liza's finally being honest.
• Bless the Trout: When Liza mentions having no idea what she wanted in her 20s, Diana's response is "Oh, you mean two weeks ago?"
• Liza thinks the bigger celebration should be saved for when you finally get it right, and Diana agrees. What does this mean for Diana's wedding? I CANNOT WAIT.