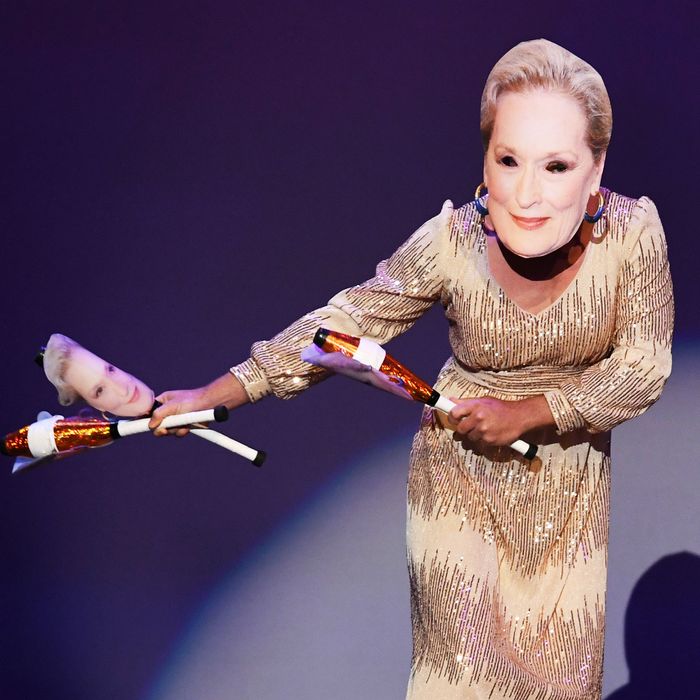 A dancer in a Meryl Streep mask performs during the Emmys. Why? Who knows.
Photo: Kevin Winter/Getty Images
Fox's broadcast of the 71st Annual Emmy Awards didn't have a host, and it also didn't have many viewers: Per Nielsen, Sunday's ceremony drew just 6.9 million viewers, by far the least-watched Emmys ever. Most industry insiders had expected ratings to decline, if only because that has been the trend in recent years. But viewership of Sunday's Fleabag-flavored telecast declined by about 30 percent versus 2018's show (10.2 million viewers on NBC), a steep enough drop that's hard to write off to Fox's slightly smaller footprint than NBC's or to the fact that this year's show had to compete against Sunday Night Football rather than the less popular Monday Night Football on ESPN. This was a flat-out rejection of the Emmys.
As bad as the overall ratings were, the number among Fox's demo target of adults under 50 was even worse. Sunday's host-free event managed to pull a mere 1.6 rating, fully one-third below last year's 2.4 rating. Critics have been pretty vicious toward this year's Emmys, but it would be a mistake to attribute all (or even most of) the ratings decline to the show's quality. Based on early big-city numbers, there's no indication that ratings for the show fell dramatically from start to finish, so the viewers who didn't watch didn't know whether the show was bad (or good).
It's hard not to speculate that this rejection was partially driven by the lack of a host: Fox's marketing team had no big comedy name to hype as a reason for folks to tune in. The TV Academy and Fox execs seemed to think the Oscars going host free — and doing just fine in the ratings — meant the Emmys could do the same without any harm. But even if some of us would argue that TV right now is just as good (or better!) than the movies, the Oscar race, with its completely new crop of participants each year and much bigger stakes, is itself an event. Finding out whether Fleabag can beat Veep for comedy? Very few people care (though clearly they should because both are excellent).
This isn't to suggest that Fox and the Academy could've miraculously defied the long-term trend that just about everything on linear TV is drawing a smaller audience and that awards shows in particular aren't the same attraction they were in an age when celebrities didn't hang out on Twitter and Instagram all day. But consider: This year's Emmys drew fewer viewers than the completely made up Billboard Music Awards, which attracted 8 million viewers on NBC last May. Among adults under 50, the 2019 Emmys had a smaller rating than last fall's American Music Awards (1.8 rating) on ABC. Neither of those shows is known for regularly beating the Emmys in any sort of ratings race, yet this year both did — even though they too suffered notable year-to-year erosion.
Music and movie awards are obviously different beasts than a TV awards show, and music shows in particular benefit from live performances in a way the Emmys can't. But by ditching a host and making so much of the show feel cheap — there was no live orchestra, the clip packages were short and uninspired — Fox did the very least to create a promotable event. Plus, in part because the TV Academy insists on airing way too many categories during the televised show (do we really need Best Director of a Variety Show in prime time?), there's little space for moments that could be hyped in advance. Sunday night was the 25th anniversary of the Friends premiere, while this month also marks a quarter-century since ER bowed and 15 years since the first episodes of Lost and Desperate Housewives. A tribute to any or all of those shows might have been something folks tuned in to see. Similarly, why not recruit big-name singers or bands to salute some of the shows that signed off this season? Maybe get Slash and some rockers together to cover the Game of Thrones theme or have the Dave Matthews Band team up with Barenaked Ladies on the theme to The Big Bang Theory. Would any of these have turned the Emmys into must-see TV? Probably not. But they might have stanched the ratings collapse.
The reason none of this happens, however, is that the show has neither a single network home nor a regular production company invested in spending the resources to keep it relevant. The Emmys are shared among the four broadcast networks, rotating every four years among ABC, CBS, NBC, and Fox. As a result, there's no incentive for any network to splurge on a big-name host, an extra-fancy set, or eye-popping production numbers. There's also little reason to devote much time (or money) advertising the Emmys in advance, especially at a time of year when networks such as Fox are focused on promoting their own new weekly series. If anything, because networks have to pay the full cost of producing each year's show, there's a financial reason to spend less in order to minimize potential losses.
By contrast, the Billboard Music Awards, the Grammys, and the Oscars are tentpoles for their respective networks, long-term investments that pay off via extra ad dollars and as part of a bigger portfolio of annual events. In some cases, such as the Billboard Music Awards and the Golden Globes, they're owned by an outside company like Dick Clark Productions, which can make long-term plans to boost ratings (and thus the license fees it charges networks). The poor Emmys simply hop from one foster home to the next, hoping each year's parent will do more than the bare minimum. And in recent years, those foster parents have good reason to be grouchy: Broadcast networks barely get nominated for Emmys these days and are virtually invisible on the prime-time show. Last night, not a single prime-time broadcast show won an award. (NBC's late-night vet SNL took home two.)
At this point, the best-case scenario would be for a streaming platform to adopt the Emmys and help it thrive. To ensure access, the streamer could make itself available for free for a day or strike a deal to simulcast the show on a broadcast network for a modest fee. Unfortunately, these scenarios are nothing more than wishful thinking, at least for a while. This year marked the first of a new eight-year agreement between the TV Academy and the four biggest broadcast networks, meaning the show will continue rotating among the networks through 2026. Next year's temporary Emmy custodian: ABC. Maybe Jimmy Kimmel can figure out how to fix things?