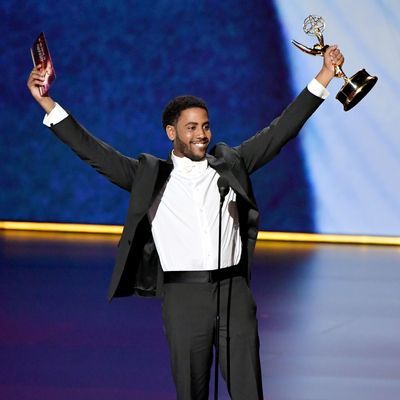 The young Jharrel Jerome, celebrating his win for
When They See Us.
Photo: WireImage/Getty Images
Not so long ago, the Emmys were known for predictable winners. For four years in a row, Mad Men won Outstanding Drama. For five consecutive years, Modern Family won Outstanding Comedy, and for three years in a row after that, Veep won in the same category. The acting categories occasionally veered toward something different: a win for Rami Malek in Mr. Robot, Tatiana Maslany in Orphan Black, or Donald Glover in Atlanta. But generally speaking, at a time when the television landscape began expanding at a rapid pace, the Emmys did not reflect the newness being written on the TV wall.
The 2019 Emmys were different. This year's ceremony still looked to the past, but they also more blatantly leaned toward the future than the Emmys ever have before. Fleabag, which delivered an exceptional, extremely buzzy second and (apparently) final season, beat the odds-on favorite, the swan song for Veep, in the Outstanding Comedy category. Fleabag practically swept the whole genre, scooping up awards for writing and lead actress for Phoebe Waller-Bridge and for director Harry Bradbeer. Veep, which had 17 Emmy wins to its credit before Sunday night, came away empty-handed.
There were other signs of forward-thinking voting, too. In the acting categories, only one baby boomer — Tony Shalhoub, who was the first winner of the night, as Outstanding Supporting Actor for The Marvelous Mrs. Maisel — emerged victorious. Seven of the acting recipients were Generation Xers, three were millennials, and one, Jharrel Jerome of When They See Us, at the ripe age of 21, is a member of Gen Z. That makes this one of the youngest crop of Emmy-winning actors we've seen in a long time.
On the other hand, the field was largely white and peppered with British talent, including Waller-Bridge, Jodie Comer, Ben Whishaw, and Succession's Jesse Armstrong, who won for Outstanding Drama Writing, as well as overall series winners brought to the screen in conjunction with British networks (Fleabag, limited-series winner Chernobyl) or by British creators (TV-movie winner Black Mirror: Bandersnatch). Only one traditional broadcast network, NBC, won anything during the ceremony. The rest were split across cable networks like FX and HBO and streamers like Amazon and Netflix.
Game of Thrones, as predicted, won for Outstanding Drama, an award that felt more like a tribute to its eight-season run than an endorsement of its uneven final season. But Billy Porter of Pose also won as Outstanding Lead Actor in a Drama, making him the first openly gay black man to win the Emmy, an honor he accepted in an ab-fab pinstripe suit and a hat with a brim that, on one side, extended straight up to heaven. In the directing categories, Saturday Night Live won for Variety and so did Chernobyl for Limited Series, as one might have anticipated. But Bradbeer also won for Fleabag, beating two episodes each of Barry and The Marvelous Mrs. Maisel as well as one of The Big Bang Theory. And in one of the night's biggest upsets, so did Jason Bateman for Ozark, while competing against three episodes of Game of Thrones, plus The Handmaid's Tale, Killing Eve, and Succession. The Emmys were both exactly what you'd expect and a series of unexpected wins, an embrace of legacy and a refreshing acknowledgment of where both television and pop culture are headed.
Ironically, the genre that felt most stuck in place was Variety. For the third year in a row, Saturday Night Live won Best Variety Sketch Series and Best Directing of a Variety Series. For the fourth year in a row, Last Week With John Oliver won in the Best Variety Talk and Best Variety Writing categories. Both shows are still very good at what they do in an extremely challenging genre. (I hear you saying that Saturday Night Live is not as good as it once was, and I also say: Try pulling together a 90-minute live show in a single week for multiple weeks in a row and report back to me.) At the same time, these categories, despite the variety moniker, have a real tendency to get stuck in a rut. Next year, I sincerely hope to see Patriot Act With Hasan Minhaj and A Black Lady Sketch Show nominated and possibly receiving some actual prizes.
The telecast itself tried to break out of the awards-show rut, with mixed results. Like the Oscars, the Emmys went hostless this year. But unlike the Oscars, which seemed to break free of its shackles without an emcee, the Emmys felt unmoored and unfocused. That may be because its writers weren't as adept at crafting the bits that bridged the gaps between award presentations. The song-and-dance number, headlined by Adam Devine, that explained the Variety categories fell flat. The opening, which ushered a panicky Anthony Anderson and a calmer Bryan Cranston into the roles of host after "appointed host" Homer Simpson was crushed in front of a live audience, didn't quite work either. Thomas Lennon, enlisted to provide absurd commentary about every winner, was amusing at times and way off the mark at others. (Example of being off the mark: when he referred to Chernobyl as "the little nuclear disaster that could.")
Politics did not loom over the Emmys, but it too was present in the remarks Patricia Arquette made about equal treatment for transgender people and the excellent speech Michelle Williams gave about equal pay. It was (almost) there in Armstrong's bleeped joke about U.S. immigration policy and "sh*thole countries." It was definitely there in Chernobyl creator Craig Mazin's warning about the danger of governmental lies, and in the attendance of the Central Park Five for When They See Us, a series that made it clear Donald Trump did not see Antron McCray, Kevin Richardson, Yusef Salaam, Raymond Santana, and Korey Wise as people worth dignity and respect. Still: No one talked about Trump explicitly. This was not a blatantly political show, unless you count RuPaul, during the Competition Show win for Drag Race, encouraging people to register to vote.
The fact that the Emmy Awards felt a bit scattershot seems right in step with the way many of us watch television in 2019. We discover Fleabag and fall in love so hard that we give it four of the seven comedy awards presented during the broadcast. We keep hearing friends talk about Ozark so we're like, fine, give Bateman a directing award and also give one to Julia Garner, who's quite talented. We feel compelled to give Game of Thrones some awards, because it was a big deal, but we also save one for Succession, because that's our current obsession. #WeHereForYou. We forget how significant Veep was and how strong its finale was, because there's just too much TV. And we wind up giving it nothing when it deserved something.
The fact that the Emmys bounced around feels like a sneak preview of where things are headed. Next year at this time, it's possible we'll be looking at nominees from known entities like HBO, streaming platforms like Netflix and Amazon, and brand-new ones like Apple+ or Disney+. If the Emmys felt a bit unpredictable and unwieldy this year, I predict that they'll feel even more that way in the years ahead. The unknown may be turning into the ceremony's sole constant.