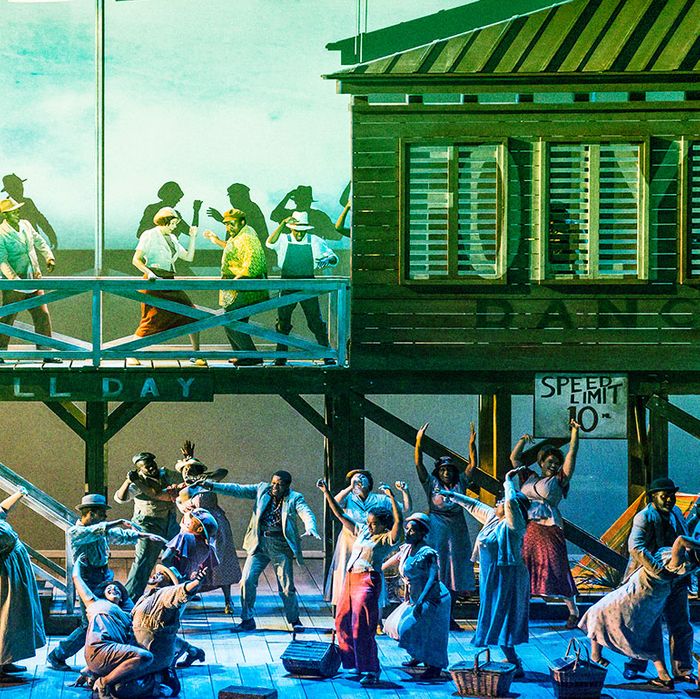 Porgy and Bess.
Photo: The English National Opera
Classical music is a deadly misnomer because the art it describes is anything but marmoreal or sedate. You can hopscotch through a New York concert season from continent to continent and century to century, alighting in a different universe every night. But even if you just stick to 19th century Europe, the range of experiences is vast. Here's a tiny selection.
What We Think Will Be Great
September
"Holes in the Sky" (National Sawdust; 9/13)
Pianist Lara Downes celebrates Clara Schumann's bicentennial by playing her works alongside music by generations of women in a range of styles, from Meredith Monk to Joni Mitchell and Paola Prestini.
New York Philharmonic (David Geffen Hall; 9/18–9/21)
Politics may have soured many on nostalgia for small-town America, but why not reclaim it with Samuel Barber's sepia-and-sunshine Knoxville: Summer of 1915, sung by the luminous Kelli O'Hara? To round out the program, Jaap van Zweden conducts Prokofiev's Romeo and Juliet and a new overture from Philip Glass.
Porgy and Bess (Metropolitan Opera; opens 9/23)
Gershwin's classic, which hasn't been seen at the Met in almost three decades, returns. Once a vehicle for black singers who were shut out of other parts, this time around it's being sung by operatic veterans.
"The Angel's Share" (Green-Wood Cemetery; 9/24–9/27)
If autumn puts you in the mood for a little meditation on mortality and transcendence, you could do worse than hear pianists Adam Tendler and Jenny Lin play movements of Liszt's Poetic and Religious Harmonies within earshot of some long-deceased New Yorkers. This kicks off a series of catacombs concerts, each with a whiskey prelude.
October
Daniil Trifonov
The super-pianist sometimes sounds as if he has 20 fingers and an extra hip flask full of soul. This fall, he gives a Carnegie Hall recital (10/16), plays Scriabin's mountainous piano concerto with the New York Philharmonic (11/27–30; 12/3), and joins the Philharmonic's string quartet to perform his own work at the 92nd Street Y (12/1).
Les Arts Florissants (The Cloisters; 10/20)
The special-ops unit of early-music ensembles performs the exquisitely unsettling madrigals of Carlo Gesualdo, who got away with double murder thanks to his status as a prince. Best consumed in a venue with stone statues and churchy reverberations.
"Journey to the East" (Alice Tully Hall; 10/24)
Migration, eclecticism, and cultural exchange are not just contemporary phenomena; the early-music sage Jordi Savall uses music to retrace the travels of the 16th-century Jesuit St. Francis Xavier, who sailed from Lisbon to Japan and heard the sounds of many cultures along the way.
Dichterliebe (Gerald Lynch Theater; 10/29–10/30)
Voices don't get more limpid than Ian Bostridge's tenor, and his rendition of Schumann's song cycle is poignantly crystalline. He sings it alongside a companion piece by Brad Mehldau (Zankel Hall; 10/24). A few days later, soprano Julia Bullock sings the same cycle in a staged version called Zauberland ("Magic Land"), directed by the ever-polarizing Katie Mitchell.
December
Wozzeck (Metropolitan Opera; opens 12/27)
The artist and director William Kentridge can sometimes festoon stage works with so many images and ideas that he makes it hard to focus. But that overload should work for an opera about a man fighting his way through society's cacophony of instructions for how to live.
*This article appears in the September 2, 2019, issue of New York Magazine. Subscribe Now!