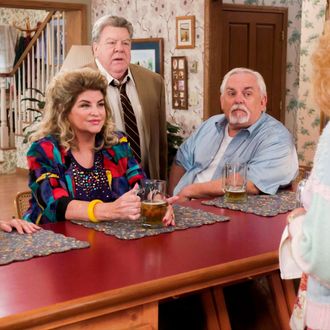 Norm! On
The Goldbergs
!
Photo: ABC
ABC is planning a Throwback Thursday stunt big enough to last seven nights. During the week of October 7, nearly a dozen Alphabet comedies and dramas will feature retro reunions of casts from various movies and TV shows, including key cast members from Cheers, The Drew Carey Show, Charmed, Think Like a Man, and Wet Hot American Summer. While broadcast networks once made regular use of themed weeks and nights, they've become less common in recent years, as linear viewing has declined and audiences have started watching on their own timetables. What ABC is calling "Cast From the Past Week" seems designed to fight back against that trend, while also helping the network keep a spotlight on its shows as the glow of fall premiere week starts to fade.
For '80s and '90s kids, the most notable previously unannounced reunions of ABC's stunt will take place on American Housewife and The Goldbergs. The latter has recruited former Cheers barmates Kirstie Alley, Rhea Perlman, George Wendt, and John Ratzenberger to get back together for an episode (airing October 9) in which the foursome ends up sharing a beer with each other at Bev Goldberg's house. Two nights later, Drew Carey, Kathy Kinney, and Ryan Styles will reunite with Diedrich Bader, their former castmate from Carey's eponymous ABC sitcom, on Bader's current comedy American Housewife.
Also on tap for ABC's themed week:
• Dan Aykroyd will appear on the October 8 episode of The Conners, reuniting him with his Blues Brothers 2000 co-star John Goodman.
• The same night, Michael Ian Black stops by Bless This Mess, which stars his fellow Wet Hot American Summer alum Lake Bell, while Girlfriends stars Golden Brooks, Jill Marie Jones, and Persia White visit Tracee Ellis Ross on Black-ish.
• On October 10, Charmed vets Alyssa Milano and Holly Marie Combs will conjure up a visit to Grey's Anatomy (the ABC hit doesn't feature any actors from Charmed, but showrunner Krista Vernoff and exec producer Andy Reaser were writers on the WB fantasy drama). The same night, Jerry Ferrara guests on A Million Little Things, putting him on set with his Think Like a Man castmate Romany Malco.
• Seamus Deaver and Jon Huertas reunite with their Castle star Nathan Fillion on the latter's current show, The Rookie, on October 13.
To be sure, it's unlikely these casting stunts will result in any ABC show getting a massive surge in viewership. But in this era of limited attention spans and yearly audience erosion, "Cast From the Past Week" is an attempt to keep audiences engaged with the broadcast ecosystem and help generate some much-needed promotional buzz with both traditional and social media. The retro theme is also smart, since it leans into nostalgia among the older viewers who now make up the bulk of the broadcast audience. ABC execs saw firsthand how retro done right can pay off when last May's Live in Front of a Studio Audience drew over 20 million viewers by serving up live recreations of All in the Family and The Jeffersons. If "Cast From the Past Week" is a success, maybe it's not too late for NBC to try a 25th anniversary salute in November to 1994's "Blackout Thursday," using the network's current sitcom lineup.