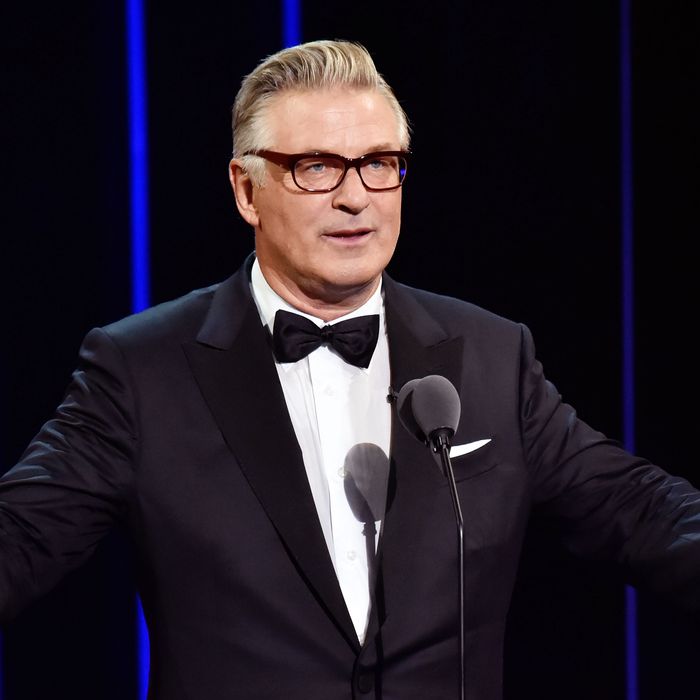 Comedy Central's
Roast of Alec Baldwin.
Photo: Jeff Kravitz/FilmMagic
In one of the best installments in recent years, the Comedy Central Roast of Alec Baldwin assembled a dais of Robert De Niro, Blake Griffin, Caitlyn Jenner, Chris Redd, Jeff Ross, Ken Jeong, Nikki Glaser, Caroline Rhea, and Adam Carolla, all under the helm of the evening's Roast Master Sean Hayes. Other than muting the word "cunt" on two occasions, the network seemed to censor very little as the cast punched up, down, left, and right while rarely losing any steam. Hayes deserves a lot of credit, as his composure was a biting blend of dignity and dirt that set the perfect tone for the proceedings.
With such a diverse cast, pretty much every joke category had an easy target. Considering recent news in the world of SNL casting, while listening to the jabs hurled at Sean Hayes, Ken Jeong, and Caitlyn Jenner I had to wonder if the line of what is and isn't appropriate is blurred when a charity is involved.
Blake Griffin was an unexpected standout, and Caroline Rhea reminded us just how funny she can be. But the real star of the night was Robert De Niro, who sat cooly on the couch, squinting through most of the show, until it was his turn to take the mic and let loose.
Most of the jokes aimed at Baldwin revolved around his temper, flickering career, and lack of healthy personal relationships with friends and family. The latter were the jokes that seemed to sting Baldwin the most, considering that he didn't have many friends or family in the crowd. The knife was twisted even further with a surprise, incredibly personal roast set from his daughter Ireland, of "angry voicemail" fame. But Alec Baldwin got not only the last laugh, but also the last song, as the show closed with he and Paul Anka performing a duet of "My Way." If you've already read our recap of the taping and are looking for more, below are ten of the best burns from the roast.
Sean Hayes: "Alec's true passion has always been the theater. Alec loves to hit the stage, because it can't press charges."
Nikki Glaser (to Blake Griffin): "Blake, you look like a black guy that got made by a printer running out of ink."
Blake Griffin: "Caroline Rhea from Sabrina is here. Caroline, if you're here that means Salem the Cat must have turned this down, huh? Sorry Mr. De Niro, we know how much you love that black pussy."
Caroline Rhea: "Alec, where are your brothers tonight? God knows they're not working."
Chris Redd (to Caitlyn Jenner): "You did open the door for trans people. But then you ran in and slammed that shit shut right behind your flat ass."
Ireland Baldwin: "A lot of people only know my dad as an angry guy, but he's more than some lunatic who loses his temper. He also loses Emmys and Oscars and custody of his first-born child, am I right? Shit."
Adam Corolla (to Sean Hayes): "I've always kind of wondered what it'd be like being blown by a guy. I imagine it would be a lot like wearing Crocs. Sure it feels great … until you look down."
Jeff Ross (to Ken Jeong): "Your wife and you just had identical twin daughters. Congratulations. Ken told me he can't tell them apart. Well, now you know how the rest of us feel. You're a good guy, Ken. Thank you for letting them live."
Robert De Niro: "Caitlyn Jenner, there's something different about you, but I can't put my finger in it."
Alec Baldwin: "Blake, tonight you demonstrated what you do best: sitting while others score."