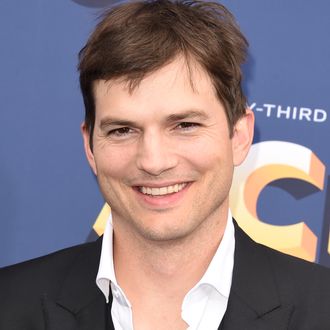 Photo: J. Merritt/Getty Images
This week, House Speaker Nancy Pelosi announced a formal impeachment inquiry into President Donald Trump. The decision came after days of news reports about a complaint from an anonymous whistle-blower, who claimed that, in a phone call on July 25, President Trump tried to pressure Ukrainian President Volodymyr Zelensky to investigate former vice-president and current Democratic presidential candidate Joe Biden, and his son, Hunter. The saga is expansive, complex. Also involved? The Ranch star Ashton Kutcher. According to the website TooFab, Kutcher and his wife, Mila Kunis (who was born in the Ukrainian SSR), met with President Zelensky this month. Afterward, the actor concluded that President Trump should be impeached.
"Mila and I met with President Zelenski [sic] and his wife a little over a week ago," Kutcher wrote to his followers on the website Community.com. "My gut: He is committed to eliminating corruption in Ukraine. He's also committed to ending the war and grateful for the US financial commitment because they needed it." He added, "If our president used that financial aid to leverage president Zelensky to investigate Biden he should be impeached. If our president did not use it as leverage and simply encouraged president Zelensky to investigate Biden without cause he should be impeached."
Hopefully this clears up any confusion about the current impeachment proceedings for you.