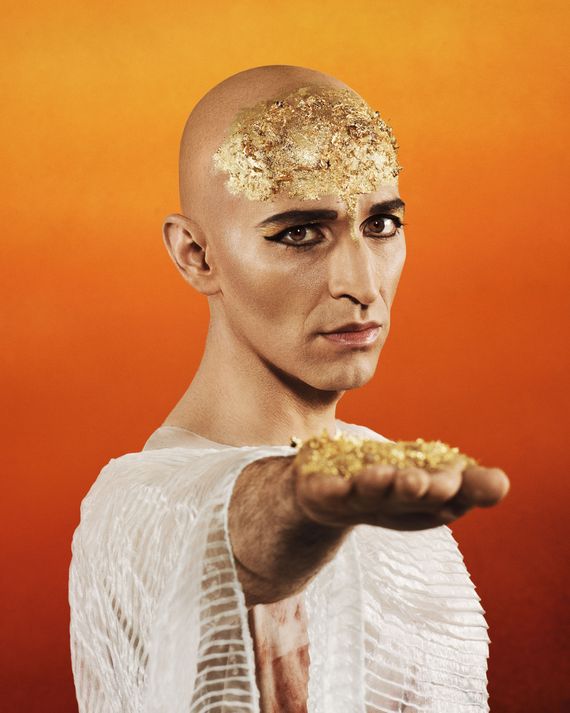 At the heart of Egypt's ancient history is the 14th-century-BCE pharaoh Akhenaten, a leader depicted with full lips, a long nose, and evident breasts. At the heart of the visual cornucopia in Philip Glass's 1983 opera Akhnaten is Anthony Roth Costanzo, a slender singer with full lips, a long nose, and a voice so high and clear it seems implausible coming from a man's throat. There's a lot of uncertainty around the historical figure, who is almost as famous for the woman he married (Nefertiti) as for his own accomplishments, which were considerable: He forced his nation to jettison the old gods and worship a single deity, making him the first great leader of monotheism; later rulers found his radicalism so extreme they all but obliterated him from the historical record. (Glass accentuates the mystery by having the libretto sung in ancient languages.) Costanzo, the countertenor who sings the role in the wandering production, which will make its way to the Metropolitan Opera House in November, calls his sexually ambiguous character "the first trans icon." Costanzo initially appears onstage bald, naked, waxed, and then, as gradually as only Glass can command, he dons the robes of majesty.
Costanzo is a fast-talking enthusiast who has kept the engines of his career perpetually revved. Now 37, he made his debut at 11 as part of the touring company of the Broadway show Falsettos and two years later sang the role of Miles in Benjamin Britten's darkly creepy opera The Turn of the Screw, based on the story by Henry James. "My parents were both psychologists," Costanzo says, "and that's such a psychologically tortured story! We'd drive out to New Jersey together for rehearsals and talk about sexual abuse and trauma." It was then that a vocal coach informed him that, judging by the hair on his arms, he wasn't just a boy soprano anymore but an honest-to-goodness countertenor. Somehow, while at Princeton, he talked 11 department chairs plus the administration into funding his senior thesis — a sung spectacle about the fictional 18th-century castrato Zefirino — as well as a documentary about the show. These days, he bubbles over with plans for interdisciplinary collaborations and multimedia productions like Glass Handel, a blowout he produced and performed, which included music videos by the likes of Tilda Swinton and Maurizio Cattelan. (Costanzo doesn't so much drop names as scatter them like seeds.)
Singing Glass, though, has taught him the virtues of slowness. "Opera time, when you're performing, feels so stretched out that it can feel uncomfortable to live in that world," he says. "And as you do it more, you find ways to make that seem natural." In a Handel aria, a countertenor's typical habitat, the character makes an emotional declaration, moves on to a connected or contrasting thought, and then repeats the whole speech from the beginning ("da capo"), often supercharged with extra filigrees of notes and expression. Glass, however, breaks a sentence (which might be ancient Egyptian or Hebrew in this case) down into fragments and has the singer repeat them obsessively.
That kind of repetition can be just as natural as the Handelian kind, Costanzo says: "If I have a crush on someone and they text me something, I'll look at that like five times. When the stakes are high, you go into Philip Glass mode." And, he points out, a lot of people will attend an opera in a language they don't understand about a figure they've barely heard of and still have an idea of what to expect. "If I go on Tinder and say I'm singing Philip Glass, and they know who that is, it's a pretty good litmus test."
Akhnaten premieres November 8 at the Metropolitan Opera.
*This article appears in the September 2, 2019, issue of New York Magazine. Subscribe Now!