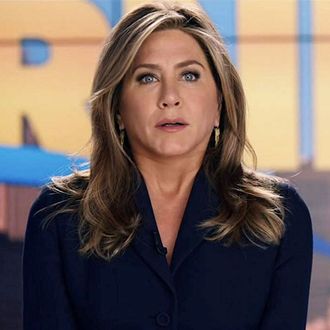 Jennifer Aniston in
The Morning Show
.
Photo: Apple TV
After months of speculation, Apple's new video service finally has a launch date and a price. Apple TV+ will begin streaming its first shows on November 1 and will carry a price tag of $4.99 per month, company CEO Tim Cook announced Tuesday. What's more, in a bid to build a huge subscriber base as quickly as possible, starting today Apple will offer a year of Apple TV+ free to anyone who buys a new iPhone, iPad, Apple TV, iPod touch, or Mac computer. With Apple's family sharing service, that subscription can be accessed by up to five other people. Apple's pricing makes its offering the most affordable of any of the current or planned major streaming services.
Of course, Apple is also offering a much more streamlined offering than its rivals: While it is currently working on a couple dozen original series for its first year, Apple TV+ won't include a library of existing TV shows and movies the way Netflix, Hulu, Amazon, and the forthcoming Disney and WarnerMedia products will. Because of that, recent media speculation suggesting Apple might charge as much as $10 per month never made much sense, even for a company known for charging a premium price for its hardware. But at $5 per month and a free year of service for the tens of millions of consumers who will be buying Apple products this year, Apple TV+ suddenly looks like one of the best bargains in streaming.
Cook leaned into that notion at Tuesday's event: "All of these incredible shows for the price of a single movie rental," he said. "This is crazy." As for what consumers can expect at launch, Apple says the first crop of shows to begin streaming November 1 will include the dramas The Morning Show, See, Dickinson, and For All Mankind, as well as kid-centered shows Snoopy in Space, Helpsters, and a reboot of Ghostwriter. As for how shows will roll out, Apple says, "At launch, most Apple TV+ series will premiere with three episodes, with one new episode to roll out each week, while full seasons of some series will be available all at once."
Between the aggressive launch price and free year offer, Apple TV+ should be able to scale up its subscriber base fairly quickly. But that doesn't guarantee long-term success. Unless Apple continues the promotion every time folks buy a new Apple product, a year from now, Apple TV+ could face the loss of millions of subscribers who sampled the product but decided their $5 per month might be better spent on Disney+, Comcast's upcoming streaming service, any number of other streamers, or simply their own pocket. The key will be how much audiences embrace Apple's first class of shows.