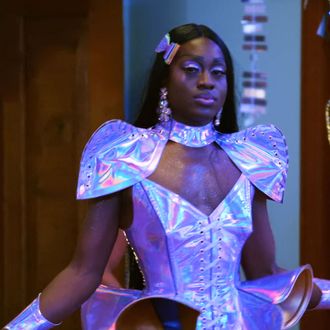 Basit, in drag as Dionne Slay, in an episode on this season of
Are You the One?
Photo: MTV
Ten p.m. was fashionably too late to arrive on Monday night. The line for the finale viewing party of MTV's Are You the One was already snaking down the street in front of the Deep End, a bar in Ridgewood where several of this season's cast members were hosting a live screening. "Madison," I heard someone shout. It was a friend and former New York colleague, Claire, waving us over to join her group. Sometimes the New York queer community feels suffocatingly small, and other times, like last night, its size is a real gift.
Are You the One just wrapped its eighth season. The show brings together an even-numbered group of people (this season had 16) and puts them in a house. Each person in the house has a designated "perfect match" within the group, and the contestants have to figure out the right combination of pairings over the course of weekly match ceremonies to win a prize of $1 million, which gets divided among the group. Each week, those ceremonies use spotlights (or as the show calls them "beams") to designate how many matches the group got right. Helpful, but not entirely, because the beams do not indicate which of the pairs the lights represent. (There are also mechanisms built into the show to make it harder. If there's a week the group gets no matches correct they lose a quarter of a million dollars.) In past seasons, the group was evenly divided by a gender binary and all pairs were heterosexual. This season, everybody was sexually fluid, making the math harder because each person could potentially be a match with any other of their castmates.
I joined Claire and our conversation quickly turned to astrology. She had a list of all the AYTO cast members' signs and was using it to predict their fates. Later, another attendee told me, "This entire season all I wanted to do was know everyone's sign to the point where I was like, 'I don't think this is a queer season because they haven't televised any of that [astrology].'" I told her about Claire's list. "Oh, yeah, I found them on Reddit," she said.
I talked to a group of four behind me in line. Kaitlelyn, 22, and Noelle, 21, identify as bi. Their other two friends, AJ and Simone, shrugged at the notion of labels. AJ said they had never watched a season of the show before this one, "I liked the representation this time," they said. "And the chaos." As we waited, Basit, a gender nonconforming cast member and one of the party's hosts, appeared in drag as Dionne Slay. She strutted by in a bedazzled catsuit and a barrette that read "GLAM" clipped onto a flowing brown wig, and cheers rippled down the line. Later, two other cast members, Justin and Kari, appeared in matching neon-pink ensembles. The two might be a perfect match, but people seemed to think the coordination was a red herring.
Basit's midseason reveal of Dionne Slay, during a queer-prom-themed episode, is what drew Faquan, a 25-year-old security guard wearing a "the queer is strong with this one" shirt. (They also said their name is spelled with a "q as in queen.") "I wish the show had showed even more," they said. "Have you seen Big Brother? It would have been great to see a 24-hour livecast." As the night went on, increasingly drunk cast members revealed plenty that was left on the cutting-room floor.
People started streaming the show on their phones while we waited on the street. Halfway through the episode, we finally made it to the front of the line and got inside. I handed $10 to a bouncer who stamped my wrist with a pig. The place was packed with queer folks. It's like Christmas in July, except it's Pride in September. A rainbow flag hung next to the stage where the show was being projected. Remy, this season's early front-runner for villain who turned out to be a big ol' softie, squeaked by me. Something had gone wrong with the tech in the overflow room and he was headed there to assess the situation. A muted commercial played while some of the cast members, led by Basit, riffed and spilled tea. "Guess what we ate on the show? Guess what they fed us?" Basit asked the crowd. "Alcohol," somebody shouted. Basit nodded. "Panda Express," Paige, another cast member, mouthed into a mic. She started to tell a story about a sixsome that never aired. "Wee-woo, wee-woo," Basit wailed. "I'm the MTV police here to stop you right there."
"Are you doing math?" someone asked, spying my notebook. The thing about ATYO is it's basically a show about probability. To my right, someone was perusing a spreadsheet of possible outcomes on their phone from a blog called, aptly, "Are You the One Math." This season, the contestants took a while to figure anything out but eventually started to crunch the numbers. (Shouts to Kari and Danny, the human calculators of the group.) On the screen, the group sends Kylie and Amber to the "Truth Booth," a game mechanism that allows the group to confirm definitively if a couple is a perfect match. (One couple per week is allowed to enter the booth, but only after winning a challenge.) Kylie and Amber are not each others' match. "My asshole was in my pants [while in the booth]," Kylie said onstage. Basit laughed and asked her where else it would have been.
Despite the hot and packed space, the crowd was friendly. I met Lauren, a web developer for a sex-toy company, who promptly offered me a discount code. Kendall, a woman standing behind me with her girlfriend, Zoe, said, "He sucks, but he's right." She was talking about Max, a cast member who spent a number of weeks chasing another player named Justin, even as it became increasingly clear they weren't a match. Now, by the final episode, Max is convinced — correctly — his match is Kari, a cast member he'd had seemingly no chemistry with in prior episodes. Zoe and I got to chatting and, because the world is incredibly tiny, discovered she was in a sorority with a mutual friend. I told her my college sorority was pretty straight. "Oh no. Ours was a lot of sisters hooking up," she said. I tried to compliment a person to my left on their Euphoria-esque glitter eyeliner, but I was bumped out of the way by another person wearing camo coveralls and no shirt.
"Do math!" somebody yelled at the screen as the episode started to wind down and the final match ceremony began. "Everybody here is about that queer party life," Basit yelled into the crowd, urging us to stay after the episode and celebrate until the bar shuts down at 4 a.m. "We're about that queer bedtime," my girlfriend muttered. "I think they're going to lose. It's canon. We [queer people] lose. We get killed off," Kendall joked. In the show's previous seven seasons, only one cast was unable to make all the matches and lost, winning no prize money at all. (This season's cast is playing for $750,000, after a blackout — a beamless match ceremony — in episode six.)
The crowd was a sea of raised phones, filming as the sixth beam lights up. The whole game hangs on Amber, who chooses Remy, despite a clear physical attraction to Justin. "This is for the queers," Jenna, another castmate, says on the screen, as they await the fateful seventh beam. Seven beams also means eight beams. Which means a win. After a dramatic pause, the beam glows. The crowd erupted. Basit, IRL, raised a toast to "celebrate us being queer people who win." Paige, whose perfect match was Jenna, grabbed the microphone from them. "Remy's been my boyfriend the entire time," she shouted. The crowd screamed louder. The couple has been living together in the East Village since the show wrapped. (A poorly kept secret, a person named Chris tells me. He spotted the two looking cozy at an Unter party earlier this month.) "It's a rent-controlled two bedroom," Remy, a lifelong New Yorker, said, and a woman nearby asked if she and her partner could move in, too.
"I have an early bedtime, can we get a picture," someone asked Remy as they headed for the exit. It was 12:15 a.m., and Remy was telling me about all the sex that didn't get aired. "I fucked Danny on night one," he said. The finale had a shot of Amber and Justin hooking up in the "Boom Boom Room." It was actually a threesome, he said — he just got edited out of the scene. A woman named Paloma, sporting dangling earrings that spell "SEXY" in rhinestones, made her way to the stage to talk to Paige. She's 24 and new to the city. This is her first time out alone, she said. "I was ready to be guarded about how they'd be talking about identities on the show but it felt very mature," she said of this season. "Enough education for people that aren't in the community but also it wasn't like, 'These are gay terms 101,' or 'Here's what tea means.'"
"I went for a girlfriend and I left with a boyfriend," Paige said when we reached the stage. "We're monogamous but he understands that I just came out … it's all about communication." (Paige came out for the first time in the season premiere, an experience she called "humbling.") After the episode, Kari also grabbed the mic to tell a story, "but you'll have to subscribe to my YouTube channel if you want to know what happened." "I wish I'd had a show like this when I was 12," she told me later. "Growing up [as a queer person of color] it would have been so wonderful to have a show like this make me feel 'normal,'" Justin echoed. "To let me know my experiences were valid."
As we headed out, I spotted Dionne Slay in the overflow room in the back of the bar. There were too many people surrounding her to get close, but she was dancing to "Greedy" by Ariana Grande, her sparkling outfit reflecting light onto the crowd as she spun.
Everyone in this piece is addressed with gender neutral pronouns unless they indicated  otherwise.