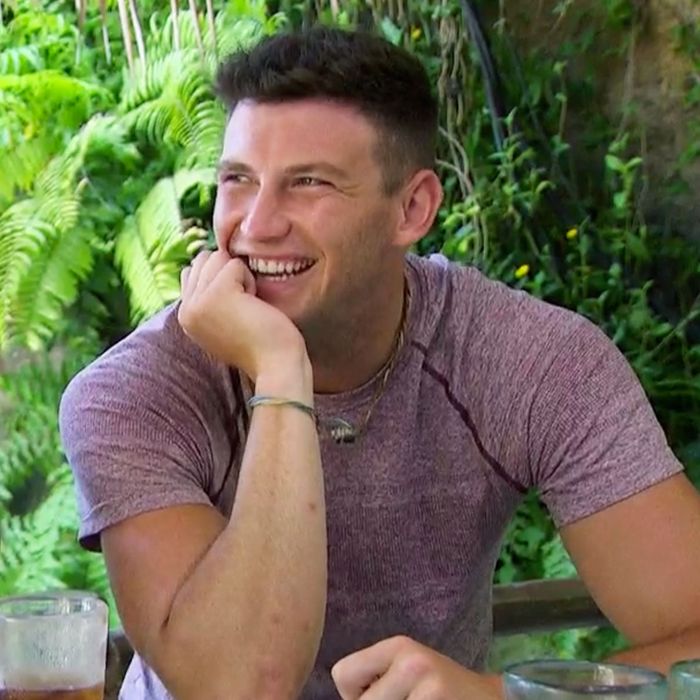 What is wrong with men? Just … what is happening with them? Are they okay? Because each and every one of them is doing something preposterous. I don't just mean in Paradise. Look around — everywhere you look, there's a man just doing a thing that no one asked for. No one asked for ANY OF THIS. You can't see it, but I'm gesturing wildly to the general environs. But there seems to be something else happening. Men are now not only doing things that are too much, but they also seem to think just standing and plainly stating what is wrong with them without actually doing anything to fix that problem is the same as fixing the problem.
Imagine how that would work in any other situation. If a plumber came to your house and said, "Listen, your toilet is broken and I know that and, honestly, I'm thinking about that so hard." If your math teacher looked at you and just said, "I know I'm supposed to teach you the Pythagorean theorem and I'm so scared and I'm nervous because anything can happen." Well, "anything" won't happen if you actively teach me some damn math. Because, Dean, you could prevent being "a bad boyfriend" if you did literally one thing to be a good person.
And I must admit that it isn't just the men this week. Almost everyone in Paradise has me writing down, "Well, it sounds like you should talk to a therapist about that" and "That sounds like your problem and not someone else's" in my notes, because folks seem to think that it's the job of the other person in the relationship to fix all your problems.
Let's get to it.
The first person to offload any and all emotional responsibility is Dean. OH. DEAN. You sad, smarmy, vain bitch. He's shaved off his mustache and thinks jokingly that Caelynn totally could have thought he was an idiot for asking her to leave Paradise with him, BUT SHE DOESN'T HA HA HA! Dean says that there are things for them to work on but he wants to try because that's all we could ever ask of an attractive man who has appeared on television.
Fortunately for Dean, Caelynn seems to lack any decorum, tactfulness, or desire to let Connor down easy. She takes him aside and tells him that Dean asked her to leave Paradise and then stares at him. What does he have to say about all of this? Connor just says things that Dean has done, like dump Caelynn on her birthday. Caelynn nods and says that Connor makes some good points but she's absolutely intent on ruining her life over some dude wearing all black chambray. There was really nothing Connor could have done.
Kristina confronts Dean because no one else on the daybed 75 feet away has any idea what's going on. Dean says that he's just trying to do the right thing by asking Caelynn to hurt someone else's feelings to satisfy his whims. Sure, he knows he runs away from relationships when they get too real, and SURE, he's already run away from this relationship once, but now he's trying. 
Caelynn finally sits down with Dean again and says that he spent the entirety of Paradise talking about what a terrible boyfriend he would be and that she's scared of getting hurt again. Dean tells her that Connor might hurt her so why not go for the option that has already hurt her in the past? Listen, I'm not the biggest Caelynn fan, but MY GOD, RUN. RUN FAR AWAY, WOMAN. Just because a guy changes his facial hair does not mean he's done any of the actual reflection required to be a better person. When a guy tells you he "doesn't know what's going to happen," he's not being spontaneous and romantic. He's telling you that he has no obligations between now and the end of the year, including any obligation to you. Caelynn says she's going to fly back with him, and when he asks if she's sure, she says, "It feels wrong!" Aaah, modern romance!
Then they make out in front of everyone because nothing matters and everything is terrible. Everyone cheers and shrieks and then the camera cuts to Connor. Long Michael Cera is crushed. All the women who have been watching Dean and Caelynn like a soap opera in a doctor's waiting room remember that these are real people whose actions affect other real people. Caelynn sits down with Connor to do the most perfunctory breakup in Bachelor in Paradise history. "I'm leaving with Dean. My bad, I guess. This doesn't make sense but bye," then she reenacts the final scene of The Graduate with Dean wearing a white bathing suit instead of a wedding gown.
(Did anyone else catch when Dean yelled "VICTORY!" while he was waiting for Caelynn to formally break up with Connor?)
Now that the dust has settled from Caelynn's completely ill-advised departure, the pressure is on the other couples to perform a completely meaningless but over-the-top romantic gesture to solidify a shaky relationship. First up is Katie and Chris! Katie has been feeling like Chris hasn't been giving her what she needs in the relationship, and she can't tell if he's actually into her, because that's where you want your relationship to be the week before you might get engaged. Katie and Chris get a date card, and they sit across from each other and just repeat the phrase "100 percent" to each other in place of words like "commitment" and "trust" and "intimacy." Chris says that he knows he doesn't know how to communicate with another adult about his feelings but he's 1,000 percent sure he's 100 percent all in.
Up next, it's time for Demi and Kristian's check-in. This one is a bit tough, but ultimately it comes down to the fact that Demi choosing to come out on national television in a competitive dating reality show is causing her to freak out. Kristian's love language is "physical touch," and Demi's is "being on television." Demi is uncomfortable that Kristian is exchanging platonic physical touches with straight women who have no interest in her. Demi's concern about Kristian's friendship arm touches evolves into Demi doubting if she's physically affectionate enough for Kristian and if Demi's friends think she's weird for being "that gay girl." Whoa whoa whoa. This is (a) a lot and (b) sounds like something for a therapist. There's a lot of stuff wound up in here, and most of it seems like Demi is actively reconciling what it's like to be an openly queer woman. On a very strange precolonial Mexican cleansing ritual date, she tries to parse exactly what Kristian needs to do to support her and the answer is … stop hugging her friends? Kristian tries to console her by saying that her hugging and touching their friends isn't romantic or sexual, and Demi says, "I knew you would say that." Okay. WOW. Ultimately, Kristian is able to comfort Demi and they hug on a beach after being cleansed with burning herbs.
Back at the resort, JPJ has decided to throw Tayshia a prom because she didn't go to prom and he cannot fathom a greater injustice than Tayshia having not gone to prom with a hot date. EVERYONE goes to prom, and if you didn't, you were a "bookworm," according to JPJ. Tayshia squeals for three full hours as JPJ takes her to a daybed decorated with "PROM" balloons. Also, there's a saxophone player. Because nothing says "American Prom" like a loose saxophone player.
Blake watches JPJ and Tayshia and knows that he, too, has to do a completely over-the-top gesture in order to save his alleged "relationship" with Kristina. Blake is completely incapable of reading the damn room. He tries to playfully hug Kristina, and she tells him "EASY." He tries to compliment her perfume, and she asks why he's smelling her. He gives her a date card, and she's like "… What is this."
The entire issue with Blake is he's decided that he's supposed to end up with Kristina without any input from her. He's never had a meaningful conversation about what she wants in a relationship or if she's still attracted to him. He's internalized all the wrong messages from the Big story line on Sex and the City. You can be charmingly aloof with a woman until you decide you're ready to commit. And if she tries to deal with any of your bad behavior, she's being unreasonable because that was when you were being casual, baby. Blake knows that he's just got to remind Kristina that her heart wants Blake even if her mind, consciousness, sense of self, id, ego, and superego tell her that it's a bad idea.
Of course, Kristina tells him that she just can't get there. She also says that she wanted to come to Paradise and help Blake find love and smile as he rode into the sunset with another woman. Okay, so we all being delusional, now? Cool.
Blake breaks down and doesn't understand how or why Kristina wouldn't want to be with him. She was only his fifth option in Paradise and he repeatedly gaslit her and every other woman on the beach about his actions. They both choose to leave Paradise in separate vans. Blake says that this all feels like Karma. No, Blake, that's not karma. That's just a pattern of consequences for your actions that you refuse to change or examine. As Blake rides to the airport, he asks, "I learned a lot but at what cost?" Blake, what did you learn and what was the cost? A couple of ladies told you that you were kind of a dick. Imagine the toll this must be taking on his soul. If only he could do something — or anything — to prevent that from happening all over again.
Remember when we all thought he was really cute and Becca should have picked him?
See you tomorrow!