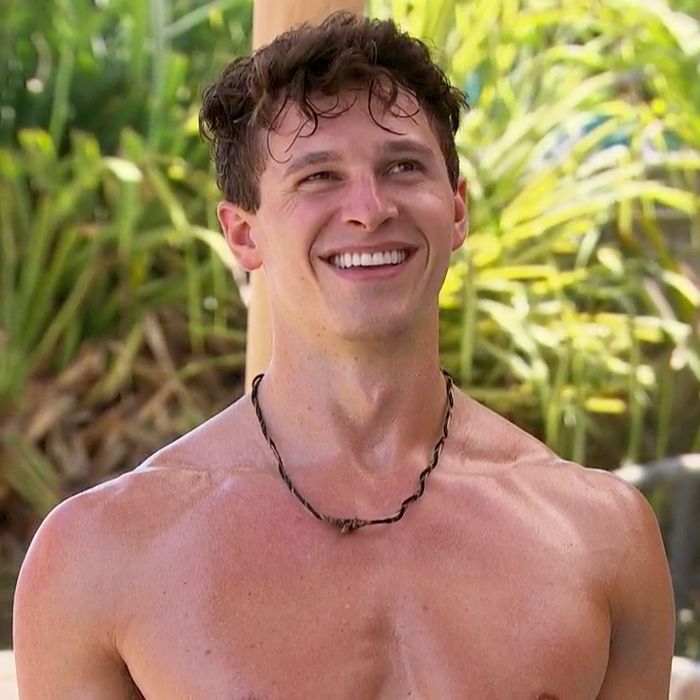 There are just so many things to talk about this episode, which is chock-full of completely idiotic drama. Not a moment went to waste. This episode of Bachelor in Paradise really used every part of the animal. But there is something that I can no longer let pass without comment: What is Blake doing during the opening credits? What the fuck is he doing?
Each week, as I write my notes, I basically transcribe the episode and scatter in a few of my own thoughts. This week, the first line is, "If I have to watch Blake do that weird li'l dance one more time, I'll lose my goddamned mind." What is Blake trying to do here? Is there a dance he's approximating? And at the end … are those finger guns? Sideways finger guns? Are you kidding me right now? Blake has very strong "Kid in a suit at a seventh-grade dance" energy, and it's unwatchable. 
Okay, with that old business out of the way, let's get to it.
The episode picks up right where we left off, with the arrival of Angela and her pursed lips. This bitch is serving face at every turn, and that face is Evil Queen. Everyone immediately starts staring down Clay, looking for an indication that he's still in love with Angela and is only waiting for Nicole to go to sleep so he can run off with Angela in the moonlight. Mike says that Clay must be having "World War III" in his head. Thus begins the segment of the show where everyone weighs in on Clay and Angela's relationship and their so-called "unfinished business" with literally no evidence. Clay has done nothing but say that Angela is a great person and their relationship is over. How does this translate into "CLAY AND ANGELA STILL LOVE EACH OTHER"?
Nicole takes a different tactic and just talks shit about Angela the entire time: "She's the desperate one; she's the crazy one, the one who wants to be in the same place as her ex. She's weak. She has no body mass." Sweet Christ, that's only three "fucks" away from a Selina Meyer takedown. Meanwhile, Clay starts rambling to anyone who will listen that he can't imagine why someone would want to spend time around their ex and watch them date their friends. Dear readers, Clay isn't talking about Angela, he's really talking about himself. It's called projection.
Angela's only response to everyone's questions is, "It's okay for him to be here. Why is it not okay for me to be here?" Okay. Well. Um … that's not really … part of it? It's not inherently weird for someone to be on Bachelor in Paradise. It's "okay" for a human adult to be on Bachelor in Paradise. Well, I don't mean "okay," because nothing about Bachelor in Paradise is okay. I mean "acceptable," but, like, "acceptable" in the way that we all accept that charcoal is a thing we drink now.
What is strange, Angela, is that you probably were informed that it was very likely that your ex-boyfriend was going to be on this season from a very early stage, and you still chose to head to the beach. What's strange is that it's fine for everyone to question if Clay is there for the right reasons, but the second anyone asks you, a woman who was just in a relationship with "the greatest love of her life" three months ago, if you're ready for a relationship, you just scream, "WHY AREN'T YOU ASKING CLAY THIS?!?!?" We did, ma'am. Please unpurse your lips.
Angela asks Mike on a date, and apparently he's not with Sydney anymore? When did this happen? Don't you know we're starved for Mike Johnson content? Give him the airtime he deserves. Give Sydney's front splits the respect they deserve. It seems like two adults had a productive conversation that led to them ending their relationship amicably. Why would you deprive me seeing Mike and Sydney peacefully work through things? Seeing mature conversations where two people walk away with mutual respect, that's my pornography. I just type in "healthy emotional boundaries" on Pornhub.
Nicole takes Angela aside before her date to … warn her? Unclear. Angela just says she's not a drama person, which, again, if you weren't "a drama person," you would not be on this show. Angela says that since Clay didn't mention he had a girlfriend when they talked at the wedding, his relationship with Nicole means he still cares about Angela. Angela or Nicole could talk to Clay about this but don't worry, Tayshia is on the case.
After this episode, I'm officially over Tayshia. Instead of starting her day by talking to either John Paul Jones or Derek about this feud, she decides to confront Clay for not introducing Nicole as his girlfriend. Tayshia asks, "If I don't do it, who will?" No one. Literally no one, because we're not in seventh grade anymore. When I was in actual seventh grade, I won a debate in humanities class and my opponent accused me of cheating and her boyfriend (who was in the eighth grade and sounded not unlike Homestar Runner) confronted me at my locker after class. That was more dignified than Tayshia confronting Clay.
The next day, I guess everyone forgets about Clay and Nicole and Angela because another love polygon has emerged and it's all in JPJ's head. JPJ has decided that Tayshia is the love of his life. Has he talked to her about this? No. Has he been trying to spend time with her? No. Is this all a figment of his imagination as a result of chicken-nugget-induced mania? Yes. Haley is talking to Derek about the fight at the wedding and he lets it slip that JPJ is infatuated with Tayshia. Haley is positively stunned and is pissed that JPJ gave her a rose.
Haley sits down with JPJ about this and he says that he still has feelings for Tayshia out of a sense of loyalty. I'm sorry, my good dude, what did you say? His intuitive sense of loyalty. Once Haley reveals that the source of this information is Derek, JPJ shows off how many legal-sounding words he knows. Jurisdiction! Dominion! Notary! Instead of being upset that he hurt or led Haley on, he just wants to let her know that he's doing his best. Haley calls him out for accusing Derek of manipulating Tayshia when he manipulated Haley by giving her his rose and saying they had an instant connection. She says that he wasn't honest when he's accusing Derek of being dishonest. Affidavit! Perjury! Habeas Corpus! Demi and Kristian are in the background mugging for the camera. JPJ is in trouble. Haley cries to Blake when JPJ is completely unable to take responsibility for his actions, and Blake darkly agrees with her "fuck men."
Derek comes up to JPJ later that night to talk to him for some reason that I do not understand. Derek just wants to know why JPJ thinks it's okay for him to make up lies about him. He also calls out that JPJ has decided that Derek is the wrong guy for Tayshia. This ends with Derek screaming, "TAYSHIA GETS TO DECIDE. IT'S UP TO HER. STOP CALLING HER YOUR GIRL." Please let a man scream about my right to make a decision in a blond man's face. All those bullshit "Pornography for Women" calendars where men are like wearing aprons? Not interested. But Derek screaming about Tayshia's romantic autonomy? That's the future liberals want.
What's Tayshia's reaction to all this? "This is what I don't like. They are gentlemen." Well, Tayshia, this whole problem could be solved if you went up to John Paul Jones and told him that you aren't interested in him. Literally this entire problem comes down to the fact that John Paul Jones misinterpreted Tayshia's request that he go on dates with other women as a sign that she wanted to make their relationship stronger. Maybe, just maybe, Tayshia could have just been honest and broken up with him at that moment and some of this would have been dealt with. Listen, I'm not saying that women are responsible for the actions of men, but Tayshia sits around watching Derek and JPJ fighting and asks, "Why won't someone do something?"
So what fills the time between Tayshia deciding that something should be done and her actually doing something? Old Matt Donald and Luke S. arrive in Paradise and take Sydney and Kristina on a double date. Dylan and Hannah fuck on his birthday. And Blake sits quietly and does nothing.
Finally, Tayshia takes JPJ aside to tell him that the whole fight rubbed her the wrong way. Oh, dear, sweet Tayshia. JPJ has fixated on you like you were the first thing he saw after he hatched out of his egg. You're gonna need a little more than that. So many of the women on these shows, and in life in general, need to understand that the urge to "let a guy down easy" is just socialized pressure to put a man's feelings above your own. JPJ breaks down crying because he didn't do a good job communicating about the whole Haley thing. Yikes. This dude is never going to get it. He starts crying after talking to Tayshia, while he sits alone, and in the confessional.
Tayshia takes Derek aside to tell him that even though they have a strong connection and relate to each other like no one else on the beach can, she just can't see herself getting there. Derek asks if she can't or won't let herself get there. I'm usually not interested in men trying to talk a woman out of breaking up with him but … c'mon. Even though Tayshia says it's not about anyone else, it's about Derek's relationship with JPJ. Tayshia asks if Derek is mad at her. This is a tactic utilized by beautiful people to deflect from the pain that they're causing.
Derek says all he feels is self-loathing and sadness. So he decides that he's going to leave Paradise. He's tired of hearing that he's a great guy that should meet someone and wants to be a great guy that meets someone. He gathers everyone around and says good-bye. Then KRISTIAN GETS A CONFESSIONAL ABOUT DEREK'S EXIT. I did not sign up for this. Kristian says that even after everything that happened with Demi, Derek is a beautiful person. Whoa, whoa, whoa. What does that have to do with anything?
As Derek walks into the sunset, he worries that he's never going to find his person — and that, my friends, is how you audition to be the next Bachelor.
See you tomorrow!