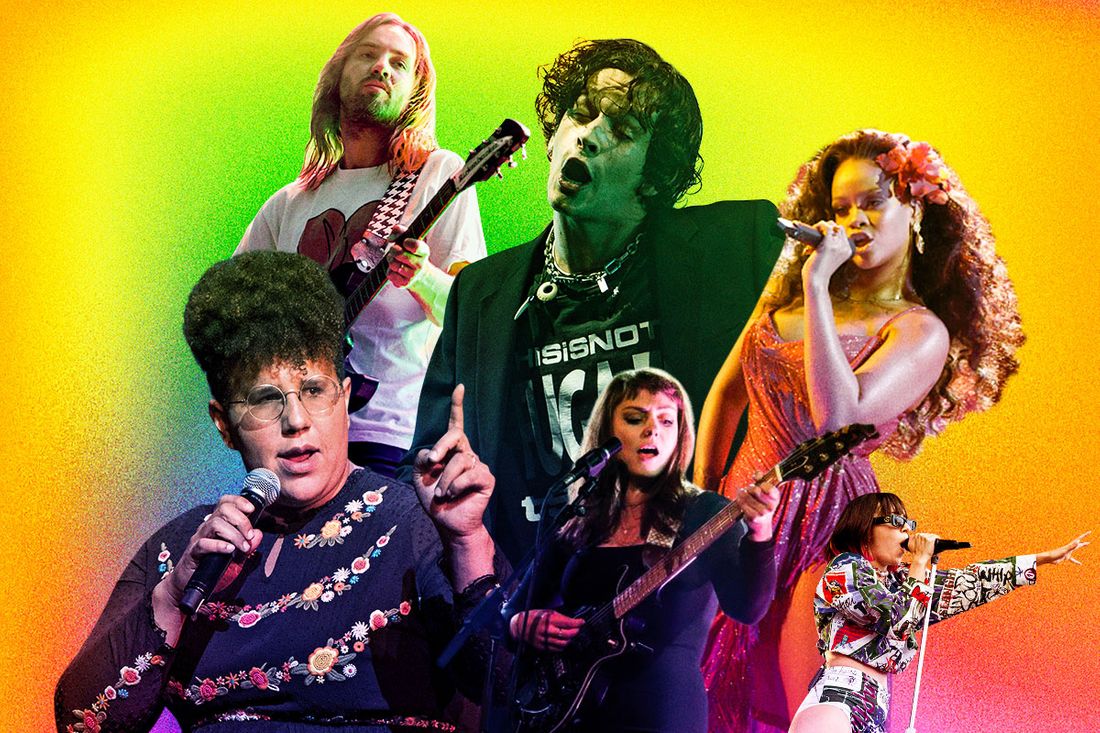 Photo-Illustration: Getty Images
Now that both Hurricane Taylor Swift and the Grammy eligibility deadline have passed, all signs would normally point to quiet months ahead going into the holiday season. But nope! Old music-calendar convention is dead — expect artists across genres and rank to come out of summer hibernation and drop heat throughout the fall. (Climate change knows no bounds!) Here are the releases and tours to keep an eye on for the rest of the year, including Kanye West, Brittany Howard, Charli XCX, maybe Rihanna, and supposedly Adele (!).
What We Think Will Be Great
By Craig Jenkins
August
Bon Iver North American tour (8/31–10/19)
Bon Iver's recently released i,i treks further into the electroacoustic mood of 2016's 22, A Million. Catch front man Justin Vernon and his crew blowing minds in arenas this fall alongside a rolling list of openers including Feist, Sharon Van Etten, and Yo La Tengo.
September
Stereolab North American reunion tour (9/16–10/26)
European indie-rock outfit Stereolab, known for wigged-out '90s alt-rock highlights like 1996's Emperor Tomato Ketchup, has been on hiatus for a decade, but ringleaders Laetitia Sadier and Tim Gane got the band back together this year for a world tour to commemorate new reissues of the pristine back catalogue.
Brittany Howard, Jaime (ATO Records; 9/20)
Alabama Shakes leader Brittany Howard is a once-in-a-lifetime talent: a great writer, an expressive singer, and a formidable blues-rock guitarist striking out on her own with this September's Jaime, her first full-length billed as a solo album.
October
Vagabon, Vagabon (Nonesuch Records; 10/18)
Cameroonian singer-songwriter Laetitia Tamko chases the scrappy DIY guitar rock of 2017's Infinite Worlds, her debut album as Vagabon, with October's sophomore effort, anchored by the lead single "Flood Hands," a robust dream-pop tune that broke a bout of writer's block and opened up Tamko's sense of what was possible to do with the project.
November
The 1975 North American tour (11/16–12/13)
If you can catch any of the ten dates in British pop group the 1975's tour of the States this fall, you should. The band's unruly deconstructions of pop, rock, and hip-hop are well worth braving the arenas hosting them in November and December.
TBA
Tame Impala (Interscope; release date TBA)
Australian psych-rock one-man band Kevin Parker's flagship Tame Impala released new singles this year with the slick, funky "Patience" and "Borderline." A new album seems imminent, and live dates in the summer and fall are not to be missed.
What We Think Will Be Big
By Dee Lockett
September
The Highwomen, The Highwomen (Elektra Records; 9/6)
As a spiritual revisionist sequel to the Highwaymen (which consisted of Johnny Cash, Waylon Jennings, Willie Nelson, and Kris Kristofferson), country staples Maren Morris, Brandi Carlile, Natalie Hemby, and Amanda Shires have formed an all-female supergroup that's just daring country radio to shut it out.
Charli XCX, Charli (Atlantic Records; 9/13)
Though the standard album format once seemed a dead art to pop's foremost futurist, Charli XCX returns this fall with her third full-length, a self-titled collection of jams that aims to be a crystal ball for what the next five years of music might look and sound like.
The Lumineers, III (Dualtone; 9/13)
The biggest folk-rock band on the planet (sorry, Mumford & Sons) is back to cozy up to in these autumn months with this aptly titled third album. Sway and swoon accordingly.
Kanye West, Jesus Is King (G.O.O.D. Music/Def Jam; 9/27)
In true Kanye unpredictability, it appears he's scrapped or renamed the album formerly known as Yandhi for a project inspired by his ongoing Sunday Service series combining gospel revisions of his hits with church classics. His ninth solo album was announced via his wife Kim Kardashian West on Twitter with biblical song titles jotted down on a notepad à la the Life of Pablo era.
Sturgill Simpson, Sound & Fury (Elektra Records; 9/27)
The alt-country renegade is venturing further into new terrain with this follow-up to 2016's Grammy-winning A Sailor's Guide to Earth. It's an unexpected psychedelic-rock-leaning companion album to a Netflix anime film (!) based on Simpson's original story.
Madonna, Madame X tour at Brooklyn Academy of Music (9/17-10/12)
Though you'd typically find Madonna touring stadiums and arenas packed to the gills among tens of thousands, she's offering a rare opportunity to get up close and (probably way too) personal with a 17-date residency at BAM. She'll kick off her Madame X tour in support of her 14th album inside the Howard Gilman Opera House in September.
October
Angel Olsen, All Mirrors (Jagjaguwar; 10/4)
After a two-album run of rising to the indie upper echelon (see especially 2014's Burn Your Fire for No Witness), the magnetic singer-songwriter is looking to three-peat with this ambitious, shockingly electric statement album.
FKA Twigs, Magdalene (Young Turks; 10/25)
The reclusive singer, celebrated for her striking visual artistry and brooding, aching experimental ballads, makes a long-awaited return with her sophomore album following health issues and a public breakup with Robert Pattinson. Catch her also as "Shy Girl" in Shia LaBeouf's upcoming autobiographical film, Honey Boy.
King Princess, Cheap Queen (Zelig; 10/25)
The 20-year-old Brooklyn native born Mikaela Straus makes the leap from SoundCloud hits that get queer hearts racing (see: "1950") to her lovelorn major-label debut album under Mark Ronson's imprint, Zelig.
TBA
Rihanna (Release date TBA)
Only Rihanna knows when "#R9," i.e., her ninth album, will arrive. (She has only vaguely promised it will do so before 2019 ends.) What we think we know: It will be her first full-length reggae record, and we definitely can't wait to rock steady to it.
Adele, (Release date TBA)
Universal Music France's CEO spilled the beans that Adele is allegedly plotting to drop her fourth album this December, her first since 2015's commercial monster 25. What's more, this will be her first album since splitting with her husband, Simon Konecki, and her first since the big 3-0. Long may the queen of heartbreak ballads reign!
*A version of this article appears in the September 2, 2019, issue of New York Magazine. Subscribe Now!