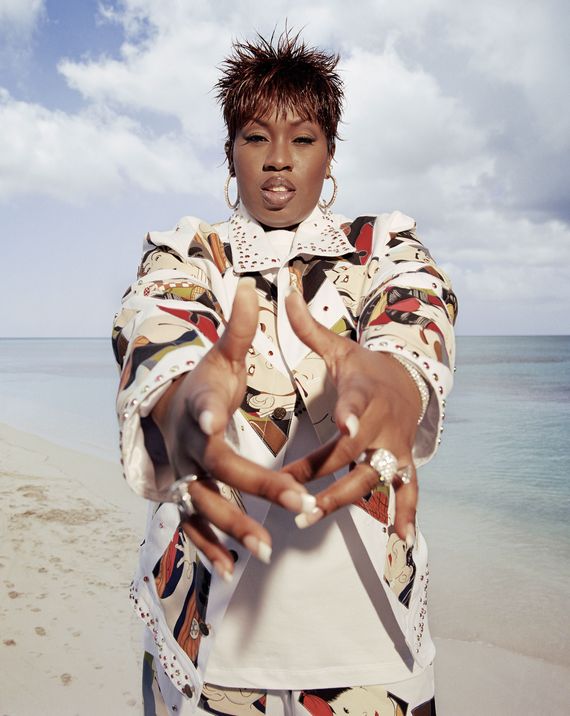 Photo: Hamish Brown/Getty Images
From the start of her career as one-third of the long-defunct rap trio Fayze, Missy "Misdemeanor" Elliott has not just redefined pop music — she's consistently reinvented it. Alongside partner-in-rhyme Timothy "Timbaland" Mosley, the Virginia Beach native has bridged gaps across genre lines, proffering a sort of creativity that gave us a glimpse of the sound of the future before it even happened. It's the type of genius that never got bigger than itself, eccentric and outrageous yet easily accessible, yielding mind-melding confections that challenged the notion of what mainstream pop music could be.
Since transitioning from Fayze into the quartet Sista — whose New Jack Swing–indebted 1994 debut, 4 All Da Sistas Around the World, was never officially released but is now available on streaming services — Elliott has always put one foot ahead of the rest. On her 1997 solo debut, Supa Dupa Fly, she diverged from the often stiff beats-and-rhymes template of the time for a sound that concentrated funk, soul, and late-20th century R&B into a surrealist sonic masterpiece, as weird as it was refreshingly palatable. Her obsession with all things future took firm hold on its follow-ups, 1999's Da Real World and 2001's Miss E … So Addictive, and inevitably doubled back on itself with the retro-leaning Under Construction and This Is Not a Test! It culminated in 2005's The Cookbook, an album that was a confluence of its predecessors — looking backward, moving forward, and upending the trends of the day.
Beyond the individualized visions of her solo discography throughout the years, Elliott has become a songwriting and production titan, penning hits for 702, Aaliyah, and Monica, among many others. It's why earlier this year, she was inducted into the Songwriters Hall of Fame alongside Justin Timberlake and Dallas Austin. Most recently, she graced the MTV Video Music Awards' stage to accept the much-deserved Michael Jackson Video Vanguard Award, and delivered a career-reinforcing performance that recreated some of the iconic visuals that have elevated her catalogue. She easily eclipsed many of the younger artists who performed the same night.
Though she's hinted at a new album for years — a better time than ever would have been after her spotlight-heisting appearance with Katy Perry at the 2015 Super Bowl — the 48-year-old most recently returned to form with a tight, surprise EP called ICONOLOGY, a five-track reminder of both the breadth of her talent and ability to wield it so effectively. Below we take a look back at the songs that line the path of Elliott's truly singular career, ranking her solo offerings, including album cuts, unreleased tracks, and original remixes.
115. "Ain't That Funny," Under Construction (2002)
Future-tech instrumentation goes awry on "Ain't That Funny," easily one of the least tangible tracks from Elliott's discography. Where she and Timbaland excelled was in finding the equilibrium between dark production and lighter melodies, but this ode to trifling men on the come-up missed the mark.
114. "Joy" featuring Mike Jones, The Cookbook (2005)
Who is Mike Jones? Easy to forget, but even easier to fast-forward through the opener to 2005's The Cookbook. "I flow over a beat that make a chick weave blow," spits Elliott atop a breathy vocal sample that both grates on and detracts from her raps.
113. "Dats What I'm Talkin About" featuring R. Kelly, This Is Not a Test! (2003)
Collaborations with R. Kelly are tainted, especially in hindsight. It adds a particularly acerbic shade to slow jam "Dats What I'm Talkin About," on which Kelly croons blunt come-ons — "I'ma have you walkin' with a limp" — on a track where the two vocalists didn't really connect to begin with.
112. "Step Off," Miss E … So Addictive (2001)
Elliott plays the sidepiece on the flute-lined "Step Off," confessing her love to the man whose heart she can never have. Where most of her songs feel flush with life and musically progress, "Step Off" plays like a first draft of an idea, never amounting to more than the four-bar template set up at the top.
111. "Best Best," single (2008)
Producer Danja turns in a B-level take on Timbaland's clattering percussion, accenting the rumble below with Casio-type synths. The beat offers little to support the stuttering Auto-Tuned lyrics that come across as simple for such a dexterous lyricist: "He's the best, he bomb / He cute, he umm / He fly, he fresh / He give me, good sex."
110. "We Did It," Da Real World (1999)
Unlike "Step Off," "We Did It" sees Elliott rebuking the possibility of wading into side-chick territory as Timbaland drives on autopilot in a hi-hat-heavy, repetitive exercise. Though this deep album cut sounds dated, Elliott's off-beat meter keeps it somewhat suspenseful.
109. "Hot," Under Construction (2002)
Oftentimes, Elliott's limper fare can be traced back to Timbaland, who can fail to develop beat sketches with potential. Her obsession with all things heat (see also: "I'm Really Hot," "Hot Boyz") is invoked for "Hot," a paean to old-school hip-hop's simplistic beats-and-rhymes formula. It fits with parent album Under Construction's retro theme, but as a standalone, it's anticlimactic.
108. "Click Clack," The Cookbook (2005)
Ruling the club is nothing new for Elliott, but the swing-your-rag "Click Clack" feels somewhat out of character. Wheezing synthesizer booms and backing vocals lift the chorus, yet Elliott comes off as reductive of her own lyrical style: "305-212-804 is my cell," she raps, number by number. "Y'all must be dumb as hell if you think that's my cell."
107. "Whatcha Gon' Do" featuring Timbaland, Miss E … So Addictive (2001)
The bumbling "Whatcha Gon' Do" arrived on Miss E … So Addictive, an album that sustained Elliott and Timbaland's future-sound streak. And it's why the track seems phoned in, with monotone flows and anxious instrumentation that belie the project's frothier zones.
106. "It's Real," This Is Not a Test! (2003)
Part of what keeps Elliott from being totally reliable is the inability to keep schlock balladry to a minimum, something she did on releases prior to This Is Not a Test! It's why "It's Real" comes off as a merely forgettable do-or-die pledge to a lover that plays far it too straight.
105. "Hurt Sumthin," Honey soundtrack (2003)
Honey, the 2003 film starring Jessica Alba, tried to step into the original-soundtrack bubble that inevitably burst in the years that followed. The issue with the trend was that artists often contributed leftovers, which feels like the case with "Hurt Sumthin," a thin, abrasive number that plays like template rap.
104. "9th Inning" featuring Timbaland (2012)
Meant to be Elliott's grand return from hiatus in 2012, "9th Inning," one-half of a double A-side release with "Triple Threat," lacked oomph, as well as the innovation of her more thought-out efforts. Instead of showing, she tells: "They think we done! All we do is make hits!"
103. "X-Tasy," Miss E … So Addictive (2001)
Using the sex-as-drug conceit, Elliott drifts along in a haze on "X-Tasy" — far from the twinkling euphoria of her turn on Ja Rule's "X," released a few years prior. Recreational use can have its time and place, so long as its soundtrack isn't as flat as this floater with a chorus (care of her mentee, Tweet) that gets far more shine than the verses.
102. "Don't Be Cruel" featuring Monica and Beenie Man, This Is Not a Test! (2003)
There's a sense of disjointment to "Don't Be Cruel," and Monica and Elliott feel as though they're on an entirely different song than Beenie Man (the beat change halfway through doesn't help). At that, it does little to hook you in, with soft-boiled, distracting instrumental choices.
101. "Is This Our Last Time" featuring Fabolous, This Is Not a Test! (2003)
Elliott bends to musical conventions of the time on "Is This Our Last Time," off 2003's This Is Not a Test! It makes sense that Fabolous, then in his mainstream prime, would be asked to contribute a verse to this lecherous tale of losing the flavor after the first night.
100. "Teary Eyed," The Cookbook (2005)
Like with "It's Real," torch balladry was the Achilles' heel of The Cookbook, a surprising misstep for a token innovator. "Teary Eyed," one of the singles from the set, falls into the same trap, albeit at a quicker pace, slotting this below her craftier conceptions.
99. "Scream a.k.a. Itchin'," Miss E … So Addictive (2001)
Hollering on a track is an art. At its worst, it can pierce through the heart of an otherwise notable song, like on "Scream a.k.a. Itchin'," where Timbaland confects a pattering assortment of stabbing synths and off-rhythm drums while Elliott's squelch takes her weirdness to a whole new level.
98. "Nothing Out There For Me" featuring Beyoncé, Under Construction (2002)
Elliott and Beyonce's collaborative back-and-forth ambles along as a telephone conversation between the former, who attempts to coax the latter out of the house and spend a night at the club. Meanwhile, Bey passionately decries the peer-pressuring in favor of staying home with her man. The song's stagnancy makes it hard to sustain interest, but it's worth a spin for the fact that Bey rebukes Elliott by stating, "Girl, I do not get high." (Sure.)
97. "Meltdown," The Cookbook (2005)
Dipping out on a relationship to get with another man who "got that magic stick to make my little pussy quiver" is the driving point of "Meltdown," set to an '80s-lite loop with little variation. At its surface, "Meltdown" is breezy and enjoyable, but like the aforementioned tracks, it doesn't do much to stand out.
96. "Toyz Interlude/Toyz," This Is Not a Test! (2003)
Elliott's ownership over her sexuality has consistently been expressed in smirk-worthy ways, like with "Pussycat" or "Work It." Perhaps the most overt articulation was with "Toyz Interlude/Toyz," extolling the pleasure derived from sex toys and encouraging all women to get one.
95. "Big Spender," Southern Hummingbird bonus track (2002)
"Big Spender," popularized by Shirley Bassey in 1967, went on to become a frequent staple in hip-hop (Freeway's "Big Spender," Raekwon's "Big Spender"). It found its way to Elliott, who did a 6/8 time-signature version as a bonus track on Tweet's sorely underrated 2002 debut, Southern Hummingbird. It's typical braggadocio, but it's refreshing to hear Elliott ride a beat in a different rhythm.
94. "Don't Be Commin' (In My Face)," Supa Dupa Fly (1997)
Elliott and Timbaland are experts in matching toplines with percussive tones, but "Don't Be Commin' (In My Face)" off Supa Dupa Fly doesn't exactly align. Repeated thwacks of a pipe and clomping bass notes contrast Elliott's singing about a man trying to get back with her.
93. "Pump It Up" featuring Nelly, This Is Not a Test! (2003)
It's crazy that even at his most innovative, Timbaland can supply beats that somehow come across as mundane. It happened with "Pump It Up," a club scorcher littered with a rocking bass drum, hooting whistles, and a cringeworthy line from Nelly about his "Go-Go-Gadget dick."
92. "Shake Your Pom Pom," Step Up 2: The Streets soundtrack (2008)
One of two songs Elliott cooked up for 2008's Step Up 2: The Streets soundtrack (the other being "Ching-a-Ling"), "Shake Your Pom Pom" encourages booty-clapping as Timbaland sets off what sounds like drum sticks going wild in a boiler room.
91. "Mommy," The Cookbook (2005)
Elliott redefines the term "mommy" as "the boss, the money-maker, the man-taker, the provider, the low-car rider" at the onset of "Mommy," an amelodic, industrial shoutout to all the ladies handling their business.
90. "I'm Better (Remix)" featuring Eve, Lil' Kim and Trina
Corralling longtime friends for the remix to "I'm Better" could have been a momentous event, but it fell short. All four rappers have distinctive deliveries, yet they feel shuffled together as they adopt the same stunted trap flow as Elliott on the original.
89. "Who You Gonna Call," Any Given Sunday soundtrack (2000)
Included on the Any Given Sunday soundtrack in early 2000, "Who You Gonna Call" didn't age well. Unlike the boundary-snapping integrity of Da Real World, released the year prior, the song, co-produced by Elliott, Bink and Tony McAnany, relies on tired keyboard synthesizers and what sounds like a stock choral accompaniment.
88. "It's a Woman's World," Reebok single (2001)
A promo single for Reebok that most likely wasn't intended for commercial release, "It's a Woman's World" was Elliott's reply to James Brown's "It's a Man's World," and was included in a 2001 campaign for the brand. It's unclear if Timbaland handled the production — the synths don't line up with his previous sound banks — but the mid-tempo take accomplishes what it set out to do.
87. "All N My Grill (Remix)" featuring MC Solaar and Nicole Wray
The initial version of "All N My Grill," featuring Big Boi, had all the makings of a hip-hop classic — which is why it felt unnecessary to replace him with the French MC Solaar. Experimenting with cross-cultural collaborations was a bold move for Elliott, but listen closely and you'll hear the shoddy cut-and-paste job laying in Solaar's verse.
86. "Time and Time Again," The Cookbook (2005)
A turn-down ballad with Tweet, "Time and Time Again" was all finger snaps and glib keys, shipping off a trifling lover who keeps coming back despite her rebuffs. Elliott slips into a rap verse at one point, only to catch herself: "Let me stop playin' with y'all mothafuckas, this ain't no rap record, get back to the hook."
85. "I'm Not Perfect" featuring The Clark Sisters, This Is Not a Test! (2003)
Unlike the requisite gospel songs that closed prior albums, "I'm Not Perfect" serves more as an inspirational uplifter on This Is Not a Test!, pairing Elliott with The Clark Sisters for a gauzy Sunday morning testimonial.
84. "Friendly Skies" featuring Ginuwine, Supa Dupa Fly (1997)
When Elliott is bent on soundtracking the party, the far corners of her personality truly bubble to the top. It's the slow jams where she shows a more sensitive side, like on "Friendly Skies," an extended metaphor about being the passenger on the flight of a relationship, and persevering through the turbulence.
83. "Pass Da Blunt," Supa Dupa Fly (1997)
Experimenting with reggae touchstones has been a constant in Elliott's career since the release of her solo debut Supa Dupa Fly, specifically on "Pass Da Blunt," a woozy nod to the Musical Youth's 1983 classic, "Pass the Dutchie."
82. "Higher Ground" featuring Karen Clark Sheard, Yolanda Adams, Kim Burrell, Dorinda Clark Cole, Mary Mary and Tweet, Miss E … So Addictive (2001)
Elliott traditionally caps her albums with an ode to the almighty, and for "Higher Ground," the hidden track on Miss E … So Addictive, she takes it to church with a robust lineup of some of gospel's finest. Each has a turn to outdo the other, making for a grand vocal spectacular.
81. "I'm Better" featuring Lamb
In 2017, Elliott reemerged with what could have been a triumphant single, but it didn't feel entirely natural to her style. Flush with sirens and tip-toeing synths, "I'm Better" loses its footing with its trap-inspired meter — more Migos than Missy.
80. "Violator Run This," unreleased Violator: The Album, V2.0 track (2001)
At one point signed to Violator management, which counted 50 Cent and Diddy on its roster, Elliott cut this record for the second compilation the company released. For whatever reason, it didn't make the final cut, though it easily could have with its throwback beat and club-ready chorus.
79. "Remember When," The Cookbook (2005)
On this flushed, mid-tempo ballad, Elliott sings an R&B ode to a lover who, after discovering she cheated on him, forgave her anyway because his feelings for her are so strong. Its simplicity is its selling point — she knows when to go big, but also when to dial it back.
78. "Ching-a-Ling," Step Up 2: the Streets soundtrack (2008)
There was something repetitive about "Ching-a-Ling" that closely followed the blueprints Elliott had set before it: the reversed vocal lines, the whistles, the incessantly chanted chorus. It felt almost too familiar, and yet, still welcome as one of the liveliest of her post-Cookbook cuts.
77. "Drop the Bomb," Under Construction bonus track ( 2002)
A bonus track on the Japanese edition of Under Construction, "Drop the Bomb" easily carries the same sonic heft as the rest of the set. Using synths relative to those that snake across the beat on "Work It," "Bomb" is a call to arms to everyone from Louisville to Las Vegas to get down.
76. "Smooth Chick," Da Real World (1999)
Reed instruments were rarely at the forefront in hip-hop at the time that Da Real World was released, and while they don't do much more than repeat on "Smooth Chick," Elliott and Timbaland flipped a sax for the ages. The aerobic dance-stirrer pushed the tempo past the three-digit mark, something far too fast for anyone to dance to but enough to scan as notable on the track list.
75. "Swat Dat Fly," unreleased (2010)
Weird for the sake of weird has always been Elliott's M.O. "Swat Dat Fly" is no exception: A bee literally zooms around the track as electro-synths gurgle beneath instructions to do as the title of the song suggests.
74. "Get Ur Freak On (Remix)" featuring Nelly Furtado, Lara Croft: Tomb Raider soundtrack (2001)
At the time "Get Ur Freak On" was released, Nelly Furtado was percolating in the pop world thanks to her breakthrough hit "I'm Like a Bird" and the hip-hop-kissed umbrella album Whoa, Nelly! Timbaland latched onto her sound — he remixed her follow-up hit "Turn Off the Light" and threw Ms. Jade into the mix — which makes sense that Furtado would show for the second take on "Freak." Furtado, with a similar penchant for stretching out vowels and embracing gibberish, does the same with Elliott here, at times shrill but still compelling.
73. "Old School Joint," Miss E … So Addictive (2001)
Invoking the funk of One Way's "Pop It," Elliott takes it back to the '80s on "Old School Joint," a song strictly for the dance floor. Simultaneously fresh and classically nostalgic, the feel-good fete of decades past bumps, halts, and grinds.
72. "Triple Threat," single (2012)
Sweeping strings introduce "Triple Threat," the other A-side to 2012's "9th Inning." Elliott isn't heard until a minute into the track, and aside from her palpable verses, Timbaland holds court for the majority, circling the hook, "Missy and I going up, triple leader in our cup."
71. "U Can't Resist" featuring Juvenile and B.G., Da Real World (1999)
When she isn't giving in to her quirkier predilections, Elliott can spit a mean traditional 16, outshining her peers along the way. That's "U Can't Resist," a later-album inclusion on Da Real World touting two Elliott verses that eclipse her guest features atop menacing instrumentation.
70. "Baby Girl Interlude/Intro" featuring Mary J. Blige // "Outro" featuring Mary J. Blige, This Is Not a Test! (2003)
Elliott bookends This Is Not a Test! with two crisp piano-kissed vignettes. The first is marked by a single but impactful verse about her imperfections while paying homage to those who are no longer with us, while the second plays as a defense of hip-hop culture: "Hip-hop is a freedom of expression / Not a freedom of depression," she says.
69. "You Don't Know" featuring Lil' Mo, Da Real World (1999)
"You Don't Know" marks one of two songs in Elliott's oeuvre where the track is framed as a phone call. The other, "Nothing Out There for Me," which appears higher on this list, was less concerned with fireworks than "You Don't Know," a raw-tongued spar between Elliott and Lil' Mo who learn they're sharing the same man. Things get heated — the beat flips, and Elliott turns to tough mode: "You be suckin' his dick, tastin' my clit, just a side chick, on the side bitch, I'm the prize bitch."
68. "Crazy Feelings" featuring Beyoncé, Da Real World (1999)
Marching slow-mover "Crazy Feelings" is framed around romantic hindsight, lifted up by hair-raising harmonies from two gifted singers. Beyoncé's soprano glides over Elliott's stacked vocals, bringing a gospel element to the midnight-storm ballad.
67. "Partytime," The Cookbook (2005)
Elliott wastes no time setting the tone for The Cookbook with "Partytime," washing away the bitter aftertaste of opening track "Joy." The tinkering percussion is no match for her lyrical display, delivered with the sarcastic lilt of Slick Rick and impressive meter.
66. "Play That Beat," Under Construction (2002)
The old-school homage continued on Under Construction with "Play That Beat," which samples the vocals and adapts and slows the drum pattern from G.L.O.B.E. & Whiz Kid's 1983 track "Play That Beat Mr. D.J." It lacks the urgency of its source material but digs it up from the crates for a lively interpolation.
65. "Slap! Slap! Slap!" featuring Da Brat and Ms. Jade, Miss E … So Addictive (2001)
Bad-girl posturing came naturally to Elliott, but always felt more emboldened when part of a triumvirate. (See also: "Stickin' Chickens.") "Slap! Slap! Slap!" had its fangs bared, and each rapper served up some spice: Brat snarled, "When they see me, I permanently damage they shit internally"; Jade spit, "Smack the shit out of Clyde 'cause Bonnie should've paid me"; and, best of all, Missy went, "Turn your man to an ass-licker." Way ahead of her time.
64. "Let Me Fix My Weave," This Is Not a Test! (2003)
Elliott's ability to alter her accent and delivery at any given turn speaks to her versatility. "Let Me Fix My Weave" may be crass at times, but what makes it so commendable is how each bar is delivered in its own unique way.
63. "Work It (Remix)" featuring 50 Cent, Under Construction (2002)
Elliott had a tendency to throw rappers-du-jour on her hits, possibly as a way of fleshing out the single's sphere of reach, which is why the addition of 50 Cent on "Work It" always felt ham-handed. Red-hot at the time, Fif swoops in with a verse that could never top the calamitous theatrics that Elliott brought to the original. It's fine that it exists, but it didn't necessarily need to.
62. "Cool Off," Iconology (2019)
After all these years, Elliott is still a dance-floor commander. "Cool Off," which borrows the thrum of 808s driving her newest EP's single, "Throw It Back," is sweat-breaking mayhem, a booty-bouncer that spins round and round "like a ceiling fan."
61. "Izzy Izzy Ahh," Supa Dupa Fly (1997)
The sound of "Izzy Izzy Ahh" is an extension of Elliott's growth out of the New Jack Swing era, when Timbaland ghost-produced songs for Jodeci's DeVante Swing while Elliott was in Sista. "Izzy" has an early '90s sound — the beat's sway is a reflection of what came before it — and offers a window into the lyrical gymnastics of projects to follow.
60. "Slide," Under Construction (2002)
One of the more dizzying, loop-based burners on Under Construction, "Slide" sees Timbaland drawing from Middle Eastern strings for a dance-floor instructional. "Slide, slide, dip, dip, shake / Move it all around, move it all around," raps Elliott, who drops a laughable hi-hater: "And I don't mean to sound too petty, but they used to call me Fatty until I got with Puff Daddy."
59. "The Right One For You," The Cookbook bonus track (2005)
A rarity in Elliott's discography, "The Right One For You" was originally included as a Target bonus track on The Cookbook. It's a shame it didn't make the regular retail release; it flows in the same R&B vein as "Teary Eyed" with a far more pleasant aesthetic.
58. "We Run This," The Cookbook (2005)
The Sugarhill Gang's "Apache," which became one of the most effervescent hip-hop songs of all time after they mined a break from Incredible Bongo Band's song of the same name, makes a reappearance on "We Run This," Elliott's single that continues the tradition. Hers is just as upbeat and chaotic — the reintroduction of a classic to the next generation.
57. "Irresistible Delicious" featuring Slick Rick, The Cookbook (2005)
Slick Rick's slippery flow has unquestionably played a heavy influence on Elliott's delivery — check "Joy," the opening track on The Cookbook, the parent album that also features their duet, "Irresistible Delicious." A callback to Ricky D's "Lick the Balls," the '80s big-up is all rhymes and chorus, the latter of which cuts to a tranquil slice of R&B.
56. "Keep It Movin'" featuring Elephant Man, This Is Not a Test! (2003)
Elephant Man steps into Missy's world for "Keep It Movin'," a cut off The Cookbook with vamping chord stabs, airy snare taps, and just a touch of sitar. Elliott commands listeners to "wine ya waistline down to the bassline," warming up the pot for the dancehall star to step in and polish it off.
55. "Touch My Body," unreleased (2009)
With the alternate title "Act a Fool," "Touch My Body" is an unreleased loosie that hit the internet around 2009. It gallops with the urgency of "Pass That Dutch" without so much as breaking a sweat, all while Elliott plays the club ringleader.
54. "My Struggles" featuring Mary J. Blige and Grand Puba, The Cookbook (2005)
Leave it to Elliott to put Grand Puba back on the same track as Mary J. Blige, and then coax out her lyrical side. This rap-attack over a twanging guitar melody jacked from Smokey Robinson & the Miracles' "You've Got the Love I Need" is a classic posse cut, in theme with The Cookbook's throwback lean.
53. "Stickin' Chickens" featuring Aaliyah and Da Brat, Da Real World (1999)
Putting a two-timer on blast is a constant theme in Elliott's discography, and the trio of her, Aaliyah, and Da Brat made "Stickin' Chickens" all the more attacking. Harmonies abound as Elliott and Aaliyah take turns bemoaning the wrongdoer, culminating in a double-time shakedown from Da Brat.
52. "Go to the Floor," Under Construction (2002)
A standard Timbaland beat of bee synths and quick-hit bongos introduces Under Construction, an album of out-there tracks as left-field as opening cut "Go to the Floor." The LP was all about celebrating hip-hop's past and having a blast in the present, duly noted on this dance floor commander.
51. "4 My People" featuring Eve, Miss E … So Addictive (2001)
An international hit, "4 My People" was as close to EDM as Elliott has gotten in her career thanks to the dance remixes that took hold overseas. (Discounting, of course, her remix of Jack Ü's "Take U There" with Kiesza.)
50. "4 My Man" featuring Fantasia, The Cookbook (2005)
Dulcet plucks on a harp and a thwacking backbeat ground "4 My Man," a traditional, blissful love song of allegiance to a significant other. Elliott exudes confidence in her relationship through peacocked rhymes, giving way for a full-bodied chorus from the American Idol alum.
49. "Mr. D.J." featuring Lady Saw, Da Real World (1999)
Elliott's use of digitized computer voices on the reggae-tinged "Mr. D.J." helped further Da Real World's tomorrowland theme. Twangy instrumentation plays the background to Elliott's boasts of sipping Alize in the club, turning it over to Lady Saw to provide some island flavor to the bizarro club cut.
48. "Can You Hear Me" featuring TLC, Under Construction (2002)
One of Elliott's several homages to the late Aaliyah, "Can You Hear Me" was a somber elegy with the surviving members of TLC, who joined her to pay respects to Lisa "Left Eye" Lopes. The forthright tribute came off as both vulnerable and uplifting, all at once.
47. "One Minute Man (Remix)" featuring Jay Z, Miss E … So Addictive (2001)
One of three remixes of Elliott's track, this version rotated Ludacris for Jay Z, who drops a shrewd, self-referential verse that hat-tips lyrics from his single "Do It Again (Put Ya Hands Up)" and makes a comical nod to Destiny's Child: "I'm tryna give you cab fare and directions / Get your independent ass outta here, question?"
46. "Best Friends" featuring Aaliyah, Supa Dupa Fly (1997)
Few Aaliyah collaborations made it to Elliott full-lengths prior to her passing, which is why hearing the two trade fluttering vocals on "Best Friends" is so heartwarming. Each sings of getting good advice from a companion about a disrespectful man; the chemistry between the two is undeniable.
45. "Rather," unreleased
Rumored to be intended for Block Party, the long-awaited follow up to The Cookbook, "Rather" is yet another shimmering example of Elliott's prowess as an R&B singer-songwriter. The gentle ballad is tantamount to her work on Tweet's Southern Hummingbird: starched fingersnaps, warm harmonies, and strums on an acoustic guitar.
44. "Pep Rally" (2016)
Elliott chased the release of "WTF (Where I'm From)" with the wobbling "Pep Rally" in 2016, a drumline knocker released via an Amazon Echo commercial. It's more in line with the late-era, party-starting fare of her catalogue, with bits of Bounce thrown in for good measure.
43. "Throw It Back," Iconology (2019)
Off the recent Iconology EP, "Throw It Back" doesn't overcomplicate itself, a remarkably restrained comeback single by Elliott's standards. It's a sparse, thinly instrumented reinforcement of what the world has come to love about her: big boasts, résumé reminders ("I did records for Tweet, before y'all could even tweet"), and flecks of her patented brand of weirdness.
42. "Bad Man" featuring Vybez Cartel and M.I.A., The Cookbook (2005)
Teeming with fervent energy, "Bad Man" is a dip into dancehall with palpitating results. Elliott spits her verses in patois, freeing up space on the track for the drums to get some before Cartel and M.I.A. slide through.
41. "On & On," The Cookbook (2005)
"On & On" served as the wonky buzz single for her last album, The Cookbook. Pharrell Williams constructs a beat with booming bass notes and zippy bubble synths, topped by high-level boasts.
40. "Gettaway" featuring Space and Nicole, Supa Dupa Fly (1997)
Timbaland refined his beatboxing skills throughout his career, and this stood as one of the first tracks where it took firm hold on an Elliott solo release. "Gettaway," featuring an out-the-gate verse from Space (who?), adapts the chorus from Mary J. Blige's "Love No Limit" and interpolates Aaliyah's "One in a Million," yet still plays like the soundtrack to a 22nd-century dungeon.
39. "One Minute Man" featuring Ludacris, Miss E … So Addictive (2001)
The three versions of "One Minute Man" are all dynamite, but in the case of the album version featuring Ludacris versus the remix featuring Trina, the remix offers a more rounded-out perspective in the battle of the sexes. It's hard to argue that without her, it has the same spark.
38. "Why I Still Love You," Iconology (2019)
Elliott is an R&B singer through and through, which is why "Why I Still Love You" is such a satisfying conclusion to her Iconology EP (an a cappella tacked on as an extra track just goes to show how forceful a vocalist she remains). It's a brassy doo-wop number where, amid a stack of lush harmonies, Elliott rebukes a love interest in the face of how powerless she is to the attraction.
37. "Bring the Pain" featuring Method Man, Under Construction (2002)
Timbaland dove straight into the old-school theme of Under Construction with "Bring the Pain," the first full-length track on the album, where he flips RZA's beat from Method Man's quick-tongued 1994 single of the same name. Elliott ushers his hit into her world, repurposing lyrics from the source material for a satisfying redo.
36. "Spelling Bee Interlude/Spelling Bee," This Is Not a Test! (2003)
Nervous synths zip across octaves on the alphabetically-inclined "Spelling Bee Interlude/Spelling Bee," an approach that numerous artists have taken (Lil' Kim's "Spell Check," XTC's "Your Dictionary") but Elliott made her own, her flow relaxed yet unpredictable.
35. "… So Addictive (Intro)" featuring Tweet, Miss E … So Addictive (2001)
Arguably her greatest album intro, "So Addictive" is a supple ballad, one that welcomes the listener into Miss E … So Addictive with ease. "I know some of y'all sick of songs that you heard on the radio (oh) / So me and Timbaland gon' give you shit you never heard (shit you never heard before)," she sings in a trade-off with Tweet, a rare brief tune that begged for an extended version.
34. "Dangerous Mouths" featuring Redman, Da Real World (1999)
Elliott has a proclivity to lean X-rated, like on "Dangerous Mouths," a moody, pouncing duet with Redman on Da Real World. "Let me intervene, come between like dick through your jeans, hang down to your knees," she raps, the minor-key bass line slithering below.
33. "Put It On Ya" featuring Teyana Taylor and Pharrell, unreleased (2008)
Where she flipped it and reversed it on "Work It," this unreleased track with Teyana Taylor and Pharrell guns for obscurer areas of gibberish: Pig Latin. The Neptunes supply a rapid-fire beat that toggles between an EDM-inspired attack to gushy R&B, making for one of her better 2008-era works.
32. "They Don't Wanna Fuck wit Me," Supa Dupa Fly (1997)
Much of Elliott's debut was spent justifying her own credibility as an artist. That codependency took form in numerous songs on the album, like on "They Don't Wanna Fuck wit Me," where Elliott stretched words and stuttered lyrics about her swagger.
31. "WTF (Where They From)" (2016)
"WTF (Where They From)" compounds all of Elliott's strong suits: lyrics that easily toy with meter, corkscrew percussion, and coded taunts that, upon release, had the internet typing in caps lock. After 2012's so-so "Triple Threat" and "9th Inning," this felt more like a grand return.
30. "DripDemeanor" featuring Sum1, Iconology (2019)
Elliott dips her quill back into the sensual well for "DripDemeanor," an Iconology ballad featuring newcomer Sum1 who fills the requisite role of butter-toned hook slinger. It's arguably the best of her latest material, a coy hand-reveal for any man attempting to woo her and a catalogue of the rewards he'll receive.
29. "Take Away" featuring Ginuwine and Kameelah, Miss E … So Addictive (2001)
A precursor companion piece to "Can You Hear Me" featuring TLC, "Take Away" came shortly after the untimely death of Aaliyah, who passed in a plane crash in 2001. On its own, the lush, heartfelt ballad screens as an unrequited love song, but the video tribute in which Kameelah was replaced with Tweet made it a touching homage to the late singer.
28. "I'm Talkin'," Supa Dupa Fly (1997)
Tough talk comes easily to Elliott, who has the catalog to back it up. At the time when she dropped Supa Dupa Fly, though, her solo output was thin, which is why the shots-firing "I'm Talkin'" stood out. Over a guitar-plucked Timbo beat, she spits barbed takedowns on the verses ("You would think there's fuckin' ten of me when I'm sendin' these blows") and, on the chorus, sweetly sings, "I'm such, such, such a good rapper."
27. "Why You Hurt Me," Supa Dupa Fly (1997)
A lesson in trifling friendship, "Why You Hurt Me" is a cautionary tale in trusting the wrong people, filtered through the lens of a character named Cutie Tootie. Her storytelling skills on display, Elliott raps of a "nasty friend" who "turned tricks to get some Gucci" and gave "freebies underneath the staircase in Brooklyn."
26. "Back in the Day" featuring Jay Z, Under Construction (2002)
Under Construction was intended as an homage to hip-hop's past, and "Back in the Day" took the literal and best approach to it. A feel-good block-party banger, the low-end-heavy track is bright and snappy, replete with cultural references to Kango hats, British Knights, and MC Lyte.
25. "Can't Stop," The Cookbook (2005)
At his peak, Rich Harrison was an unstoppable percussive force, lacing artists like Amerie and Beyoncé with breathless, stars-shooting instrumentation for some of their greatest hits. His collaboration with Elliott on "Can't Stop," tucked near the center of The Cookbook, was more flash than flesh: the rapper rides the beat with expert ease, but it's Harrison's clanging cowbells and riotous snares that push this into the green.
24. "Funky Fresh Dressed" featuring Ms. Jade, Under Construction (2002)
Bar for bar, Elliott spits lines that somersault atop the next on "Funky Fresh Dressed," a classic rebuking of bum emcees in exchange for self-inflation. There's an old-school flavor to the track, one that takes a literal turn when the beat turns into that of Beastie Boys' "Paul Revere" during Ms. Jade's verse.
23. "Dog in Heat" featuring Redman and Method Man, Miss E … So Addictive (2001)
Barring album intros, the first track on each of Elliott's albums establish the tone for the records, like with the bopping "Dog in Heat," featuring Redman and Method Man. A neck-cracking groove, it's the token scene-setter, all flickering bass notes and cherry-sweet synths that cozy up to gut-busting guest verses from the rap duo.
22. "Beat Biters," Da Real World (1999)
Same goes for "Beat Biters," the first full-length track from Da Real World. Elliott and Timbaland slid into the year 3000 on the project, a glimpse into what they interpreted as hip-hop's progressive future. "Beat Biters" drove their sound to a darker, more experimental zone, one that reverberated as the album progressed.
21. "Hot Boyz," Da Real World (1999)
As a solo track — removed from its remix featuring Nas, Eve, and Q-Tip — "Hot Boyz" stands strong, maintaining the momentum with Lil' Mo, who peppers the chorus with candy-sweet falsetto runs. Elliott hit the nail with this individual version, but it's a standard case of the remix outshining the original.
20. "Hit Em Wit Da Hee (Remix)" featuring Lil' Kim and Mocha, Can't Hardly Wait soundtrack (1998)
Throughout her career, Elliott often didn't tamper with original versions of her tracks when it came to remixes, instead tacking on a guest verse, sometimes to little effect. The remix for "Hit Em Wit Da Hee" is a rare exception, executed well. This haunting retake, featured on the soundtrack for 1998's Can't Hardly Wait, transitions midway through with a chilling sample from Björk's "Joga" and a freshly recorded addendum.
19. "Let It Bump," This Is Not a Test! (2003)
Timbaland's abilities to shellac the rhythmic sound of someone beating on a lunchroom table and use a siren as an accent are just some of the glimpses of his genius. And that's just the instrumentative side of "Let It Bump," a barebones pairing of nostalgic rhymes ("Remember when Shanté was live on stage?" asks Elliott) and a knocking throwback beat.
18. "Busa Rhyme" featuring Eminem, Da Real World (1999)
Elliott has always had a penchant for nosing talent at the start (see: Tweet, Nicole Wray, Lil' Mo). Eminem was just starting to terrorize the hip-hop game when she tapped him for "Busa Rhyme" (initially a demo recorded by Em called "Tylenol Island"), giving him the first two verses before hopping in for a back-and-forth. Slim Shady is in full force on "Busa Rhyme," which transitions into a brooding paranoia hellscape in which he details killing a hospital staff and Elliott lines up sucker emcees for execution.
17. "Pussycat," Under Construction (2002)
When she lets her freak flag fly, Elliott often produces her cleverest work. Such is the case with "Pussycat," an extended metaphor that personifies her downtown area; she prays it will satisfy her man to the point that he would never cheat. A filthy concept this catchy gets gold stars.
16. "Wake Up" featuring Jay Z, This Is Not a Test! (2003)
This call to arms was intended as a state of the union for hip-hop, one where Elliott and Jay Z took turns spitting over dank percussion of clanks against metal and underwater bleeps. It's hip-hop in its best form: whip-smart couplets, compelling instrumentation, and legitimate demands for change.
15. "Ragtime Interlude/I'm Really Hot," This Is Not a Test! (2003)
Tangential to "Lose Control," "I'm Really Hot" is an unstoppable destructive force on the dance floor. Timbaland's programming is at warp level, with pattering percussion across drum heads, yielding a crowd-pleaser that Elliott carries at a galloping pace.
14. "All n My Grill" featuring Big Boi and Nicole Wray, Da Real World (1999)
Cheesy synth strings strut up a few octaves on "All n My Grill," giving a symphonic element to Elliott's call to men who can provide more than just conversation. Outkast's Big Boi joins in for an overstuffed verse echoing the sentiment: "You be tryin' to kill my ho, my girlfriend / And people around me is tellin' me that you's a stalker, like Darth Vader chasin' Skywalker, I told you I was a street talker."
13. "One Minute Man (Remix)" featuring Ludacris and Trina, Miss E … So Addictive (2001)
Elliott and Ludacris had a standalone version that was fiery on its own, but it's the appearance of Trina that bumps this up the list. The Diamond Princess takes Elliott's softer innuendo and kicks it up to full throttle: "You know lil' mama ain't with that quick shit / You better break me off, stiff tongue or stiff dick."
12. "Lick Shots," Miss E … So Addictive (2001)
Timbaland's taste for sweet-and-sinister led to "Lick Shots," one of the greasiest productions in his portfolio. It was the addendum to the video for "Get Ur Freak On," portraying Elliot cruising in a low-rider — a suitable location for this grimacing, itchy trigger-finger taunt.
11. "Gossip Folks" featuring Ludacris, Under Construction (2002)
The retro "Gossip Folks" coasted on off-measure downbeats, bleating reed instruments, and an upper-register snarl from Elliott, who sustains the tone for most of the track. Timbaland crept in a sample from Frankie Smith's "Double Dutch Bus" for the chorus, echoing the disorienting reversed hook on "Work It."
10. "Sock It 2 Me" featuring Da Brat, Supa Dupa Fly (1997)
The orchestral overtone of "Sock It 2 Me" made it stand out from the rest of Supa Dupa Fly. Timbaland didn't go overboard with samples on the project, which created a thread through the latter half of the LP where his sound was accentuated. But with "Sock It 2 Me," he isolated the horns from The Delfonics' "Ready or Not Here I Come (Can't Hide From Love)" to great effect: Elliott laces this bopper with a melody line that completely warms to it — a middle ground they seldom didn't find — giving Da Brat a layup for one of her best guest verses.
9. "Hit Em Wit Da Hee" featuring Lil' Kim, Supa Dupa Fly (1997)
Opening her career-defining debut Supa Dupa Fly with a spoken-word intro from Busta Rhymes, Elliott isn't the first voice you hear on a full-length track on the project — rather, it's Lil' Kim, lined up for what she terms the "million bitch march." Unlike with "Hot Boyz," which equates men's worth with their possessions, "Hit Em Wit Da Hee" disassociates materialism from attraction, instead winning over suitors with innuendo for music as currency. "I hit 'em with the hee, I hit 'em with the / I stop 'em with the ha," she sings on the chorus — a nonsensical way of, perhaps, saying she conquers with her style.
8. "Bomb Intro/Pass That Dutch," This Is Not a Test! (2003)
Gunning at the speed of a double-dutch rhythm, "Pass That Dutch" is wildly weird, surrealist hip-hop that mercilessly pummels, taking only a few gasps of air. Lyrically, Elliott steamrolls her way across the bass-inflected soundscape, spending a wowing inaugural eight bars rhyming on the same consonant variation. What makes it even stranger, though, is the constant offering of sit-downs: Rarely do songs stop in their own tracks numerous times for a reprieve, and Elliott takes several, to accept an award and catch her breath as a clock ticks down the seconds.
7. "Lose Control" featuring Ciara and Fatman Scoop, The Cookbook (2005)
When it comes to party jams, Elliott has planted the flag as a master, particularly on her post-Miss E … So Addictive releases. The self-produced "Lose Control" is the penultimate of the selections, a Ritalin-chomping whirlwind that pays little mind to structure and bounds from one flaming segment to the next. With Fatman Scoop playing hype man, samples of Cybotron's "Clear" and Hot Streak's "Body Work" intertwine as Elliott and Ciara sass at breakneck speeds, making for the former's most tireless dance number yet.
6. "Beep Me 911" featuring 702 and Magoo, Supa Dupa Fly (1997)
Toggling between acid-tongued rapper and volumizing R&B singer came naturally to Elliott, most likely attributed to her experience with girl group Sista, in which she juggled both. "Beep Me 911" was the all-sung single from Supa Dupa Fly, one where she carried over the meter of her staggered raps to Timbaland's funk-whispered beat, her vocals dancing just outside of time signature. It culminated in a wall-of-harmony chorus accentuated by 702, giving way to a typically nasal cameo from Magoo.
5. "Hot Boyz (Remix)" featuring Nas, Eve, and Q-Tip, Da Real World (1999)
The fetishization of men, and equating their worth to the materialistic goods they possess, is what made "Hot Boyz" such a standout to begin with. (Not to mention the stuttering beat, its doomsday-esque bounce all chords and kicks.) But the remix leveled the playing field, and the audacity of slotting two men on a song about appreciating a man's appearance wasn't lost here.
4. "She's a Bitch," Da Real World (1999)
Elliott's introduction to the world with Supa Dupa Fly was a game-shifter, but her futuristic vision concretely materialized with Da Real World, so concerned with sounding beyond the time and seemingly approximating it. "She's a Bitch," its lead single, followed a formula that Timbaland often employed — booming bass and kicks, ratatat bongos, cherry-sweet synths on top — and unapologetically functioned as a reclamation of the word "bitch" as terminology for a strong woman, something that Lil' Kim reiterates on the album's interludes. It was a tool of empowerment, delivered through some of Elliott's most impeccable rhymes.
3. "Get Ur Freak On," Miss E … So Addictive (2001)
Timbaland often experimented with global sounds; he explored much of them on his own projects with Magoo. But mainstream radio was relatively bare of them until "Get Ur Freak On," a bhangrā-indebted wallop of plucks on a tumbi, accented by relatively constrained percussion. Elliott's delivery is elastic yet controlled, sliding from indoor voice to whisper to open-throated howl, with a chorus hung on slang that was instantly etched in the contemporary lexicon.
2. "The Rain (Supa Dupa Fly)," Supa Dupa Fly (1997)
Redefining what the world already knows about hip-hop is what continues to make Elliott a recurring figure in the genre, and her entry point into the solo world was a remarkable glimpse of her capacities. Atop a throbbing beat constructed around a sample of Ann Peebles' "I Can't Stand the Rain," Elliott casually declares her lyrical prowess by rapping at a shrugging pace, unfurling line after line that often didn't call back to the one before it. Still, out of that dissonance came an aesthetic cohesion for one of the most consummate rap songs of 1997, and of her career.
1. "Work It," Under Construction (2002) 
Up until her fourth album Under Construction, Elliott and Timbaland confected a sound that consistently nudged toward the future. They were obsessed with it: Elliott explored the galaxies in the Mega Man-inspired video for 1997's "Sock It 2 Me," Da Real World was set in the year 3000 (and referenced The Matrix throughout), and even the cover of Miss E … So Addictive looked like Elliott was suiting up for intergalactic battle. But when it came to Under Construction, they did the opposite. Instead of making the present sound like the future, they harnessed the past, sealing it in an album that appreciated the roots of the culture from which it was birthed while concurrently pushing it forward.
The crown jewel of the collection — of her discography — was "Work It," a song that blurred the decades that came before and after it. On paper, "Work It" was musically crowded: there are four samples, a lot for any song, including Run-D.M.C.'s "Peter Piper," Bob James' "Take Me to the Mardi Gras," Rock Master Scott & the Dynamic Three's "Request Line," and Blondie's "Heart of Glass." But Timbaland plays master surgeon brilliantly, setting the framework of a synth that sounds like birds hitting power lines in rhythm, a ghostly Theremin stretching octaves like putty, and trademarked Timbo percussion that kept the beat moving in time. He spliced in each sample and break at just the right moment, giving consistent nods back to the golden era of hip-hop before it in a hyper-futuristic context.
What defined the song beyond that, though, was Elliott's ability to toss around language like a rag doll and unashamedly wearing her sexuality proud. "Work It" is, on the surface, a song about getting laid. It's carefree, fun, and ceaseless, packed with tasty one-liners ("Go downtown and eat it like a vulture," "Give you some some some of this Cinnabon") and comedic quips at every turn. But at its heart, it's about conveying ownership over one's sexuality. Elliott rebukes the stigma attached to sex workers for using their body to make a means of living ("Girls, girls, get that cash, if it's 9-to-5 or shakin' your ass / Ain't no shame ladies do your thing, just make sure you're ahead of the game"). She spends an entire verse seducing a lover so she can "take my thong off and my ass go boom." The chorus is about scouring the land for a "big dick," censored by an elephant's honk.
Sexuality is often narrowly interpreted as threatening, particularly when it's deemed too salacious, especially if it's a black woman wielding it. But Elliott and Timbaland made it impossible to deny, in a year when the closest analogue was Tweet's "Oops (Oh My)," a masturbation celebration they wrote and produced. "Work It" also happened to be the most innovative, boundary-shattering single to be released that year, and marked the beginning of a new era for Elliott, ever the creative expansionist, and proverbial genius the world can't ever seem to truly figure out.