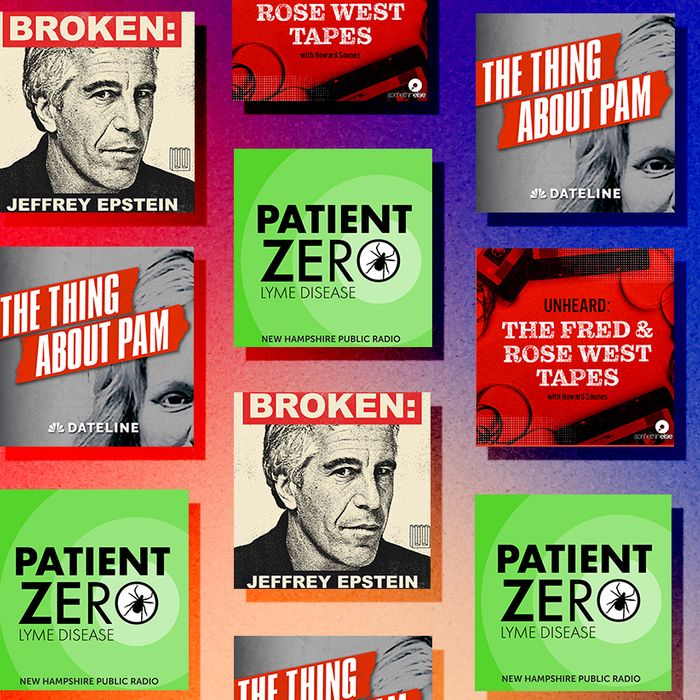 The true-crime-podcast universe is ever-expanding. We're here to make it a bit smaller and a bit more manageable. There are a lot of great shows, and each has a lot of great episodes, so we want to highlight the noteworthy and the exceptional. Each week, our crack team of podcast enthusiasts and specialists will pick their favorites.
The Thing About Pam: "They're Still Counting"
At this point in my true-crime listening/watching career, I enjoy thinking I can accurately analyze a 911 call. (As it turns out, so does everyone else who has access to the internet.) The call at the beginning of the first episode of Dateline and Keith Morrison's — yes, that Keith Morrison — new podcast, The Thing About Pam, will test all of your amateur "did he do it or what" sleuth skills. In short, one night in December 2011, Russ Faria called 911 when he returned home and found his wife, Betsy, dead from 52 stab wounds (remember this detail). Depending on what you make of that call, you might think this is an open-and-shut case, but trust Keith Morrison when he says this is one of the strangest cases he's ever seen. It's already weird in the first episode, where we meet Pam, learn about Russ and Betsy's relationship, and hear footage from Russ's police interrogation, during which his story about what he found that night never changes. It's not just the dulcet tones of Keith Morrison's voice that make this intriguing, it's the setup. Have a listen to discover what nefarious and uncanny turns this seemingly simple case will take — as well as Pam, and the thing about her. —Chanel Dubofsky
Unheard: The Fred and Rose West Tapes: "Young Freddy"
Journalist Howard Sounes has been writing about Fred and Rosemary West since 1994, when he began breaking major news stories about the gruesome twosome who had been raping, torturing, and murdering young women and burying their bodies in their home in Gloucester for years. After covering the criminal investigations and trials of the couple, Sounes went on to write one of the definitive books about the case, Fred and Rose, although how he managed to escape relatively mentally unscathed from the process is anyone's guess. The physical and sexual abuse they inflicted on others — including their own children — is incomprehensible.
This 12-episode series features both Sounes's original interviews and new ones, as he goes back to revisit the case and his own investigation. This week's episode focuses on Fred West and what his life before Rosemary was like. Was it possible that head trauma from a motorcycle accident had something to do with his aberrant and abhorrent behavior? It probably didn't help, but it sounds like he was a real piece of sexually abusive crap even before that. (For that matter, was it even an accident, or was he actually aiming his bike at another person? The mind reels.)
I enjoyed the interview on the first episode with one of their former tenants, who was a young punk rocker looking for a cheap bedsit; she thought her landlords were a little dodgy (Rosemary was not into wearing underwear and was obviously entertaining male visitors and/or clients on the reg) but she had no idea they were sexually sadistic serial killers. While using the old tapes for the sake of authenticity is a cool touch, they're often nearly incomprehensible; that said, obviously it's important in the timeline of the story to include them, and Sounes does the best he can with the available material. I'm interested to hear what it's like for him to revisit the case and his reporting over two decades later, given how much the world of journalism, crime, and victimology has changed in the interim. —Jenni Miller
Broken: Jeffrey Epstein: "Lady Ghislaine"
Ariel Levy (The New Yorker) and Julie K. Brown (the Miami Herald) do a thorough, unsettling, and intriguing dive into the world of Jeffrey Epstein, the financier accused of sexually abusing many young women and girls, who died by suicide in prison in August of this year, while serving a sentence for sex trafficking. In the second episode, Levy and reporter Daniel Bates delve into the horror show that is Ghislaine Maxwell, one of several women who recruited, organized, (and in Maxwell's case) participated in Epstein's sex trafficking and abuse. Maxwell has disappeared from the public eye since Epstein died, but she's at the center of many conspiracy theories. This is the second time Maxwell has vanished following the death of a powerful man; she also went underground after her father, British publishing mogul Robert Maxwell, died in 1991. Levy, Bates, and Brown hypothesize where Maxwell may be now, the role she played in Epstein's world, and why she was there in the first place. At the heart of Broken is the question of how Epstein was able to operate in plain view for so long. The answer, which Levy and Brown seek to amplify in this podcast, is that he was protected by his money, the money of others, and a culture that overlooks and perpetuates sexual violence, fetishizes youth, and worships capitalism. —Chanel Dubofsky
Patient Zero: "The Laster"
Not your usual true-crime story, but criminal nonetheless. In Patient Zero, host Taylor Quimby methodically recounts the history of Lyme disease over the first four episodes. In episode five, Quimby goes to a chiropractic clinic that claims to treat Lyme with lasers. We hear him fill out a questionnaire about symptoms and behaviors with no causation that becomes the basis for the diagnosis of an infectious disease. Quimby then meets Dr. Doug Wine, who whips through a list of outright lies about Lyme's transmission and treatment. The misinformation is so outrageous — and balanced with rapid fact-checking inserted by Quimby — that listening to this bit of tape will take your breath away. Then you'll smack your forehead when you hear about the many other clinics using Wine's lasers and techniques not approved by the FDA or covered by insurance … and finally, you'll grit your teeth when you learn there's little that can be done about it. Quimby never calls Wine a charlatan; he doesn't have to. What remains clear is that people looking for relief from a misunderstood illness may spend thousands of dollars for high-tech snake oil. This is investigative reporting at its most entertaining. —Kevin Flynn