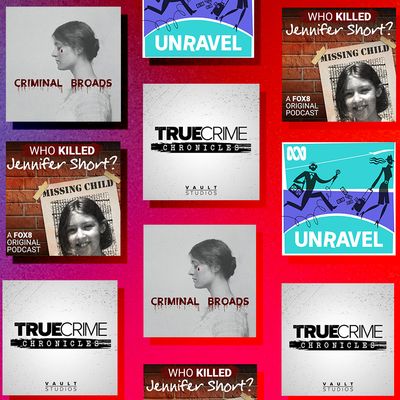 The true-crime-podcast universe is ever-expanding. We're here to make it a bit smaller and a bit more manageable. There are a lot of great shows, and each has a lot of great episodes, so we want to highlight the noteworthy and the exceptional. Each week, our crack team of podcast enthusiasts and specialists will pick their favorites.
Criminal Broads: "Crime-Obsessed Broads: An Interview With Rachel Monroe"
This episode of Tori Telfer's delightful podcast is a little bit like a true-crime Inception as she interviews journalist Rachel Monroe about her new book, Savage Appetites, which itself examines the modern fascination with true crime as a genre through the lens of four women who are obsessed with crime and criminals in wildly disparate ways. I'm a big fan of Monroe's work, and I really appreciate how thoughtful and frankly unafraid she is to take a hard look at how and why people — especially women, and especially white women — consume this sort of media and what it means about us. The topic lends itself to a spirited conversation with Telfer, another whip-smart true-crime fan slash journalist (Telfer wrote Lady Killers: Deadly Women Throughout History) who is equally interested in interrogating the genre and herself along the way. If Savage Appetites isn't already at the top of your to-be-read pile, it will be by the end of this episode. —Jenni Miller
True Crime Chronicles: "Stolen Lives in Tarpon Springs"
I've been bingeing True Crime Chronicles for weeks now. Investigative journalist Jessica Noll (whom you might recognize from another Vault Studio's podcast, Bardstown, which you definitely should be listening to if you aren't already) and co-host Will Johnson, tackle both the super local, like the 2013 disappearance of Abby Hernandez from a small town in New Hampshire, to those cases that made it to Dateline, like the murder of 12-year-old Stephanie Crowe. The latest episode falls under the category of the local. On New Year's Day in 2018, Richard and Laura Ivancic and their son, Nicholas, were found dead in their home in Tarpon Springs, Florida. What tipped off neighbors that something might be wrong? The gravelike hole in front of the house. Without truly spoiling the ending for you, I'll just tell you this: Laura Ivancic had been trying to locate her daughter, Jamie, for almost a year, with basically no real luck. Also, the person who committed these murders is so bad at crime, it will astonish you. Sturdy reporting and smooth delivery are what make True Crime Chronicles a great podcast. It's what those of us who love true crime long for — the right amount of reflection and detail, along with a nose for stories we want to hear, but otherwise might never find. —Chanel Dubofsky
Unravel True Crime: Snowball: "The Girl With the Dragonfly Tattoo"
Ollie Wards was the emcee at his brother Greg's wedding. But even as he went through the motions during the reception, the New Zealander recalls having a sense of unease about his brother's charismatic California bride, Lezlie Manukian. There were some things that just didn't add up, but he kept his suspicions to himself. It turned out that he was right to be concerned. Within a few months, Lezlie had vanished, not only breaking his brother's heart, but sending his family into financial ruin. In season four of ABC's Unravel podcast, subtitled Snowball, Ollie tells the story of a case some call "the female version of Dirty John." Episode one begins with the story of Greg and Lezlie's whirlwind romance. Greg had always been infatuated with everything American and immediately fell for Lezlie, whom he met in London. They later married in New Zealand, where Lezlie bought a small restaurant, claiming to finance it with her large trust fund. But nothing was as it seemed, and Lezlie went on the lam. A decade later, Ollie hopes to finally get answers to just who Lezlie really was as he reinvestigates the case. Perhaps, he will even find Lezlie herself. —Lara Bricker
Who Killed Jennifer Short?: "Heartbreaking Discovery"
As of late, it would seem, there's been an uptick in podcasts created by local news stations, in the hope of bringing attention to unsolved cases. Who Killed Jennifer Short is an original podcast by FOX8, which serves Greensboro, High Point, Winston-Salem, and the entire Piedmont Triad of North Carolina.
After Michael and Mary Short were murdered in their home in August 2002, police began a search for their 9-year-old daughter, Jennifer, who was missing from their home in Oak Level, Virginia. There are no spoilers here, the title of the podcast tells us everything we need to know — six weeks after the home invasion, Jennifer's body was found on a farm 45 minutes away from Oak Level. What happened to Jennifer? How did she get from Virginia to North Carolina? Who's responsible for her death and the deaths of her parents, and why, 17 years later, does the case remain unsolved?
In this episode, FOX8 reporter Tess Bargebuhr visits the farm where Jennifer was discovered and speaks with the current owner of the property, who's anything but creeped out at the idea of living there. The episodes are all brief, about 15 minutes long, and they have that distinctly tender vibe that comes with local news stories, which frankly makes the case itself more tragic and urgent, if it weren't already. —Chanel Dubofsky