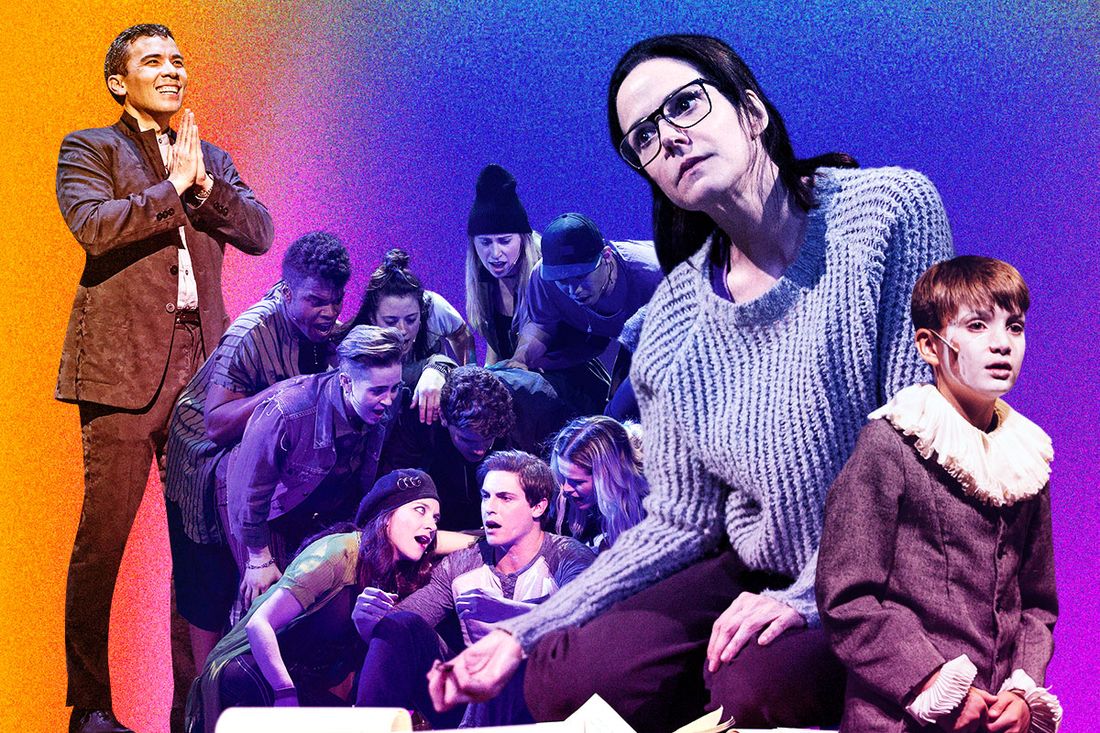 Photo: Craig Schwartz, Matthew Murphy, Carolyn Brown and Courtesy of BAM.
After an August that seemed to bring the closing of nearly every Broadway show in quick succession, the New York theater world is gearing up once again for a season that feels simultaneously cautious and offbeat. On Broadway, there are fewer big-gamble musicals than last season, with producers opting for a steady supply of jukebox, from Tina Turner to Alanis Morrissette, but there are also straight play imports from London and summer theater festivals, as well improv rap, just to mix things up. Elsewhere, you'll find intriguing revivals, directors taking big swings, and of course, many gestating movie-to-musical adaptations.
What We Think Will Be Great
By Sara Holdren
September
Heroes of the Fourth Turning (Playwrights Horizons; previews 9/13)
Will Arbery's vertigo-inducing Plano was one of the highlights of the spring. With Heroes of the Fourth Turning, the Texas-raised playwright dares to wade into some murky waters with the story of four young conservatives descending into existential chaos at a party in Wyoming. Arbery's writing is spooky and wry without being twee, generous without naïveté, and I'm ready for his take on America's middle and its far right.
Scotland, PA (Laura Pels Theater; 9/14–12/8. Buy tickets here.)
I honestly don't know whether I'm psyched or nervous about Roundabout's new musical adaptation of filmmaker Billy Morrissette's 2001 riff on Macbeth, which sets Shakespeare's bloody tragedy in a sleepy Pennsylvania town where a burger-joint manager and his wife take matters (and deadly deep fryers) into their own hands. The movie is eerie, sly, gruesome fun, and features Christopher Walken in the Macduff role and Andy Dick as a Weird Sister — that's a tall, eccentric order for any adaptation, and it will be a creepy treat to see how the musical's vaunting ambition plays out.
The Inheritance (The Barrymore; previews 9/27. Buy tickets here.)
Elisabeth Vincentelli recently wrote about the frustrating discrepancy between Broadway's historical embrace of gay and lesbian stories, and she's not wrong. Even so, I find myself eager to see this epic two-parter inspired by E. M. Forster's Howards End. Matthew Lopez's exploration of lineage tells the story of a group of gay men in New York a generation after the aids crisis. Directed by Stephen Daldry, it's an ambitious attempt to continue Angels in America's "great work," as well as winner of the 2019 Olivier for Best New Play — but truly, they had me at Forster.
October
Hamnet (BAM Next Wave Festival; 10/30–11/3)
This year's Next Wave lineup — which features a deconstructed Swan Lakeand a Three Sisters riff played out in two different spaces, with one audience watching half the play as a live film — is full of fascinating stuff. Especially enticing is Hamnet, a new play by the Irish theater company Dead Centre that explores mortality, legacy, and longing through the eyes of a boy who died when he was 11 years old — and who happened to be the son of the most famous playwright of all time.
November
The Crucible (Bedlam @ the Connelly; 11/8–12/29)
The ingenious, scrappy magicians of Eric Tucker's Bedlam dismantle and reassemble classics with a playful, rigorous hand. If their rendition of Arthur Miller's fiery McCarthy-era cautionary tale The Crucible is as invigoratingly actor- and argument-driven as their fierce, funny, stripped-down Saint Joan, it will probably cut closer to the heart of the matter than the show's last Broadway outing, levitation, live "wolf," and all.
Fefu and Her Friends (Theatre for a New Audience; 11/16–12/8)
The wise and radical Cuban-American playwright María Irene Fornés died late last year, and it's thrilling to see her formula-defying plays popping up again. Encores! recently revived her absurdist musical Promenade, and this fall, Lileana Blain-Cruz takes on one of Fornés's best-known works, the enigmatic story of a gathering of women at a New England country house in 1935. Perspectives are constantly shifting in Fefu, a landmark of feminist theater that grapples with internalized sexism.
December
Keep (St. Ann's Warehouse; 12/4–12/19)
The monologuist Daniel Kitson once made me weep profusely by sitting at a desk and reading a story about Santa. Also with a story about a weird lonely writer and a weird lonely woman and a weird lonely mouse. Also by talking about the flat he once lived in in London. He's unsentimental and heartbreaking, part comedian, part raconteur, and part solo theater magician, and I can't wait for this meditation on regret, hope, and "the inevitable sadness of ever holding on to anything."
Judgment Day (Park Avenue Armory; 12/5–1/11)
Richard Jones single-handedly convinced me that theaters should keep tackling Eugene O'Neill with his invigorating 2017 production of The Hairy Ape. I've already got palpitations about his return to the cavernous dream castle that is the Armory with this adaptation of a criminally underproduced masterpiece by Ödön von Horváth about a station master whose fleeting inattention causes a tragedy that sends his community into a devastating spiral.
What We Think Will Be Big
By Jackson McHenry
September
Freestyle Love Supreme (Booth Theatre; previews 9/13. Buy tickets here.)
Before there was Hamilton, there was Freestyle Love Supreme, an improvisational music group created by Lin-Manuel Miranda, director Thomas Kail, and Anthony Veneziale. The evening is essentially a casual hang, with the promise of "spontaneous and unannounced guests."
The Sound Inside (Studio 54; previews 9/14. Buy tickets here.)
Mary-Louise Parker returns to Broadway for — what else? — a harrowing interior drama in which she plays a professor who becomes uncomfortably close to a student.
Linda Vista (Helen Hayes Theater; previews 9/19)
One of two Tracy Letts productions on Broadway this season (alongside The Minutes, premiering in February), this is a dark comedy about a 50-year-old man (Ian Barford) trying to recover from a divorce.
Soft Power (Public Theater; 9/24–11/3. Buy tickets here.)
Imagine The King and I but with all the sweeping cultural assumptions reversed. That's what David Henry Hwang (M. Butterfly) set out to do with this musical, which depicts contemporary America from China's point of view.
October
Cyrano (Daryl Roth Theatre; previews 10/11)
Peter Dinklage arrives in town from Game of Thrones–land to sing in a musical version of Edmond Rostand's 19th-century classic, with music from members of the National.
Tina: The Tina Turner Musical (Lunt-Fontanne Theater; previews 10/12. Buy tickets here.)
In the footsteps of Cher and Donna Summer and many others, Tina Turner gets her own bio-musical, a form that's practically its own genre at this point. Watch out for star Adrienne Warren, who earned an Olivier nomination for the part in London.
November
Jagged Little Pill (Broadhurst Theatre; previews 11/3. Buy tickets here.)
Alanis Morissette's songs are reassembled into an original story, written by Diablo Cody, about a family going through some seriously dark times. Think Mamma Mia! but gritty.
*This article appears in the September 2, 2019, issue of New York Magazine. Subscribe Now!