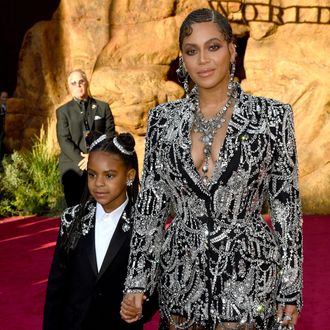 Left to right: Blue Ivy Carter and her little friend.
Photo: Kevin Winter/Getty Images
What's better than one billionaire? Not two. It's actually the billionaire's daughter, who gets more legendary every day. Queen Blue Ivy of the House Carter, first of her name, Queen of Houston, the BeyHive, and Whatever Jay-Z's Fans Are Called, made a rare appearance in Beyoncé's documentary Making the Gift, just to remind us all who runs the world. Making the Gift follows Blue Ivy's mother as she creates the Lion King live-action companion album, The Gift. Blue Ivy deigned to offer her services and sang the chorus on "Brown Skin Girl," Beyoncé's ode to dark-skinned black women everywhere. As if her tiny, adorable voice wasn't enough, Making the Gift has a clip of her in the recording studio, holding her own.
She came in prepared. She knew what notes she had to hit. And, frankly, she slayed. What do you other girls know about that? Because our queen is a generous queen, she shared some of the limelight with her little siblings and Rumi snatched the opportunity. Her impression of a lion has to have Disney rethinking its decision to cast Beyoncé as Nala. The talent was right in front of it all along! And don't think because she didn't get "moo" at first that it means she didn't know. She was just keeping Bey on her toes, and that's very charitable of her.
Beyoncé's legacy spans grandmothers, mothers, daughters, and granddaughters. Not just her own, but those of her fans. Songs like "Brown Skin Girl" uplift black women and envelope them in maternal love, like Tina did for her, like she does for Blue. It's a little circle of life. And while she's doing all that, Blue Ivy will teach us all how to break necks every time we walk into a room. Okay!