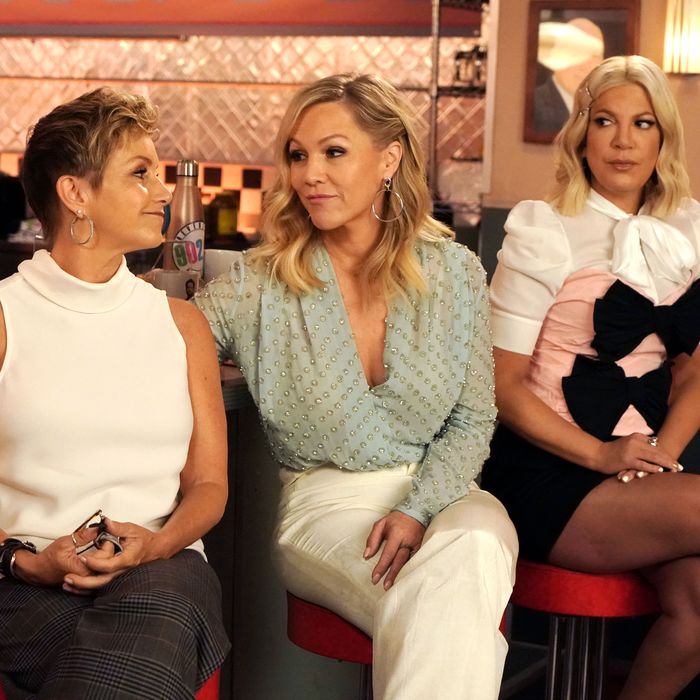 We've reached the finale and the focus-group data is in! We know because Tori had it delivered right into her AOL inbox. As BH90210 wraps its inaugural season, the fate of the show within the show — much like the real-life fate of BH90210 — hangs in the balance. The pilot is in the can (yay), but can our little show that could beat out the Mischa Barton-as-a-ghost-reboot of The O.C. that is also vying for one of Fox's fall slots? While Christine forces the gang to drum up good publicity and nostalgia at a Peach Pit pop-up, the results from test audiences send them reeling. Since we are at a crossroads, this audience of two would like to assess this (hopefully not) last hurrah, cast member by cast member.
Test audiences thought that "Steve Sanders's macho swagger feels old school, like being in a time capsule." Some faulty #MeToo "comedy" aside, our report for Ian Ziering is much more favorable, as we were ultimately charmed by our formerly permed one. IZ started off the season as some sort of brand-obsessed celeb with a philandering Real Housewives wannabe wife. (Remember Tori's face on his products?) But since overcoming his fear of women in the workplace, he Cyrano'd himself into falling for Anna, and is now heartsore that she gave him the no-strings-attached speech. Sorry, but wasn't Ian just married two seconds ago, and now he wants to settle down again? Get it together, boy. Regardless, we fell for IZ's storyline and think the ante was upped by the arrival of his new piece, Denise Richards, who is quickly revealed to be … Anna's mother! Readers, we gasped. This casting is, dare we say, perfection. Denise is the cast's contemporary, got her start on the original 90210, had a small role on the CW reboot, and because of her marriage to Charlie Sheen and her recent stint on Real Housewives of Beverly Hills, has become an icon of the zipcode. Plus, she and Ian have real chemistry and we'd pay streaming-service fees to watch them together. All hail the casting office at Greenstein/Daniel.
While audiences LOLed at Andrea's gayness, our report on Gabrielle Carteris is … complicated. Gab has been one of our personal favorites all season, what with her queer questioning and house-mother clapping energy. (This bit is such a weird specific and we just love the cast for all being EPs and having capital-I Ideas.) We saw her have honest conversations with her husband about her sexuality and we saw her get busy with The Artist Formerly Known as Emily Valentine. But as this summer series winds down, the awful truth is that Gab has done the full Kissing Jessica Stein, which is to say she used Andrea (and Christine) to explore her rainbow connection, but ended the season kissing her husband and doing the whole "it's not really my thing" thing. But for us two queerdos, Andrea (and Gab) questioning her sexuality made total sense. Here's hoping this wasn't the age-old "lesbian for Sweeps" bit and that season two will have Gab fully embracing her Desert Heart(s).
David Silver's audience feedback is about him being a zaddy, which, like, neat-o. Anyway, for our part, we're giving Brian Austin Green — it's the finale so we're saying the whole enchilada — middling reviews. BAG has been embroiled in the series' main mystery plot, which never really gets resolved, even in this last episode when Shay reveals that BB is not BAG's biological son (though BB maintains he's only here because his mama told him BAG was the baby daddy). BAG is annoyed by Shay's meddling but determined to maintain some sort of relationship with his non-son thanks to sage advice from his spiritual guide and DL BFF, Shannen. When BAG shows Jason the photo of young BAG with the mother, who is in fact a fake Vanessa Marcil (former 90210 co-star, former BAG IRL love interest, and mother of his estranged son), suddenly Jason has a flash: Is he the father? Ay yi yi, this is getting convoluted so let's just send those notes to the season-two writing room.
Folks love Brandon with Kelly but are decidedly anti the Angelina and Jame-level sexual chemistry between him and his twin, Brenda. This peanut gallery thinks, well, was Jason even in this episode? Jason is with his wife, Camille. Is he at her hospital bedside? Ooh no, the writers let this one whimper, not bang, so Jason and Camille are in the Bahamas where she, perhaps with the courage of kamikazes, tells him they need to call it quits. But oh yes, she'd still like to take his 12 percent. Is she still pregnant? Does it matter? Look, we prefer club-owning, scarf-wearing Jason who likes to rumble and makes doe eyes at Jennie G from time to time. We guess real-life Jason was busy directing and therefore a little removed? The bottom line is his scarcity made it hard to root for whatever is brewing with Jennie Garth.
Our feelings on Jennie are not dissimilar to the audience research for Kelly Taylor: "Audiences related to Kelly Taylor's struggle as a middle-aged woman but found her storyline depressing." It's like, sames. Jennie didn't have any major trauma this series, but maybe she needed some. She was so invested in her new IPA-loving bodyguard that she stopped paying attention to her daughter, who is back and who we once again loathe. Bodyguard got a fanboy tattoo, and so he's gone for good. It's as if Jennie couldn't get a storyline to stick this season. Surprise, her best stuff was with Tori (we ship this pair) and Jason. (Does she still "choose me"?) If Shannen had actually driven to Vancouver to film earlier in the season we would have been into seeing more of Jennie fuming over Shannen Instagram-influencing her daughter with Deepak Chopra quotes.
Everyone continues to be creeped out by the hot-for-your-twin vibe, but audiences also want Bren to be more of a classic Shannen shit-stirrer. Our Shannen report is quite simple: Please be in the same motherfucking room as the rest of the cast and crew. We estimate that Shannen appeared in fewer than eight minutes an episode, like she's Dame Judi Dench or something. She was committed to shooting most of her early scenes on green screens, but for the finale all her scenes were in-person, just with two cast members at a time. There was a fun moment where they all show up to the Upfronts in red dresses (our girl Gab is in white pants), and that feels like, aw, shucks, we needed more of this. Lucky for us, Ms. With-an-E did get a dream sequence in which Brenda and Brandon make out in bed. Inc'est si bon!
Donna Martin's feedback says that Tori is endearing as Donna even if Tori the reality star is polarizing. This sentiment may have been true, but anyone who has been watching BH90210 must now agree that Tori is the heart and soul of the show. This week, Tori is getting her wages garnished and just trying to keep the lights on, while her whiny husband is struggling with the label of stay-at-home dad. It takes BAG and Ian singing Tori's praises over plant-based burgers to get Nate to wake up and start appreciating his wife. What does Dean McDermott think? Oh, and everybody loves David and Donna. Us too. Tori and BAG silently acknowledging that they both would've been happier had they married each other made our hearts grow three sizes.
Good news: After an entire episode of will it/won't it, the pilot got picked up! Bad news: It has to be reshot (in Canada!), the supporting roles have to be recast, and Fox can only afford six of the seven principals! It has been a wild ride in this I8A4RE license-plated Corvette, and we've been so tickled to spend time with these old friends and you, our new ones. But Donna Martin has graduated, figuratively, which is to say, it's the end. We're crossing our Joe E. Tatas for another season, but should we never meet again, thanks for the peaches and the pits, the cameos and in-jokes, the rooster, the egg, and the gift that will always be Shannen Doherty covered in blood, monologuing about a wounded possum. The data doesn't lie: BH90210 is the legacy key we didn't know we needed.
Peaches
• In the last month alone we've seen real-life Gabrielle Carteris get reelected as president of SAG-AFTRA and BH90210 Gabrielle Carteris have gay sex for the first time!
• Ian's self-deprecating Sharknado chops were on full display in his Peach Pit sequence where he talked to his former self in a mullet.
• Hats off to SHANNEN M-F-ING DOHERTY for the simple fact that she collected a fat-ass paycheck by monologuing to herself on a park bench.
Pits
• We've got nothing. We loved every second of this backstage event series that was way better than it ever needed to be. But that last shot did make us desperately miss Luke Perry.