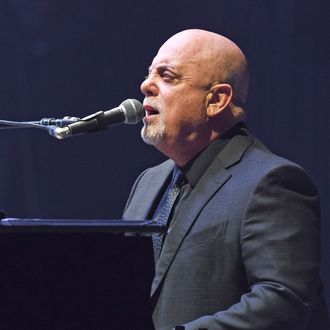 Make me a show, you're the Piano Man.
Photo: NurPhoto/NurPhoto via Getty Images
Billy Joel's music is getting turned into a TV show, which can only be good news for the popularity of piano bars everywhere. According to The Hollywood Reporter, MGM Television is working with Universal Music Publishing Group to create a scripted series called Scenes From an Italian Restaurant, which they are baptizing with the frankly demonic portmanteau of an "arc-thology series." The premise is apparently that each episode will be based on a different song in Joel's catalogue, with "reimagined and rearranged" versions of those songs performed within them. The series would have access to Joel's complete catalogue, meaning we could see some of his lesser-known work as well. The use of "arc" implies that the episodes will all link together somehow, unlike a traditional anthology series, though THR doesn't elaborate. Maybe the Piano Man and the Stranger and Mamma Leone all go to the same Italian restaurant! Ta-da, you've got yourself a show.