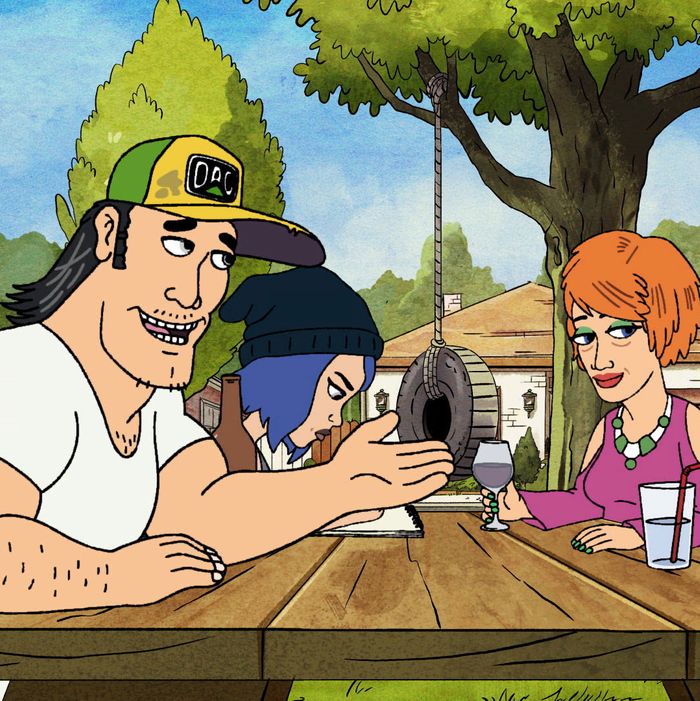 In 2005, Fox debuted a new name for its Sunday night programming block: Animation Domination, a two-hour run of American Dad!, The Simpsons, Family Guy, and King of the Hill. The four shows mostly stood out from one another: Family Guy and American Dad! shared styles and creative teams, but they were more frenetic than The Simpsons, more into referential comedy, more surrealist, and more hollow; King of the Hill was on the other side of the spectrum, warmer and quieter and more sly.
This Sunday, after abandoning the brand five years ago, Fox will revive the Animation Domination block, including OG shows The Simpsons and Family Guy, Sunday night mainstay Bob's Burgers, as well as a new series from Emily Spivey called Bless the Harts. It's a fast-moving, very funny show about a working-class family trying to make ends meet, featuring the voices of Maya Rudolph, Kristen Wiig, Jillian Bell, and Ike Barinholtz. The pilot episode is extraordinarily promising, but it's also suggestive of what the Animation Domination block has been, and what it could be in the future.
Shows came and went through Animation Domination over the years, including The Cleveland Show, Axe Cop, and Golan the Insatiable, but no addition stuck as well as Bob's Burgers, the sweet, smart, endlessly generous comedy about a family who owns and operates a burger shop. In spite of the differences among the Domination shows, the longevity of Bob's Burgers points to what most of the block has had in common: They're typically shows about middle-class and working-class American families, telling stories about everyday problems like money, marital tension, job insecurity, and local communities.
Bless the Harts fits into that tradition nicely. The first episode is about a battle between Jenny (Wiig) and her mother, Betty (Rudoloph), over the family finances. Their water is about to be shut off, and as Jenny rifles through the large stack of bills trying to decide which one to pay (the answer is: none of them), she stumbles across a bill for a storage locker she didn't know they had. It turns out, Betty's been renting a large storage locker for years so she can house her massive collection of not-quite-Beanie Babies — Bless the Harts calls them Hug n' Bugs — which Betty assumes will boom in value and save the family from ruin.
Jokes about the Beanie Baby bubble are not new, just as "a family does some wacky stuff to pay the bills" is not new. But Bless the Harts takes a well-worn thread and weaves hilarious gold out of it, first by making the Hug n' Bugs into a mashup of '90s memorabilia that turns each Hug n' Bug line into a cornucopia of goofy, nostalgia-skewering references (Nelson Mandela Super Soaker Hug n' Bug! Sir Mix-a-Lot Hubble Telescope! Tamagotchi OJ Trial!). Then, where other shows would mine "these faux Beanie Babies are actually worthless" for a reveal, Bless the Harts is more interested in what happens next, spinning the episode's premise into an escalating series of miscommunications that concludes, improbably, in a glorious, symbolic (and literal) bonfire. At the same time, a B-plot about the relationship between Jenny's daughter, Violet (Bell), and Jenny's live-in boyfriend, Wayne (Barinholtz), demonstrates the fundamental compassion of the show. It'd be easy to imagine that relationship as contentious or dismissive, but Harts turns Wayne and Violet into a pairing you root for.
All together, Bless the Harts is a very nice way to round out the revived Animation Domination block, with the new show ably taking up a position once held by King of the Hill. The difference — and the reason Bless the Harts makes such a promising addition — is that in previous years, Fox's Sunday night animated lineup might just as well have been called Male Domination. Its shows, all 14 of them from 2005 to 2014, had male creators (save for Napoleon Dynamite co-creator Jerusha Hess) and male lead characters. Marge Simpson and Linda Belcher are powerful characters, but men have been the main anchor for most of these series, either as single men with a group of friends or as father figures coping with their family members.
Bless the Harts looks different, and its creators do too. Like more than one great live-action TV show before it — I'm thinking specifically of Gilmore Girls and Jane the Virgin — the triad of a grandmother, mother, and daughter are a compelling foundation for Bless the Hart's family structure. Even in the pilot episode, you feel how interesting and rich the story can be when several generations live in the same house. The burden of supporting the family largely falls on Jenny, but Betty has financial responsibility too, and the economic and social pressures are distributed more evenly between the three protagonists than they would be in a traditional dad-brings-home-the-bacon structure. Each character has more autonomy and more power.
The effort to include shows made by women and starring women isn't contained to just a single show, either: In 2020, Fox will add two other animated series with female creators to the Animation Domination block, Duncanville (created by Amy Poehler, Mike Scully, and Julie Scully) and The Great North (created by Wendy Molyneux, Lizzie Molyneux, and Loren Bouchard). It's not enough, of course, but it's a heartening step in the right direction. It also suggests how much this TV genre — not just animation, but shows about working- and middle-class families — still has to say when different voices get a chance to tell their stories. With its fast, absurd, dry sense of humor, hopefully Bless the Harts will have a chance to stick around for a long time.