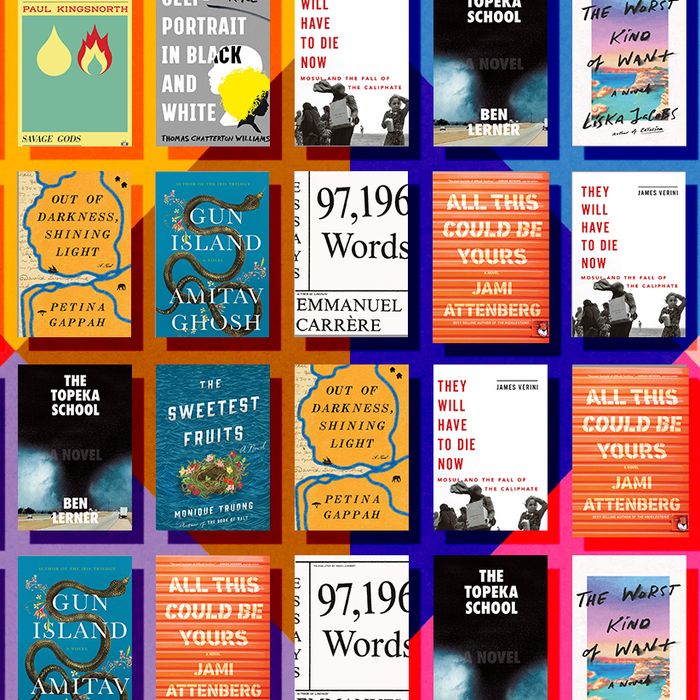 With a passel of fiction sequels on the horizon and not one but two Old Masters on this year's Booker Prize shortlist (Salman Rushdie and Margaret Atwood), the Serious Season of book publishing is kicking off with a retro flavor. There's a definitive biography of dear, departed Susan Sontag; creative reconceptions of classic tales like Don Quixote, Frankenstein, and the adventures of David Livingstone; essays by veteran novelist Emmanuel Carrère; stories by near-veteran novelist Zadie Smith, and a venture into traditional fiction by auto-fiction superstar Ben Lerner. And yet there's plenty of invention in these pages — old ground tread by fresh minds — as well as a few debut authors and some writers you may not have heard of, but definitely should.
What We Think Will Be Great
By Boris Kachka and Molly Young
September
The Sweetest Fruits, by Monique Truong (Viking; 9/3)
I've been addicted to Truong's writing ever since her debut, The Book of Salt, a work of historical fiction incorporating real people that felt — unlike much of that genre — lush, invigorating, and real. Her third novel fictionalizes Greek-Irish writer Lafcadio Hearn but through the eyes of only his mother and his two wives — one a freed American slave, the other his Japanese translator. —B.K.
Gun Island, by Amitav Ghosh (FSG; 9/10)
With his "Ibis" trilogy, Ghosh recast the adventure story as a commentary on colonial capitalism; his nonfiction book The Great Derangement showed how ill equipped we are to deal with climate change. Gun Island combines the two, following an Indiana Jones–like book dealer on the trail of an ancient Bengali myth. —B.K.
Out of Darkness, Shining Light, by Petina Gappah (Scribner; 9/10)
Perhaps no story was as ripe for the Wide Sargasso Sea treatment (the revision of a classic by marginalized voices) as the tale of missionary David Livingstone's death in Africa. In contrasting styles, the Zimbabwean novelist lets two characters describe their trek across Africa with Livingstone's body, beautifully complicating the narrative. —B.K.
Savage Gods, by Paul Kingsnorth (Two Dollar Radio; 9/17)
How often do we get an environmental activist and poet — who once worked undercover in West Papua New Guinea, who has been cited by figures as diverse as David Cameron and Mark Rylance, and who believes "[s]ocial media is like a giant communal toilet" — confronting the failure of language and civilization in 142 pages? —M.Y.
They Will Have to Die Now: Mosul and the Fall of the Caliphate, by James Verini (W.W. Norton; 9/17)
Verini's grasp of English makes me feel like I speak an inferior dialect. This account has been compared to Michael Herr, blurbed by George Packer, and applauded by David Petraeus, which must be the military-history equivalent of an EGOT. —M.Y.
October
The Topeka School, by Ben Lerner (FSG; 10/1)
How do you write your way out of autofiction's cul-de-sac? Masterfully. Lerner stays close here to his own life and occasionally lets the mask of fiction slip, but his account of an overeducated family in a regional capital of toxic masculinity has all the pleasures of a traditional novel — a more self-aware Franzen. —B.K.
Grand Union, by Zadie Smith (Penguin; 10/8)
Smith is justly acclaimed for her novels, but she also gives generously between books, with wonderful criticism and the occasional jolt of short fiction. Her first story collection supplements eight published stories with 11 brand-new pieces, many of them dipping into realms far removed from realism (or even hyperrealism). —B.K.
Self-Portrait in Black and White: Unlearning Race, by Thomas Chatterton Williams (W.W. Norton; 10/15)
In addition to having a name that sounds like a delectable tea, Williams is a fascinating thinker on topics ranging from Paris couture to shame to Dunkin's Thin Mint® latte. His writing is always elegant and frequently commotion-causing; I can only hope this slim volume on race continues the pattern. —M.Y.
All This Could Be Yours, by Jami Attenberg (Houghton Mifflin Harcourt; 10/22)
Versatile, earthbound, and unforgiving, the novelist returns to the comic blend of messy family drama that made The Middlesteins such a smart best seller. This time, the madness swirls around the (sort of) grown children of the dying Victor, a tyrannical and very shady real-estate developer. —B.K.
November
97,196 Words, by Emmanuel Carrère (FSG; 11/5) 
Carrère's books show that books are the original memes: Each of his is a canny artifact of our time, passed among friends to instantly satisfying effect. This collection brings together a quarter-decade's worth of his nonfiction — on crime, Catherine Deneuve, Davos, and immigration. —M.Y.
The Worst Kind of Want, by Liska Jacobs (MCD; 11/5)
This crispy biscotti of a novel is about a producer who goes to Italy, has a scandalous relationship, and decodes not just the meaning of life but also the meaning of death, sex, dance clubs, and emoji. You'll feel indecent reading it in public. —M.Y.
What We Think Will Be Big
By Boris Kachka
September
Quichotte, by Salman Rushdie (Random House; 9/3)
To paraphrase the unnamed target of Rushdie's satire, some people are saying this is the best Rushdie in a long time.
The Testaments, by Margaret Atwood (Nan A. Talese; 9/10)
Hulu took its liberties with the adventures of Gilead in The Handmaid's Tale, but Atwood is at long last publishing her own sequel. The Booker Prize has already deemed it worthy of its 2019 long list and short list.
Red at the Bone, by Jacqueline Woodson (Riverhead; 9/17) 
A National Book Award finalist for adult fiction and a winner for children's fiction, Woodson returns to the brownstone setting of her last adult novel, Another Brooklyn, for this intricate family drama.
Sontag: Her Life and Work, by Benjamin Moser (Ecco; 9/17) 
It's been a while since the great streaked one roamed the earth, but Moser's biography should be definitive, uncovering scandalous new details.
The Water Dancer, by Ta-Nehisi Coates (One World; 9/24) 
The influential public intellectual's first novel, a magic-realist antebellum slave-escape narrative.
October
Frankisstein, by Jeanette Winterson (Grove; 10/1) 
The author is acclaimed for breaking taboos, and this one toggles between the origin story of Mary Shelley's Frankenstein and an AI scientist's meet-cute with a transgender muse named Ry Shelley.
Olive, Again, by Elizabeth Strout (Random House; 10/15) 
Fans of Olive Kitteridge will devour Strout's sequel, in which the famously ornery Olive tries to become a slightly better person.
Find Me, by André Aciman (FSG; 10/29)
In this sequel to Call Me by Your Name, the original romance thrums in the background, urging the lovers backward and forward in time.
*This article appears in the September 2, 2019, issue of New York Magazine. Subscribe Now!