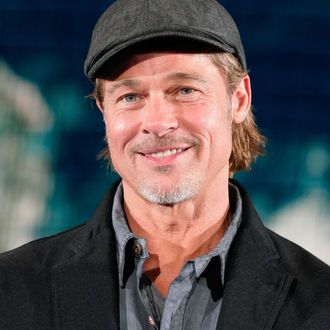 Brad Pitt, take the wheel.
Photo: Christopher Jue/Getty Images
Honestly asking! Not for a friend, for me, who witnessed this behind-the-scenes video of Brad Pitt's GQ photo shoot and immediately pictured him winking good-bye as he laid a foot on the pedal and hit me with a burnt-orange dune buggy. Then, I Googled "dune buggy" because I wasn't fully sure what this tiny, roofless car was. Who among us has not tweeted at a celebrity to hit them with a truck, a car, a helicopter, or a motorcycle driven by a chauffeur their father paid for? How have they not copy-pasted images from GQ and sent them in a group chat called "Thirst Journalism" so that five of their horniest friends could also dissect what Brad meant when he nodded at the beginning of this clip? Again, I'm honestly asking.
When he's not wearing a knotted button-down and posing on a motorcycle, Brad can be seen in James Gray's space film, Ad Astra. A legendary astronaut, Pitt's Roy McBride is sent to space on a mission to find his dad (Tommy Lee Jones), who may be responsible for catastrophic events on Earth. But first he must do one thing: Run me over with a rocket ship, please!