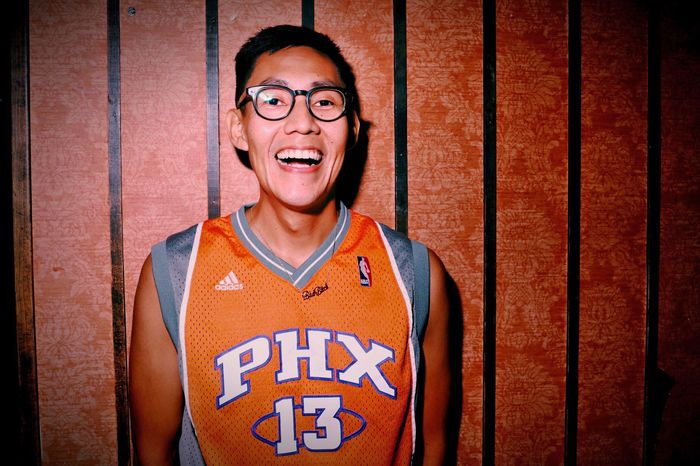 Brian Bahe.
Photo: Jordan Ashleigh
Brian Bahe (@brian_bahe) is a stand-up comedian and writer originally from Phoenix, Arizona, but now based in New York City. He co-hosts the stand-up shows Butt Dream at the Rack Shack and Star Fuckers: Astrology But Make It Comedy at Union Hall.
This week, Brian and I talked about lingerie, gay sex, and having a tiny, tiny bladder.
I'm late. I'm late. I've always been late. I'm literally never on time. For me, being on time means I'm only 15 minutes late. When I open a text message on my phone, the predictive text automatically fills in "train is delayed." Being late in New York City is so relatable and thank you (not really a thank you), Mayor Bill de Blasio, for not fixing or addressing the MTA subway issues, which gives us late people the evergreen excuse of saying that our train is delayed.
Has Twitter been a helpful platform for your comedy?
Twitter is where I put some of my dumbest thoughts. I don't fully appreciate how useful those dumb thoughts actually are until like a month later when I'm having a joke-writing dry spell and I'm feverishly trying to find a new premise. During those times I'll scroll through my feed and find like three or four tweets that I like or that I see in a different light than when I tweeted them, and I'm like, That could be something. Luckily the joke is already there in the tweet so it's just a matter of expanding that. This usually works one out of every ten times. But yeah, it mostly just helps me develop a lot premises and acting as an archive for them.
What made you get into stand-up?
I started doing improv when I was in college, and I entertained the thought of doing stand-up for years before fully committing to it when I moved to New York. I just wanted to be onstage as much as possible (yeah gross, I know). Improv is more set up for doing it a few times a week, whereas stand-up you can do from 4 p.m.–1 a.m. almost every day, and no one should ever do unless they truly have a vendetta against their mental health. Once I started doing it, I realized there were no Native American, gay, raised-Catholic voices in the game, which I found weird because we have so much representation in literally every other field. That made me stick with it.
This one kinda builds upon the previous tweet by keeping the theme of lateness and also adds the element of gay sex, which is something that I refuse to not tweet about. My ancestors would have wanted it this way. Every time I tweet about gay sex, I just picture my ancestors looking over their glasses at me and being like, Bitch, how about you avenge our deaths first? But to live in New York City in 2019 means that you're engaging in gay sex on an hourly basis. Even the straightest of straight people have had gay sex at least twice today and it's only 10:44 a.m. But yeah, I totally had a foursome and I was late, and I 100 percent texted them "train is delayed."
So you're Native American, gay, and were raised Catholic: a triple threat, frankly. Do those parts of your identity influence your comedy in any way?
My comedy is only about being Native American, gay, and raised Catholic. I try to do observational jokes here and there, but sometimes I'm like, Why am I trying to write jokes about Cheetos when I have this identity that most audiences never really see or hear about? The downside is that, believe it or not, talking about only yourself every night does get old. So Cheetos jokes do have a place in my comedy, too. My comedy is literally only about being Native American, gay, raised Catholic, and loving Hot Cheetos.
You host a monthly stand-up show in a lingerie shop. What inspired that?
I co-host that show Butt Dream (the first Sunday of every month at the Rack Shack) with my friend Julie Mitchell. She and I had been talking about starting a show for a while, but couldn't find a venue that we both liked. Julie lives near the the Rack Shack and wandered into an event that was there one night, and struck up a conversation with Laura the owner. Julie pitched her the idea and Laura was onboard. The show has been a literal dream. It's comedy near lingerie which almost makes the comedy sexy, which is a miracle if there ever was one.
I pee about 10 to 15 times a day, which I've heard is way too many times a day to pee, but that is my journey. For me, living in New York means constantly keeping an eye out for a bathroom that I can destroy with my weirdly tiny bladder. And as if that weren't enough, I'm also a Native American so I'm constantly just like, What are points of references that white people have for Native people that I can kind of play upon in the sphere of Twitter? Because a lot of y'all (whypepo) don't know we're out here. And at least one of us has a tiny bladder.
Okay, so prove it: Where is the closest Starbucks bathroom with no line and also minimum mess?
As a Brooklyn queen, the one at 325 Lafayette Ave. is *chef's kiss*.