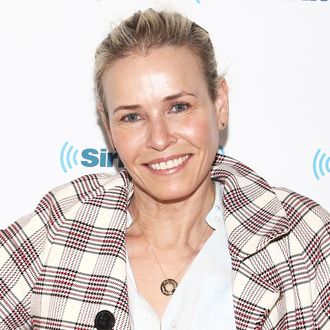 Photo: Tommaso Boddi/Getty Images for SiriusXM
With six successful memoirs under her belt, you might wonder, "Why have I never seen a scripted TV show based on Chelsea Handler's many bestsellers?" Then you remember, oh right, her 2008 book Are You There, Vodka? It's Me, Chelsea was, in fact, made into a 2012 NBC sitcom starring Laura Prepon, Lauren Lapkus and Ali Wong. The loosely autobiographical sitcom was canceled after one season, but Universal TV is now bellying up to the bar and ordering a new TV adaptation of a Chelsea memoir, having bought the rights to her 2019 book Life Will Be the Death of Me. Over in the unscripted realm, Handler's documentary Hello Privilege. It's Me, Chelsea debuted on Netflix on September 13.
Unlike Are You There, Chelsea?, Death of Me reportedly recounts Handler's recent "year of self-discovery—featuring a nerdily brilliant psychiatrist, a shaman, four Chow Chows, some well-placed security cameras, various family members (living and departed), friends, assistants and a lot of edibles." So, basically an Eat Pray Love, minus the 'Pray,' and with 'Eat' mostly referring to weed Rice Krispies treats. Got it.