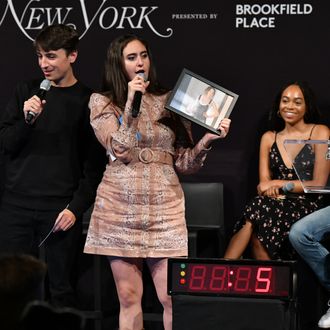 Photo: Craig Barritt/Getty Images for New York Magazi
The Emmys (or at least the Emmys you will actually be watching on TV) are fast approaching, and with it comes another awards-show edition of Comedians vs. Critics, presented by Vulture and NeueHouse. As we gear up for television's biggest night this Sunday, we're reminded that this year's ceremony will be missing one major element: a host. Last year's Emmys hosts Colin Jost and Michael Che may turn out to be the ceremony's final MCs, as this year's hostless Oscars inspired Fox to follow suit. This begs the question: Are we just not going to have hosts for things anymore? Is this a disturbing trend or a new way of life? Will all award presenters be eternally introduced by a faceless, monotonous voice from the sky?? Right as Hailee Steinfeld is hitting her stride????
The answers to these questions were hashed out on Tuesday night at Brookfield Place in Manhattan, when two of the world's most culturally influential groups — comedians and critics — got together to debate not necessarily how things will be but how they should be. Hosts Catherine Cohen and Pat Regan oversaw the proceedings with the gravitas of a John Bercow who can dance to the Succession theme. Meanwhile comedians Rachel Pegram, Sam Taggart, and Natalie Walker took on the critical minds of Vulture's Hunter Harris, Jackson McHenry, and Kathryn VanArendonk. In the end the critics prevailed overall with an impassioned argument for Fleabag to win best comedy, complete with VanArendonk sporting the iconic Fleabag jumpsuit. But in the end, it's not about who wins or loses the debate, it's about whether Julia Louis-Dreyfus will win her 12th Emmy.